My Prosthetic Arm Makes Me Feel Sexy
Adventures in being a queer bionic woman.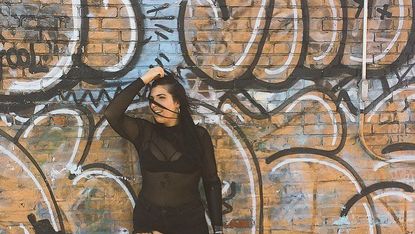 (Image credit: Courtesy of subject)
Marie Claire Newsletter
Celebrity news, beauty, fashion advice, and fascinating features, delivered straight to your inbox!
Thank you for signing up to Marie Claire. You will receive a verification email shortly.
There was a problem. Please refresh the page and try again.
My prosthesis is like black strappy lingerie. The first time I slid it on, I felt exactly how I had been hoping to feel: sexy. In the weeks leading up to its delivery, whenever I went for a run, I'd fantasize about wearing it. I'd get lost in my visions of being a seductive bionic woman. It's not that I didn't feel sexy before—I truly did—but as someone who is obsessed with fashion and makeup, I'm always looking for the next accessory that will make me stand out.
I was born missing my lower left arm and for 23 years I didn't wear a prosthesis. They all looked like a bad wax figures. I didn't want to blend in, but that's exactly what old prosthetic models were trying to accomplish.
Then, I met actress Angel Giuffria. She was wearing an all-white Bebionic—she looked like a sexy Storm Trooper. My heart beat faster when I envisioned myself with one, the all-black one. I had to have it.
I made an appointment with my prosthetist and, after a few months, I was rocking my new accessory. I love its jet-black forearm and carbon fiber hand. It's functional—it helps me hold my purse, zip up my jacket, and open my wallet—and it makes me feel attractive. Just as I rely on beauty products to enhance my confidence (spray tan, eyelash extensions, lipstick), now I also rely on my bionic arm. When I'm wearing it, I have more confidence and am more comfortable with myself.

That confidence comes from a combination of the way my arm makes me feel and the way people react to it. I'm more likely to let loose and dance in clubs, talk to strangers, and flirt with women. And whereas before people would whisper, "Oh look at the girl with one arm." Now they say, "Cool! A cyborg." I used to insist I styled myself only for myself, which is mostly true. But I don't exist in a vacuum; how people perceive and treat me inevitably factors in to how I see myself. I know I'm perceived as more attractive with my bionic arm.

The problem is I've also become dependent. Just as it affects my self-esteem to miss a spray tan appointment or lose an eyelash, not wearing my new arm lessens my élan. I love my prosthetic so much that it's hard for me to picture myself without it. But the two places where twentysomething women want to feel most confident—at the beach and in the bedroom—are the only places where I can't wear my bionic arm. Realizing that has created a whole new set of self-esteem obstacles to overcome.
The beach can instill fear in any person. Add to that being curvy and missing a limb…I avoided the beach for most of my life. As a teenager I would go only after starving myself. Now, I'm confident enough to eat a huge breakfast beforehand and—thanks to my feminist understanding of body positivity—flaunt my curves.
After finally feeling good about myself in a bathing suit, I was surprised to feel insecure this summer. I'd worn my arm all winter—finding out it couldn't be worn to the beach (the Bebionic isn't water resistant) threatened my confidence yet again.

I do own a cosmetic prosthesis that can get wet. In the past, I thought it represented a rejection of my identity as a disabled person, but now I'm thankful that my parents pushed me to have it made. After seeing how much the Bebionic has enriched my life, I decided to give the cosmetic prosthetic another chance with a different perspective: for fun! I no longer see wearing a prosthesis as an admission that I feel insecure without it, but as a lighthearted accessory. I've adorned it with black nails, jewelry, and tattoos. Now I see it as an extension of my style, instead of the way I used to see it—as an attempt to look "normal." A skimpy bathing suit paired with my cosmetic arm make me feel unstoppable.
But in bed, it's not that easy. My first serious girlfriend actively avoided my stump initially. We hardly talked about the fact I was missing an arm until one lazy afternoon she sleepily reached for my stump and kissed it. I burst into tears. After years of people staring at it, ignoring it, or apologizing after touching it, to have it be shown affection struck me. I felt wholly loved and desired.
Up until then, I hadn't given my disability's relationship to sex and dating much thought. After that moment, my girlfriend brought it up incessantly. Though well-meaning, it seemed like she felt self-congratulatory for loving a disabled person. I knew that I didn't want to be sexualized for being disabled, but even worse than that was feeling pitied. It didn't make her a good person just for liking me. We broke up for a multitude of reasons, and her attitude towards my disability was one of them.
I got my Bebionic right around the time I started seeing my most recent girlfriend. It gave me so much sexual confidence. "Wow, bionic woman!" she exclaimed when I arrived at our second date. I tried to show her how my wrist could turn all the way around; instead, I pulled my hand off. "Sorry, that was embarrassing," I laughed. "You're sexy," she responded. My face grew red. I always thought sexy was being 100 percent confident, but she showed me that it's even sexier to allow yourself the awkward moment of literally pulling off your own hand (!) and then laughing about it. When she invited me back to her place, I giddily brushed my teeth and reapplied perfume in the bar bathroom. I couldn't wait to sleep with her. When we undressed, I yanked off my prosthetic too. I hardly gave it a thought.

Sex with her was some of the hottest I'd ever had—kinky, playful, rough. As our relationship progressed, we got into a routine: Foreplay would pause and I'd slip off my prosthetic. I just couldn't get physically comfortable in bed while wearing it; it got in the way.
Then it happened: "Spank me," she begged, and I…couldn't. We laughed about it, but after that night I began fixating on wearing my prosthesis in bed. I practiced holding a paddle with it and spanking myself, but I felt clumsy and ridiculous. A new frustration: I couldn't integrate what made me feel sexiest into actual sex.
I may change my mind but, right now, I feel that if something makes me feel better, why not do it? Just like doing my hair and makeup enhances my confidence, so does my prosthetic. But I do acknowledge that relying on it too much can be dangerous. Lately, when I go to snap a sexy picture and I feel compelled to put my arm on, I actively resist. It's okay that I feel more confident with my bionic arm on, but I don't want to forget that I loved myself and felt beautiful before I had it.

Sex (if it's good) strips me of my hair extensions and my bronzer and my prosthetic. In bed, I can't hide. I'm thankful that in the most intimate and vulnerable states, I have no choice but to embrace myself. I have to be okay with just me.
The journey of loving oneself, especially as a queer disabled woman, is complicated and challenging. I'm giving myself permission to be insecure—and to be an unapologetic bionic woman while I'm at it.
Celebrity news, beauty, fashion advice, and fascinating features, delivered straight to your inbox!