I Went to a Super-Cheesy "Couples-Only" Resort So You Don't Have To
Guys, there was a champagne glass-shaped bath tub.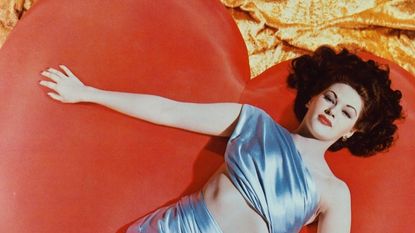 (Image credit: Getty + Katja Cho)
I'm not a hopeless romantic—I'm a desperate one. Sure, I'm not big on bouquets of red roses. I don't believe in Nicholas Sparks, and I think it's totally stupid that Claire Danes Juliet kills herself. That said, as someone raised on rom-coms, I really, really want all the warm fuzzies they've always promised. More than the cynical cool girl in me could ever admit.
But what actually is romance? I don't know—which is why I planned The Most Romantic Trip Ever: a weekend at a couples-only resort in the Poconos. Pocono Palace, to be exact, with my boyfriend. I would find those warm fuzzies if it killed me. (Or him.)
"YOU ARE ENTERING THE LAND OF LOVE" reads a bright red heart-shaped (obviously) sign as you turn onto the Pocono Palace property.
"That's what it is," Janice Goren, the property's resort manager later tells me. "It's the Land of Love. It's corny, but man it works." Inside the property's main building, where the front desk, restaurant and lounge, gift shop, and activities center are all housed, it looks like the holiday aisle of a Walgreens in February: glittery red hearts, signs that read "Be Mine" and "XOXO," and bright strings of lights.
"Mostly people get it," Goren says, "And the majority of the people who don't, leave. But on a whole, I'd say a good 90 percent of them are engaged and having fun."
She's right: If you're here—if you've made the choice to journey to the Land of Love—you know what you're in for. You can't eye-roll. You can poke fun and find some ironic enjoyment in the whole thing, but you kind of have to embrace it.
Which is why when we entered our room—excuse me, "Roman Tower suite"—we ran around excitedly, laughing and pointing and OMFGing, as if we were the first roommates to arrive at our tricked-out MTV Real World house. It had everything that would make a romance novelist proud: a wood-burning fireplace, rose petals strewn everywhere, dimmable starlights illuminating the ceiling above our round (yes, round) bed. Everything that could be red was: the carpeting, the tiles, the paint on the walls. The "Roman" décor came in the form of a few vaguely Latinate framed posters and a couple of cherub statues with, no lie, six-pack abs. And then there was some seriously next-level shit: a heated heart-shaped pool, a sauna and massage table, and, the main attraction, a seven-foot-tall champagne glass-shaped bathtub.
The resort's original owner, Morris Wilkins, designed the signature tub. The electrician and submariner-turned-Cupid by way of hotelier first opened these doors in 1968.
In the beginning, it was newlyweds-only, but demand from guests to come back year after year led to the looser couples-only policy. All sorts of couples, from the "honeymooners who are just in this bubble where everything is gorgeous and lovely" to the "couples who honestly are trying their last ditch effort to get away from the kids and get away from whatever the issues are and think we're going to fix them" to the husbands and wives celebrating 50th anniversaries, says Goren.
Wilkins is to thank for the area's romantic reputation—and the copycats that quickly followed. Suddenly heart-shaped bathtubs (later pools) were everywhere. He hadn't thought to patent the idea, so to stand out he came up with, and patented, the champagne glass tub. "The glass is helicopter material. It took 15 guys pulling on that to fit over the form when it was warm," Goren explains. "Fifteen guys pulling on a blob of hot clear stuff!"
That's all to say that obviously, before our bags even hit the ground, we popped open the bottle of champagne we'd packed with us, turned on the tub's jets, and poured way too much bubbly soap inside. And it was nice. In the way that any warm bubble bath with booze is nice. But the tub's roughly textured floor, presumably there to keep you from hilariously slipping over the edge, made it difficult to do anything, uh, passionate, that would, say, require your knees to rest against it. (Sorry, mom.) Afterwards, I handed my boyfriend a bright pink love-dovey card from the "romance" section of Duane Reade's greeting cards. It was filled with stickered words and phrases to fill out a sort of naughty Mad Libs inside. But, like the red bundle of lace that shouts I BOUGHT THIS AT VICTORIA'S SECRET that never left my weekend bag, it was put aside and never thought of again. Not a total win for romance—yet.
We headed off to dinner where, possibly overtaken by the spirit of the place, or just wary of the notepad in my hand, my boyfriend pulled out the chair for me. It felt unexpectedly sweet, and then we ordered the Dirty Boner (a dirty vodka martini) and the even sweeter Blue Balls (a bright blue cocktail topped off with two maraschino cherries) from the pretty, brunette cocktail waitress inexplicably dressed in a sort-of tuxedo with an American flag-printed bowtie.
"Romance is spiritual," George Carl, the resort's dining room supervisor, muses inside the cozy cabin-esque dining room where couples are seated side-by-side rather than across from one another. The pleasant thought is quickly interrupted by some terrifying news. "This is a kind of magical place," Carl says, "I've seen people here who are trying to get pregnant, and this is prescribed by a doctor, so to speak: You need to relax, take it easy. They never told me but sure, if people are trying to pregnant, they come here." We hit the bar lounge after dinner.
The spirit in the dim, deep red-hued bar lounge was cheerful. Everyone seemed to really want to have a good night and they'd be damned if they didn't try. It felt like an open-bar wedding reception with even lower inhibitions and a bill at the end of the night. On stage, a disco cover band performed. Some couples danced, while most stayed seated in their booths, tables, or at the bar. Prizes were handed out to the winning team of guys from an earlier game of "Sexual Feud" (more dildos, less Steve Harvey). They received purple-ribbon necklaces that held a silver heart-shaped pendant at the center. "I want to see your heart-on!" the events coordinator yelled into the mic.
This was nothing new for Danny, 41, and Cynthia, 43. The South Jersey couple had been coming here for nearly 16 years—since their honeymoon. "You're just in another state here. Everybody's with their significant other and they're all having a good time. Everybody's in love," Cynthia says. "Being married as long as us, together 20 years, we come here and we appreciate each other a little bit more. Like how we came to love each other."
The couple had become fast friends with first-timers Erin, 28, and Paul, 30. Between their two young kids, an ill mother-in-law, and buying a house, the Long Island couple really needed a getaway, Erin explains. "Honestly, this place is an amazing getaway," Paul says, "The way that you get to be alone and together is the romance in itself." Later he tells me he'd been naked today between the hours of 12:30 p.m. and 4 p.m.
But the romantic over-the-topness isn't for everyone. "This is embarrassing, I'm going to be honest," Jaimie, 37, says. Her husband Jonathan, 30, purchased the one-night-stay on Groupon. "She wanted something in nature, and I was like, Oh Poconos! That sounds natural," Jonathan explains. "When we first got here, I was like—'I'm sorry. I didn't know it was going to be like this…'" That said, it was impossible to deny that the couple from Brooklyn was having at least a little fun—he was wearing his heart-on, after all.
The next day, somewhat hungover, my boyfriend and I crawled out of bed and headed straight to the restaurant's breakfast buffet. There's nothing romantic about a buffet, but bottomless scrambled eggs and hash browns after too many Dirty Boners is a beautiful thing. Afterwards, we browsed the gift shop. There's the typical (souvenir sweatshirts and glassware), the expected (mugs that say "I <3 My Husband" and pillows that brag "Happily Ever After"), and the XXX-rated (the adult toy wall). People aren't afraid to explore here, Goren explains, "they can leave it here, try it, throw it away, whatever. The amount of X-rated movies that get rented here and get tossed in the trash is amazing." Goren, who has the sense of humor and warm vibes of your friend's cool mom, isn't sure what sells best in the shop. "I'm going to be honest: I stay so far away from that wall. It's unbelievable. They'll talk about whizz-bang-zingees and I'm just like, 'Let's talk about something else.'"
Back at the room we took a dip in our heated heart-shaped pool. My boyfriend read aloud love poems from his copy of The Norton Anthology of Poetry, which he'd brought along as a romantic surprise. Basically, it was as candlelit-Lifetime-movie as it could get in there—but I was bored and started playing with the Kim Kardashian app game on my phone. Maybe it was some subconscious resentment toward Shakespeare. Or maybe I'm just an asshole. Either way, it was too much. The expectation to feel overwhelmed by love, to be moved by my insanely romantic surroundings, was too much pressure and I was sleepy. Later we napped, and cuddled, and watched TV, switching between, of all things, Comedy Central re-runs of South Park and the last half hour of Jackass: The Movie on MTV. We laughed hysterically.
After dinner, back in our suite, we decided to get serious. The fireplace: lit. The movie: Casablanca. (It tops the very official-sounding American Film Institute's 100 Greatest Love Stories of All Time.) And the pièce-de-résistance: making DIY love coupons fashioned from cutout strips of manila folders swiped from the Marie Claire office. The fireplace was fine, the movie didn't make much sense, and the love coupons were cute (mine were cuter). But, like any activity that requires colored pencils, it's not good for short attention spans. The evening scored six or seven Cupids out of 10. Then we took another bubble bath because, why the hell not.
A few hours earlier, in the lounge, newlyweds Heather Guerra, 49, and Ashmeed, 52, played a game of pool. They'd driven three and a half hours from Laurel, Maryland for a honeymoon weekend. "It was worth the drive" for Heather. This was her definition of romance: "Just being together, one-on-one with a significant other, and spending quality time together."
She's right. In a little under 48 (sometimes desperate) hours in the Land of Love, I'd finally found romance. It wasn't red or pink, heart-shaped, or in a champagne glass. It was earlier that afternoon, in bed, napping off a hangover, watching a guy put a toy car up his ass to make a funny-looking X-ray. It was in the intimacy and comfort and total bliss of feeling relaxed with someone you find cute who is on board with the weekend. Romance, it turns out, is in the decidedly un-romantic—which is just what the rom-com heroine would say in her final scene voiceover.
Follow Marie Claire on Instagram for the latest celeb news, pretty pics, funny stuff, and an insider POV.
Marie Claire email subscribers get intel on fashion and beauty trends, hot-off-the-press celebrity news, and more. Sign up here.
As deputy editor, Jen oversees Cosmopolitan's daily digital editorial operations, editing and writing features, essays, news, and other content, in addition to editing the magazine's cover stories, astrology pages, and more. Previously, Jen was a senior editor at Marie Claire. Before that, she worked at GQ.