8 Ways to Use Books to Flirt (Even if You Don't Read Much)
How to use books as flirtation devices.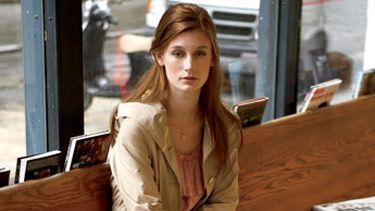 (Image credit: Mei Tao)
Marie Claire Newsletter
Celebrity news, beauty, fashion advice, and fascinating features, delivered straight to your inbox!
Thank you for signing up to Marie Claire. You will receive a verification email shortly.
There was a problem. Please refresh the page and try again.
Resident dating blogger, Maura Kelly interviewed Jack Murnighan, editor-at-large for Nerve.com, author of a new book called Beowulf on the Beach: What to Love and What to Skip in Literature's 50 Greatest Hits, and last but not least, a primo flirt on how to use books to flirt. Read his tips below:
BOOK COVERS THAT WILL AROUSE THE ATTENTION OF MEMBERS OF THE OPPOSITE SEX
Are there books that are more likely than others to make a guy start talking to a woman in the coffee shop?
JACK: Like a suggestive skirt, a suggestive novel, such as Nabokov's Lolita — or a book with a suggestive title and cover, like another book I wrote called The Naughty Bits — will send a signal. (Whether or not you want to send that particular signal is up to you.)
Also, if a woman is reading a book by an author who is considered a "guy's writer" — like Cormac McCarthy — that's likely to get her a lot more attention than if she were deep into Pride and Prejudice. Similarly, a woman reading James Joyce's Ulysses or Proust's Remembrance of Things Past on the train would probably turn a few heads. (Incidentally, I wouldn't recommend hardcore Joyce fans as boyfriends. They tend to show off their intelligence, rather than share it.)
Finally, whether you're male or female, I think you can't go wrong if you've got a copy of Gabriel Garcia Marquez's One Hundred Years of Solitude with you. Anyone who likes that book is going to be both playful and deep, smart and sensual.
CHEAT SHEET: LINES FROM GREAT BOOKS THAT WILL HELP YOU FLIRT
Are there some great literary lines that a person can use to flirt?
JACK: This — from Boccaccio's The Decameron — could be useful: "No mortal who is without the experience of love can ever lay claim to true excellence."
Or you could mention that one of the most outstanding first lines in any novel comes from Garcia Marquez's Love in the Time of Cholera: "The scent of bitter almonds always reminded him of the fate of unrequited love."
HINTS ON HOW TO BE A BRILLIANT FLIRT AT A PARTY
What chapters of Beowulf on the Beach in particular might be good to look at if I want to prepare to sound flirtatiously brilliant at a cocktail party?
JACK: After reading my book, you'd be able to make an argument that Anna Karenina is a much better adultery story than Madame Bovary — which would seduce me, though honestly I'm not sure how many other men it would work on!
Or you could mention that Chaucer's Wife of Bath is the most outrageous woman in all literature — having "swyved" five husbands to death, as she did. (That's Middle English for "shagged.")
THE HOTTEST THING ANYONE COULD EVER SAY ABOUT A BOOK
What's the sexiest thing a woman could do (or say) when talking about a book, in your opinion?
JACK: To simply say she loves it, and then tell me why: that would do the trick. Very few (clothed) things are sexier than having a woman tell you what moves her and why.
Get more from Maura Kelly at her daily blog: A Year of Living Flirtatiously
Celebrity news, beauty, fashion advice, and fascinating features, delivered straight to your inbox!