We Went on Two Dates—and Then Moved In Together Because of Coronavirus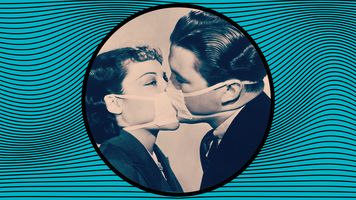 (Image credit: Getty Images)
Marie Claire Newsletter
Celebrity news, beauty, fashion advice, and fascinating features, delivered straight to your inbox!
Thank you for signing up to Marie Claire. You will receive a verification email shortly.
There was a problem. Please refresh the page and try again.
Under normal circumstances, Carrie Lee Riggins would never meet a man on a dating app and move in with him a week later. But current circumstances are anything but normal. With bars, restaurants, and non-essential businesses closed and governments mandating citizens "social distance" as a result of coronavirus, the world has become increasingly scary, anxiety-provoking, and sometimes unbearably lonely for single people. And daters have fewer ways of getting to know someone IRL than, well, getting to know them IRL. So that's exactly what Riggins, 39, a professional ballerina in New York City, did. Below, she shares her quarantine dating story.
---
I met Mike on Bumble in mid-February. We were supposed to have our first date on February 23, but that never happened. He put it in his calendar incorrectly. I thought he was going to come into Manhattan, where I live, from Mystic, CT, where he lives, and we were going to have a beautiful dinner. Instead, he was in Arizona.
I was disappointed; I was really looking forward to seeing him. He sent flowers immediately and apologized. We finally got together in person on Saturday, March 7. We had lunch, walked around, and then had dinner at Eleven Madison Park.
Dating in New York City is complicated, because there's always somebody better. There's so much swiping! People don't put in the effort. You come into conflict—simple things that need to be communicated—and people just leave. No one communicates.
I was tired of repeating my story over and over: 'I grew up in upstate New York, I went to the Professional Children's School, I performed at Lincoln Center when I was 9 and danced with the New York City Ballet at 16. I was in the movie Black Swan.'
But I really liked Mike. He talked to me, and he listened, and he treated me super well. He's very chill.
A few days later, I visited him at his condo in Mystic, only to find out that, coincidentally, one of my closest friends lives two doors down from him. How weird is that?
We spent a fun day together, and then I went back to Manhattan.
The following day, while watching the news in my apartment, I got more and more freaked out. My father's a dentist who raised me to open doors with paper towels to avoid germs and not touch gas pumps. That's how he's always operated his life, and it's instilled in me. But it really hit me that day just how unsafe the city was becoming.
I was talking to Mike on the phone, and I told him just how weirded out I was. He invited me to pack up my stuff and move into his downstairs bedroom. I sat on it for a little bit; I wasn't sure that was the right thing to do. But as the news progressed I decided it was time to get out of town for a while. I fled with Jack, my Bengal cat, and two weeks' worth of clothing. I arrived at Mike's place at 11 p.m. on Thursday, March 12. He was already asleep.
So far, it's been going great. Mike has the upstairs, I have the downstairs, and we kind of meet in the living area. When I first got here he was going to his office during the day, so I could do my ballet and yoga in the middle area. Now that he's working from home, I'll go downstairs so he can be alone. We're not in each other's hair constantly.
One thing I don't do is cook. I was on the Food Network's Worst Cooks in America, so I'm not kidding. But I make amazing salads. Mike cooked dinner last week; he made salmon and I made the salad. I'm also doing the dishes and cleaning.
But we're still courting each other and not just falling into traditional expectations. It's nice having separate bedrooms and bathrooms; there's still the romance. I do my lady things and he does his manly things, and then we meet up.
I think we complement each other. I need to be active; I'm like a cocker spaniel. He's more laid back. He set me up on the Peloton bike so I can burn some energy. It's been really comfortable and nice to have someone.
I don't know what's going to happen with this relationship. I've never been married, but I was engaged for eight years when I lived in Los Angeles; I don't want to make that mistake again of staying in the wrong situation for so long.
It's definitely cart before the horse, but it's working right now. If quarantine goes on for months? Well, I'm taking it a day at a time. There are multiple contingency plans in place. I have a car and my friend next door.
The other day I drove back to my apartment and gathered more stuff. I've been designing and sewing my own leotards since I was 14, so I brought my sewing machine back to Mike's. Now the downstairs is turning into a little workshop. When Mike saw my sewing machine he was like, 'Are you going to start making your own clothes?' Like we're back to the 1900s. It was hilarious. But that's sort of how it feels.
The other day he said to me, 'I looked in the grocery store for flowers for you,' and I said, 'That's okay, you got me toilet paper!' Priorities are different in times like this.
Abby Ellin is the author of 'Duped: Double Lives, False Identities and the Con Man I Almost Married.'
For more stories like this, including celebrity news, beauty and fashion advice, savvy political commentary, and fascinating features, sign up for the Marie Claire newsletter.
RELATED STORIES
Celebrity news, beauty, fashion advice, and fascinating features, delivered straight to your inbox!