Can Passion Ever Grow Out of the Platonic?
If you don't immediately feel a spark with someone, should you write him off romantically?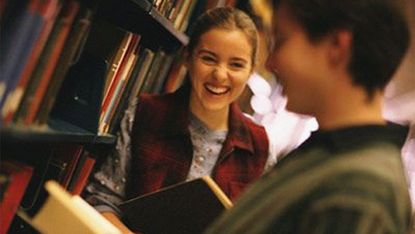 (Image credit: Yellow Dog Productions/The Image Bank)
Marie Claire Newsletter
Celebrity news, beauty, fashion advice, and fascinating features, delivered straight to your inbox!
Thank you for signing up to Marie Claire. You will receive a verification email shortly.
There was a problem. Please refresh the page and try again.
As I've indicated before, one of my biggest guilty pressures is the Weddings & Celebrations section of the Sunday New York Times. Mainly I comb through it in the hopes of finding some signifier that I, too, will enter into the category of happily-ever-after some day. Some of my favorite stories are the ones about people who get married for the first time very late in life — like this recent one about a modern dancer named Ronni Favors who was 54 when she took her maiden voyage down the aisle. She married 66-year-old Bill Colavito, an educator.
The Times describes their first date this way:
"Ms. Favors ... tried not to get her hopes up too high as she marched down Ninth Avenue … to meet Mr. Colavito, whom she described as having a stern online photo. 'I had come to ... embrace my life as a single woman ... ,' said Ms. Favors."
But despite her hesitations, their first date went exceptionally well, as The Times reports:
"Mr. Colavito, who was waiting at the bar, was immediately taken by her. 'She's just beautiful to start with,' he said, 'and has these gorgeous green eyes. ... she was smart and witty, and conversation flowed as if we'd known each other a long time.'"
Ms. Favors was pretty happy herself:
" ... her first impression of him from that 'stern' online photo quickly faded. 'He has a beautiful smile and a great way of listening,' she said."
They were married a little more than two years after that first fireworks-filled night.
And I've often wondered: Can a romance ever catch fire if the sparks don't fly immediately? Usually I think the answer is: Nope — impossible.
That seemed to be confirmed for me over the weekend, when a male friend I ran into at a party told me about a woman he's becoming best friends with. "I keep thinking this will be the first time that I develop feelings for someone slowly — that eventually, I'll come to feel passion for her, because we get along so well," he said. "But as much as I want to feel attracted to her, because I love hanging out with her, I just don't."
I was skeptical about how things would turn out for them ... until I read thisstory in the Sunday wedding section, about 32-year-old Emily Ziff and 46-year-old Nicholas Dodson. The details of their meeting and subsequent acquaintance are so straight out of a romantic comedy that you should read the article yourself. (But I will say, among other things, that there is a nice gender-reversed variation on the Prince-Charming-needing-to-find-the-glass-slipper-owner meme, and another nice gender-reversal of the besotted-person-crashing-bike-after-spotting-le-objet-d'amour cliche.)
But the germane bit of information, for this blog post, is that the newlyweds knew each other for seven months — enough time that "Ms. Ziff was becoming increasingly frustrated that they had not become more than friends" — before they had their first kiss.
So, happy endings! And proof that sometimes passion can grow out of the Platonic. Let's call it the Slow Chemistry movement.
What do you guys think? What have your experiences been like?
Celebrity news, beauty, fashion advice, and fascinating features, delivered straight to your inbox!