What Kind of Connection Do You Crave Most?
Are you an adrenalin junkie? A conversation connoisseur? What kind of experience do you most want to have when you're dating someone?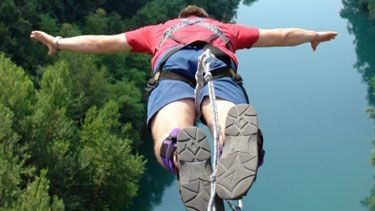 (Image credit: Matej Michelizza/iStock)
The other night, I was out with a friend who's a great storyteller with a fantastic sense of humor and perfect comic timing. We were talking about his love life, and he mentioned that he gets off on being with women who are adrenalin junkies, like he is — people who enjoy gallivanting around Manhattan having wild adventures. "Traipsing through fountains, and that kind of thing?" I said, referring to this famed scene in La Dolce Vita. "Exactly," he said.
I used to be more of an adrenalin junkie myself, back in the days when I did things like kissing cab drivers and staying out all night at the jazz club Smalls. Crashing parties, hopping into someone else's limousine, watching the sun rise over the Hudson River from the Brooklyn Bridge: these were the kinds of things I did on such a regular basis that I'd feel like the week had been too quiet if I didn't get into some kind of escapade.
But after I stopped drinking heavily, my interests slowly changed, and now I'm much more of a conversation junkie. What I crave most is that intense feeling of connection to someone after we talk about ideas, experiences, literature, poetry, and life.
This got me wondering what other people most want to find when they are out on first dates, or in the early stages of courtship. Maybe some people are glamour junkies — they want to be taken to the ritziest places, the most fabulous events. Perhaps others like physical or outdoorsy outings best, and they're most likely to get excited about someone who wants to go biking or hiking, swimming or snow-shoeing, for example. I think there are also people who like most to find insiders, or cool kids — to get hooked into a certain arts scene, or music scene, or the restaurant scene, or some other kind of groovy community.
Still others, I think, feel most at home when they can get quickly into a comfortable domestic pattern with a person. They're happiest when they find someone who fits in well with their friends and family and likes to cook dinners at home, to stay in and watch Netflix.
There are also people who want to find a partner he or she can collaborate with — someone who will play in their band, or work with them on their web site, or help them run their farm.
What category do you fit into?
Adrenalin junkie
Conversation connoisseur
Glamour-seeker
Insider
Outdoors adventurer
Domestic lover
Collaboration-seeker
Do you think most people fit into these categories? Or do you think I'm missing a few?
Celebrity news, beauty, fashion advice, and fascinating features, delivered straight to your inbox!