Q&A with Rachel Machacek: The Science of Single
What happens when a single woman commits a year to trying every possible method of meeting a guy? We talked to someone who did to find out.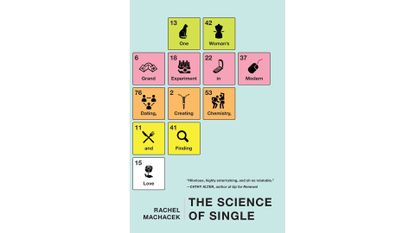 (Image credit: Riverhead Books)
Rachel Machacek couldn't believe there was (literally) a guy running away from her. The then-33-year-old magazine editor had just been on yet another ho-hum Internet date, and when she turned to give Mr. Personality a polite hug or handshake goodnight, he just kept on walking. "It was pretty much a jog, actually — he yelled goodbye over his shoulder," says Machacek, now 37 and a freelance writer and marketer. "I was standing there thinking, 'What am I doing wrong?'"
Like any good journalist, Machacek decided to get to the bottom of her dating problems, and her year-long experiment is now a memoir, The Science of Single: One Woman's Grand Experiment in Modern Dating, Creating Chemistry, and Finding Love (Riverhead Books, Jan. 4). We spoke to Machacek about matchmakers, online romances, and why Frisbees may be the secret to happily ever after.
Why the "science" of single? What made you want to treat this like an experiment?

Dating isn't a "normal" process. It's very uncomfortable sitting across a table from someone and grilling them about their life. And there's always an ulterior motive behind it — most of us are doing it because we're trying to find a relationship, not because we think it's fun. Trying different methods of dating in an experiment format meant I could become the observer in my own dating life, be a little less emotionally involved and try to understand what I was doing right and wrong. It was much more about learning about myself than it was about finding a relationship.
You started off with online dating, something that's becoming extremely common. What's your take on going online?

I live in D.C., and it's a pretty serious city. It's social in its own way, but I'm very introverted and am not the kind of person who just meets people on the street regularly. So online dating makes it a lot easier. It's been something I've come back to again and again over the years, to help jump-start a dating cycle.
You also tried several other methods of meeting people — singles events, matchmaking services — along with a few dating "philosophies," from dating books and coaches. The obvious question: What worked best? Did you unlock the secret to dating success?

I don't think there's any one answer to that. What I realized is that it's most important to do something you feel comfortable with. For me, that's going online to find guys and then combining a few of the approaches I learned about in the books I read. There's a lot of conflicting information... Never kiss on the first date, always kiss on the first date. Don't ever call them, call when you feel like it. But there's no right or wrong answer, it's just being comfortable with the approach you take. If you're approaching dating with confidence, that's key.

So which of the methods were total crap?

None of them were worthless — I did meet men with every tactic I tried. But I would never hire a matchmaker again. First, it's really expensive, and I don't have the disposable income to pay someone to set up my social life for me. I also didn't feel comfortable having someone do that. You're at the mercy of their client base.

Specifically, you used the well-known matchmaking service, It's Just Lunch. It definitely seemed like a ripoff.

I did feel disappointed by them and ripped off in some ways. However, they never purport to be anything more than someone to set you up with a man or woman on a first date, and that's it. They're quite clear about that — they might even have become more clear about it since they've had so much backlash from former clients. I actually didn't feel that disappointed, it was more like, what am I paying for? I have no idea where I got this from, but I went into it thinking that since it was so expensive, clearly they were going to pay for the dates! No, you're paying for the expertise and matching and client base. I think I wouldn't have felt so disappointed if I'd been the type of client who didn't mind spending the money.

What was the best date you went on?

I loved the date where I met a guy in a park to play Frisbee. I like the idea of getting away from meeting at a restaurant and sitting across from each other. It's fine, and I do it all the time, but it's so nice to have a break from that. We talked a bit before we started playing, and we had such a fun time throwing the Frisbee. We had some beers later at a cafe and talked some more, and it was really easygoing and lighthearted.

What was the worst?

It was the guy I refer to in the book as "The Fan." He got in touch with me after I'd written an article for the Washington Post in which I talked about my dating life and how hard it was to date. He e-mailed me to say he agreed and that if I ever wanted to meet up, let him know. I went, but only because I was in the middle of an experiment and had decided not to be so picky, to turn down my filter a little. He was so socially awkward, and he looked like such a nerd! He had zit cream smeared on his forehead, white high tops, acid-wash jeans. I know I'm terribly judgmental, but I walked in and saw this guy and thought, Oh my gosh, how did this happen? I usually don't know how to get out of those situations, but I was in and out in 57 minutes.
Something you go back and forth about is whether it's smart or counterproductive to have a checklist of what you're looking for in a partner. What do you think now that the experiment is over?

The problem is not the checklist itself, it's what's on the checklist. Mine was full of very superficial things — hair color, height, style. I didn't think enough about the kind of person I wanted him to be, or what kind of relationship I wanted to have. I needed to do away with those superficial things that have nothing to do with happiness in the end. It would be great if all the things that make you happy came in a great Adonis package, but you also need to learn to accept imperfection. What I ended up doing, based on one of the self-help books I read, was writing "mission statements" for my future relationship, and it was so helpful. If you're just casually dating, it doesn't matter — pick the guy who's really hot. I wanted more than that.
You also talk a lot about disappointment in dating.

My disappointment was complicated — I had committed to a year of dating, so if I had met someone early on, or even at the end, I was committed to seeing it through. But even though it would have been impossible to continue the experiment while pursuing a relationship, I still had it in the back of my head that I wanted to meet someone. Beyond the experiment, though, it's just so disappointing when you meet someone online and have this rapport and think they're really cute, and you meet them and there's nothing. No spark, no chemistry. You get this idea of who you're going to go out with based on their online profile, the matchmaker, the person who set you up, and there's a huge amount of hope. I got disappointed easily because my expectations were out of whack.
Did that improve at all? Are you still picturing your wedding dress when you're walking to meet the person?

It's completely tempered now. If there's anything I was successful at, it was tempering my expectations for first dates. I'll of course still go into it with some sort of hope, but I know that most likely, this is going to be a date when I meet someone who's really nice, and maybe we'll go out again, maybe we won't. I don't allow myself to get too involved before we meet — don't do too many emails back and forth, be very quick to get to the date.
In the end, was the experiment a success?

Absolutely. I get asked all the time whether it was a success, in terms of whether I met someone — I'm kind of glad I didn't. It would have been awesome, but at the same time, I had no idea what I was doing when it came to dating. The problems were deeper than that I just wasn't meeting anyone. I needed to build confidence and feel more comfortable with myself. I was able to do that, and some of it was just practicing and determining what was important to me. So yeah, it was a success.

What's your best advice for single women?

First, be open to all the possibilities — of how to meet people and the kinds of people you'll meet. We're pretty closed off and not willing to do things out of our comfort zone in order to have a successful dating life. It's not going to happen magically — no one is just going to show up at your doorstep. Participate in your own dating life. The other thing was a really important lesson for me: On the date itself, I'd get really nervous and really uncomfortable with silence. I ended up being this chatty Cathy version of myself. I'm not really like that, and it's a big turnoff. It doesn't allow the other person to ask any questions. One of the self-help books said, just slow down and be present. You don't have to fill in all the holes. It works. I don't have to control everything.
Marie Claire email subscribers get intel on fashion and beauty trends, hot-off-the-press celebrity news, and more. Sign up here.
Anna Maltby is an award-winning journalist and editor and was most recently the executive editor of Elemental, Medium's in-house health and wellness publication. She was previously the deputy editor at Real Simple magazine and a deputy editor at Refinery29, and also held staff positions at Men's Health, Marie Claire, SELF, Fit Pregnancy, Natural Health and Condé Nast Traveler. Her writing has appeared in such outlets as The Wall Street Journal, Cosmopolitan, Glamour, O, Family Circle, Fitness, Redbook, Vogue.com, TeenVogue.com, MensJournal.com, CondeNastTraveler.com, FastCompany.com_ _and Brides.com. She received her BSJ and MSJ from the Medill School of Journalism at Northwestern University. Anna is also an American Council on Exercise–certified personal trainer and functional training specialist, a certified prenatal and postnatal exercise specialist, and a certified mat Pilates teacher. She lives in Brooklyn with her husband, two children, and two tuxedo cats.