First Date: Am I a Job Snob?
First Date Stories - Dating a Mascot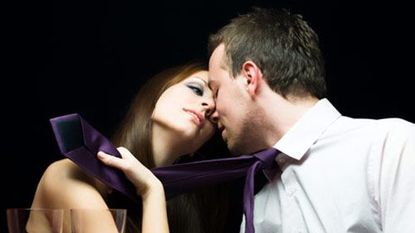 (Image credit: Sladjana Lukic)
You know those Brazilian-waxed, Louboutin-wearing, Cashmere Mafia bitches who only date hedge-fund managers? I'm so not one of them. I've never been attracted to a man with mega-job status, assuming he'd have a mega-ego to match. Instead, I happily go for the vet or the grade-school teacher, the kind of guy I imagine loves animals or kids, who's long on patience and compassion, even if he's short on cash.
In November, when I met a witty guy who said he worked for a major-league baseball team, I was intrigued. I asked what he did for them, and he said he had an office in the stadium and that I'd probably think his job was interesting. I assumed he was a manager, or in PR or something.
An hour into our date, I tried again. So what, exactly, did he do for the team?
"I'm . . . the mascot," he said cautiously. "Giant furry head. You know it?"
Oh, I knew it. I had even been with male friends who, rowdy and drunk, actually punched Mascot Man in his giant furry head.
I instantly did the mental math: Minus five points for the embarrassment of dating a cartoon character, whose job description included getting beer poured over his head (giant, furry). Plus two for being able to trade in my $12 nosebleed seats for a perch right behind the dugout. Plus three for what would be his instant bond with my dad. Minus 10 for the inevitable "Does he wear the head when you guys are going at it?" jokes from my male friends.
What kept me sitting in my chair was thinking about passion, and what it means to love what you do-how I'd chosen a profession that wouldn't help me put a down payment on a condo but made me happy to go to work every day, something that I know matters more than whether someone wears a Prada suit or a giant furry head.
"That's so cool that you do something you love," I said. "So how long have you been Mascot Man?"
"About nine years," he said.
That's when I said I had to get home to walk my dog. It turns out I'm more of a job snob than I thought. If he'd held the mascot post for a season, I'd think it was cute. But nine years? Does it make me a bad person that I just couldn't see myself one day cranking out little baseballs with the guy?
Celebrity news, beauty, fashion advice, and fascinating features, delivered straight to your inbox!