Moving for a Man: London Calling
When I moved across the globe for a British guy, the weather wasn't the only thing that was foggy.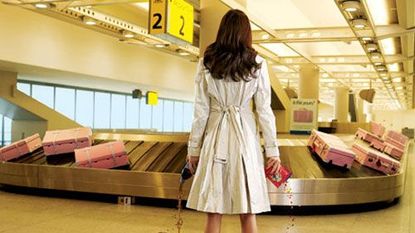 (Image credit: Thierry Van Biesen)
Marie Claire Newsletter
Celebrity news, beauty, fashion advice, and fascinating features, delivered straight to your inbox!
Thank you for signing up to Marie Claire. You will receive a verification email shortly.
There was a problem. Please refresh the page and try again.
I was on assignment in Alberta, Canada, for a newspaper, working out of a pressroom that was swarming with men. William stood out from the rest of the pack. Dark-haired, square-jawed, and a head taller than everybody else, he was the kind of handsome that made me feel embarrassed just for looking.
We started chatting on the first day. Turned out he lived in London, he was my age . . . and next thing I knew, we were crashing a party at a swanky hotel. We were the only ones who weren't dressed to the nines, but no matter. William and I giggled as he spun me around the dance floor, and a few minutes later we were out on the balcony, our laughter softening as we kissed under the moon.
And so it went for the next two weeks. Whenever we had a free moment, we'd meet up and try to learn as much about each other as we could. It was like cramming for a test. In between dizzying make-out sessions, I'd find out that he'd gone to Oxford and had four sisters; I'd tell him that I was raised in Brooklyn and had never been able to touch my toes. Then we'd get back to work.
Afterward, when I went home to Toronto, I didn't know what to make of it. Was it the end of a fling, or the beginning of a fairy tale? Then I got my answer. "How's my American girlfriend?" William asked on a phone call from London. So there it was. The most charming man on the planet—this Clive Owen–handsome guy with a velvety British accent—was my boyfriend. Huzzah!
We called each other nearly every day for three months. And when the newspaper I was working at folded, I was actually happy. Here was my chance: I fired off a few e-mails, landed a cat-sitting gig in London (allergies be damned), and called William to surprise him. "Guess what?" I said. "I'm moving to London."
"Oh," he said. Awkward pause. "What neighborhood are you staying in?" Excuse me? Here I was, telling him I was moving 3000 miles to be closer to him, and he was making small talk. He went on to say that my new digs were on a great Underground train line.
I quickly chalked it up to our cultural differences. William was from London, after all, the land of witty banter and irony, a place where the ultimate taboo is being perceived as taking anything too seriously. Of course he wouldn't be getting all sappy simply because I was relocating. In fact, I decided I appreciated his unwillingness to presume that I'd move across the globe just for him.
When my plane landed, William greeted me with a kiss and led me to the house where I'd arranged to stay. It was in a funky neighborhood in South London with brightly painted houses, run-down betting parlors, and Nigerian snack shops. I felt drunk on adventure. William wrote down directions to a "fancy-dress party" where he'd be waiting for me that evening.
A few hours later, I threw on my best strapless black frock and pearls. But when I arrived at the party, I was greeted by a roomful of people wearing mermaid suits, fake fangs, and beehive wigs. William was rocking a lei and a Don Ho shirt. He whispered to me that in England "fancy dress" means wear a costume, not couture. Yet he took my gaffe in stride. "Excuse me," he kept saying to everyone, "Have you met my silly American girlfriend?" Aww.
Over the next few weeks, I pounded the pavement looking for newspaper jobs. One place was interested and told me to hang tight while they got the paperwork sorted out. Otherwise, my days revolved around trying not to spend money—given the grim dollar/pound exchange rate—and waiting for the evenings to come. Most nights I had plans with William . . . and at least five of his friends/relatives/neighbors. I'd heard that the English weren't especially given to intimacy, and William did little to disprove the stereotype. An English lad through and through, he was a fan of the group pub outing—the bigger and louder, the better.
Rolling with a posse had never been my bag, but William's chums were all so funny and lively that I went with it. But at the end of the evening, when William and I would head back to his quaint little townhouse together, I'd be bursting to talk about my feelings for him. Yet I got the distinct vibe that I should keep my trap shut.
Still, I kept waiting for the moment when he would pour out his emotions for me in a sweet, bumbling speech, just like in a Hugh Grant rom-com, with the L word spilling out all over the cobblestone streets. I pushed away the idea that the distance between us might not be cultural—that he just might not be that into me.
A couple of months into my stay, after I'd gone with William (and, yes, his pals) to countless dinners, gallery openings, and restaurants, I was finding our lack of straightforward where-is-this-all-going talk hard to take. Wasn't it obvious I'd come here for him?
And when my one job prospect fell through, I couldn't keep playing it breezy. One night when William and I were walking home from the Goose & Gherkin pub, I stopped right outside a kebab shop and looked him in the eye. "I have to ask you something," I said. "Where do you see things heading?"
He chuckled nervously. "What things?"
I was losing my patience. "Us things."
"Right," he said. More silence. "Don't you think this is getting a little metaphysical?"
Soon after our nontalk, I got a job offer in Toronto. This should've been the point for us to decide if we'd be staying together or if I should fly back across the ocean, tail between my legs, but none of that really came up. I took the job, and my remaining days in London were a blur of visits to Topshop and the Tate Modern. Before I left, William and I hugged hard and promised to see each other soon. Neither of us ever said it was over. It just was.
My return to Toronto wasn't exactly triumphant, and now, a few years on, I still cringe at the memory. But I have to laugh too. Today I know better than to move halfway across the world simply because I like the idea of someone (and he's got a rogueish accent). My current boyfriend lives around the corner from me in Brooklyn, and our dates tend to consist of spaghetti and DVDs. They don't have the exotic backdrop of Hyde Park or Tower Bridge, but I like them better. And I'm not afraid to tell him so.
Lauren Mechling has written for The Wall Street Journal, The New York Times, and New York magazine. Her new teen detective novel, Dream Girl (Delacorte Press), is in bookstores now.

Celebrity news, beauty, fashion advice, and fascinating features, delivered straight to your inbox!