Dating Diary: On The Rebound
Jennifer, 28, restaurant hostess, New York City.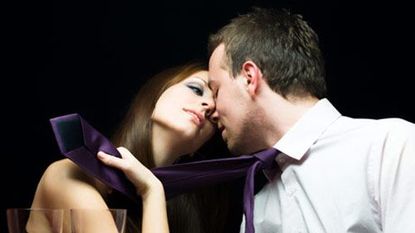 (Image credit: Sladjana Lukic)
Marie Claire Newsletter
Celebrity news, beauty, fashion advice, and fascinating features, delivered straight to your inbox!
Thank you for signing up to Marie Claire. You will receive a verification email shortly.
There was a problem. Please refresh the page and try again.
FRIDAY 4:30 p.m., work: Send a flirtatious text to a guy I met in the Hamptons. We've only been dating for a few months - it's not serious. I recently got out of a five-year relationship that ended in divorce. I'm single for the first time in my adult life and dating around. 12 a.m., work: Hamptons guy texts back: "How is the Hostess with the Mostess? When can I see you?" Reply that I have a bachelorette party tomorrow night but want to see him, too.
SATURDAY 10 a.m., home: Get a call from my ex-husband. We still talk; we're trying to find a way to be in each other's lives. The divorce was amicable but painful. He tells me he's been dating someone I know - and whom I also adore - for the past two months. I cry for five hours. I'm surprised that it's so soon. It just affirms that we weren't meant for each other.
3 p.m., home: Hamptons guy texts to say hi. My misery fades.
4 p.m., home: Hamptons guy calls. Love that! The actor I've also been casually dating for four months only texts. Actually, he hasn't texted me in a while. WTF! Text him to get the ball rolling. I like having a lot of people around, because if one person doesn't call me back, I have others to focus on.
11:55 p.m., karaoke bar: Party going strong. Get a text from Hamptons guy: "Why don't you come visit me later?" Do I go this late? Do I want to start this habit? We've been on a bunch of dates; we're sleeping together. Why not, right?
SUNDAY 11 a.m., Hamptons guy's house: In his bed, alone. He had to leave early. I think I'm into him--not sure I'm ready to feel this way about him. He calls to say he'd like to see me later.
4 p.m., roaming around: Our plans fall through. Oh, well. Go home since I have dinner plans with a friend later.
8 p.m., restaurant: Actor texts me about meeting up with him and a friend. I go.
10 p.m., bar: Actor is so much more interesting when he drinks!
MONDAY 5 a.m., home: OMG . . . Actor boy came home with me and just left! Ahhhh! May be done with him, though. He plays too many games. But I can't believe I just slept with two guys in technically the same day! Who am I?
Celebrity news, beauty, fashion advice, and fascinating features, delivered straight to your inbox!