A Foreign Affair
When holding hands is a crime, falling in love can be dangerous in Saudi Arabia.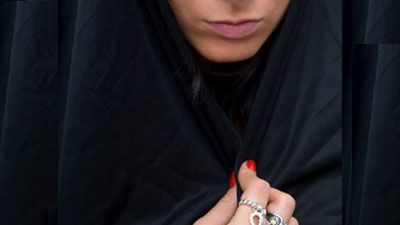 (Image credit: Mehmet Salih Guler)
When holding hands is a crime, falling in love can be dangerous. On my first night out with Yaser, we sipped espresso at a cozy café, chatted about our pasts ... and fielded furious looks from a group of young women at a table nearby. Whore, their eyes said.
Welcome to Saudi Arabia, where you can get arrested — not to mention lashed — for being alone with a man, thanks to the state-sponsored religious police who enforce strict segregation of the sexes. I'd come to Saudi Arabia from Iowa to do research for a novel, and Yaser was supposed to help me fact-check the details. When I'd met him earlier in the evening at my host family's house, I hadn't expected such a looker; with a shaved head, goatee, and jeans, he cut quite the hipster figure. With the approval of my host father, I threw on an abaya, the black robe worn by Saudi women, and headed out. (We figured I'd be safe, given an unspoken rule that Westerners aren't subject to the same restrictive laws and harsh punishments as Saudi women.) My curfew was 10 p.m.
In the weeks after our café outing, my relationship with Yaser bloomed. We talked every day and met regularly at various waterfront restaurants. Still, our rendezvous were far from carefree. Yaser frequently glanced over his shoulder, conscious of who was coming and going and whether we were being watched.
Yet one night, he grew bold. Reaching over the gearshift when we were in the car together, he laced his fingers with mine and held my hand — out of sight, beneath the dashboard — while we drove down empty streets.
I'd forgotten how exciting the small things could be. Back home, hooking up is practically a foregone conclusion when you spark with a guy. But with Yaser, there could be nothing of the sort. And the little pleasures seemed all the sweeter for being so hard-earned.
On my last night in Saudi Arabia, I gave Yaser a petrified bird's egg I'd found in a local shop, a symbol of fertility — a funny keepsake, given our sexual frustration. We promised to stay in touch, which we did for a couple of months. But when he said he loved me, I realized I just wasn't ready, so I ended it. Then I learned something new about my sweet Saudi man: He had a temper.
"I took the egg you gave me, crushed it to dust, and left it in an ashtray," he said. So much for holding back.
Keija Kaarina Parssinen is a teaching and writing fellow at the Iowa Writers' Workshop in Iowa City. She is currently working on a novel set in Saudi Arabia.