4 Cheap Summer Date Ideas
Heat things up this summer with these inexpensive date ideas.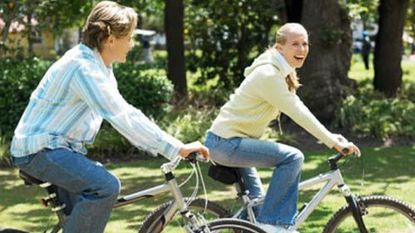 (Image credit: Stockdisc/Getty Images)
John Travolta and Olivia Newton John had it right—but that summer lovin' can be a drain on your wallet. You're probably pinching pennies and keeping a close eye on your spending, but whether you're coupled up or single and mingling, you can still keep the flame burning without going broke. Thankfully, enjoying the simple pleasures of the outdoors has no price tag, and with some planning, neither should your next date. We asked members of Marie Claire Ask & Answer — Marie Claire's online Q&A community for dating, sex, and relationship advice — about their favorite cheap summer dates. Keep reading for their top four ideas.
Get Cooking
If you can't stand the heat, get in the kitchen! Head to the library and cool off under the AC while browsing for cookbooks, and then make each other's favorite dishes together—work as a team on a brand-new recipe. Not too handy with a spatula? Keep the takeout menu nearby just in case.
Answerology member justpassingthru loves the idea, suggesting "How about you go to the grocery store together and buy the ingredients to make a brand new recipe together? You'd only be spending money that you'd have to spend to eat anyway."
Go Local
You don't have to go far for a day of romance! Check your local newspaper for events happening on your town—you'll have a blast discovering new neighborhoods and rediscovering old ones. If you or your sweetie are from the area, bond by giving each other a tour of where you grew up—and sneak in a makeout session under your high school bleachers.
Answerology member pinknblu suggests checking out a city fair, saying "they sometimes have free concerts and if you spend anything, it's minimum." Utahmom chimed in with more local suggestions—like "art galleries, museums, book readings, book signings, art festivals, music festivals, [and] car shows."
Splendor in the Grass
Wind down and work on your tan with an all-day picnic. Grab your honey, your favorite food, and a few beach reads, and you're all set for a lazy day laying in the grass. Go far or stay close to home (even your own backyard!) For brownie points, keep a blanket and a cooler with water and plastic eating utensils in your car for an impromptu picnic whenever and wherever the mood hits you.
"In the summer picnics are a great way to chill out and get to know a date," says alex86. "Plus, the other person will associate those relaxed, summer days with you."
Get Physical
You've been working on your beach bod for months, so show it off! Grab your date and work up a sweat with a bike ride, a game of beach volleyball, or competitive sand castle building. A little friendly competition is a great way to get closer—just make sure you don't let him win!
"I'm an outdoorsy kind of guy so a hike/walk in the park is a great activity," says jjcabin. "Grab a Frisbee and head outside."