Craigslist Cheaters
Why some married men pay for sex on the side.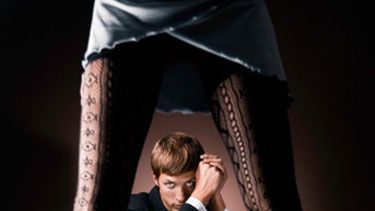 (Image credit: Valentin Casarsa)
"I'm afraid my wife will find out again. But I can't give it up."
Terry Stiller* has been married to his wife for the past 20 years. Once a month, he will pay a call girl between $200 and $350 to fulfill his sexual desires. His wife, who suffers from a physically debilitating illness, has stopped having sex. Terry continues to hobby on the side — even though his wife has caught him once before.
"It's exciting," said Terry. "I love hearing about these women's lives."
Terry's story isn't unique. A quick search on Craigslist reveals 248 postings in the United States, all with the promise of money for sexual favors. One poster from Philadelphia writes, "Married white man seeks cute white female for fun and mutually beneficial arrangement." Another poster under the title "Sugar Daddy seeks his Baby" from central Florida writes, "Older, married, retired, successful businessman seeks an adventurous and carefree companion for fun times and travel. I have the ability to help financially, and this should be a beneficial relationship for both of us."
For the men who participate in these activities, it's an anonymous world that promises excitement and intrigue, apart from their everyday lives. Here, they can live out their greatest fantasies and desires.
There isn't just one reason why married men choose to pay women for sex. Clinical psychologist Ramani Durvasula from California State University is an expert on human sexual behavior. She argues that there are a number of different explanations for the men's behavior.
"Each man is different," said Durvasula in a phone interview. "The loss of physical intimacy or companionship can be at fault for their behaviors."
Very little is understood about the world of married men who choose to pay women for sexual favors. Men who pursue this illicit lifestyle are inherently trying to avoid attention, which makes understanding their mindset difficult. Gabe Noler, a married man from the Atlanta area, used to frequent the world of call girls on a regular basis. On business trips, he would spend hundreds of dollars on a night of anonymous and unrestrained sex.
"My marriage was strained," he said. "I didn't leave a paper trail, and no one ever found out."
For Gabe, the reasons behind his actions were clear. At the time, his wife had stopped being physically intimate, and with two young children under the age of five, Gabe felt as though his sex life had been put on hold.
"We weren't talking or communicating," said Gabe. "And we didn't have sex." For six years, Gabe made regular visits to prostitutes. One day, he looked at his kids and realized the consequences of his choices.
"I felt guilty, ashamed, and disgusted by my actions. I felt like I was cheating on my kids as well."
Just like that, Gabe went back to his wife and kids. To this day, his family has never found out about his behavior. Durvasula points out that the men exhibiting these behaviors suffer from tremendous guilt, whether they recognize it or not. For many of these men, the sexual longing and need can be overpowering, as pointed out in both Terry and Gabe's stories. Dr. Dennis Lin, a psychotherapist from New York City, has treated many men in recovery from a sex addiction. As a sex expert, Lin stresses the need for treatment for these behaviors.
"They know that something is wrong," said Lin. "For them to change their behavior, they must find healthy sexual outlets." Lin recommends that men use other outlets such as masturbation to fuel their desires.
According to Lin, extramarital affairs can cause men to feel unfulfilled. Do they really love their spouses? "It's very possible that these men love their spouses," said Lin. "Instead of engaging in an actual affair, which could cause irreparable damage to his marriage, the choice to pay for a woman's service satisfies a mental or physical need," explains Lin.
A 2005 study by Martin A. Monto from the University of Portland, A Comparison of the Male Customers of Female Street Prostitutes with National Samples of Men, states that 40 percent of married men surveyed were repeat users of prostitutes. Monto also concluded that married men who repeatedly used prostitutes were half as likely to report that their marriages were very happy and nine times more likely to report that their marriages were not too happy than were noncustomers. During a preliminary interview, one anonymous sharer from Navajo County, Arizona, broke down in tears on the phone as he spoke about his strained relationship with his married wife of six years.
"I wake up feeling guilty every day of my life," he said. "I'll never forgive myself."
*All names have been changed.
Celebrity news, beauty, fashion advice, and fascinating features, delivered straight to your inbox!