The Love Song Writer Who Has Never Loved
Diane Warren has written every sappy song you've ever sung in the shower, yet she's never been in love. What gives?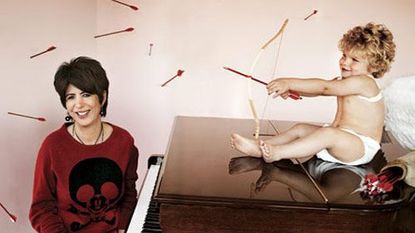 (Image credit: Peter Yang)
Marie Claire Newsletter
Celebrity news, beauty, fashion advice, and fascinating features, delivered straight to your inbox!
Thank you for signing up to Marie Claire. You will receive a verification email shortly.
There was a problem. Please refresh the page and try again.
The day before my interview with Diane Warren, I call her assistant, but Warren herself picks up: "Yes, this is Diane because there's no one in my fucking office to pick up the fucking phone. Twelve people work here, and no one is here. This is fucking insane. Shouldn't they be here?" She laughs.
Meet Diane Warren, the world's premier writer of chart-topping love songs. You know her well: She helped you through your first breakup (Exposé's "I'll Never Get Over You Getting Over Me"). You car-sang her lyrics (Cher's "If I Could Turn Back Time"), slow-danced to her melodies (Celine Dion's "Because You Loved Me"), and perfected your karaoke skills to her catchy hits (Ace of Base's "Don't Turn Around"). Those with a penchant for shower-singing love her — as do the Grammys, Oscars, and Golden Globes. She's been nominated for at least 20 major awards in her career and has had more than 100 songs on the Billboard Hot 100 (more than 50 of them were Top 10 hits).
You might assume that the writer of lyrics like "for every kiss, I'll kiss you back a hundred times" would be a sentimental fool. You'd be wrong. Warren owns a parrot named Buttwings, wears a necklace that says "Fuck You" in tiny letters, croaks out snarky one-liners, and decorates her couch with a pillow that says, "Your Worst Nightmare: White Trash with Money."

"All the things in here that say something tacky come from Diane," says Julie Horton, executive vice president of Warren's publishing company, Realsongs, which commands $20 million annually in royalties. "She's got this really cute sense of humor. It's warped, but it's cute."

Just then, Warren hops down a hallway lined with framed platinum records, her black pixie haircut bobbing, and ushers me into a room where a kid in a "Homies: I'm Down with Them" T-shirt sits at a piano. "Check this shit out," Warren instructs. The kid launches into a soulful R&B-influenced song. Horton, who has followed us in, whispers in my ear that the kid is not a kid, but 24-year-old Ferras, a newly signed Virgin Records artist.

"I love singers," Warren says. "And, shit, I never hear anyone this good," despite working with people like Whitney Houston, Mary J. Blige, Eric Clapton, and Gloria Estefan. The kid looks thrilled. He mentions a '90s song by Xscape that he'd like to emulate. He hums a bit. "You know it?" "That's my song!" Warren exclaims.
Later, Warren leads me past a bookcase featuring All About Me and Angry Little Girls to a green room filled with plush couches. She's one of those ageless California women, somewhere between 34 and 58 (she's 50), with dewy skin, big eyes, and a youthful figure. She picks at the hand-painted tiger on her shoe and considers the central irony of her career.
"I mean, I've never been in love," Warren says. "I know, it's weird." Especially because, how many of her songs are about love? "Approximately 99.999 percent," she says.
Sure, Warren has had relationships, including a seven-year shack-up with a record-industry guy. "But it wasn't really being in love. It was just, like, comfortable. And on occasion it wasn't even that comfortable," she says. "But I love my friends, I love my animals. I have a good imagination. I've always been like this. I didn't even sleep with a guy until I was 24. To be honest, I've only been with three men. I've been so focused on my music." Whoa, the woman who wrote "How Do I Live," a song that makes singles feel like lepers, is a workaholic loner?
"Maybe my songs are my partner. How 'bout that? Yeah, the biggest relationship I have is with my songs."

Accordingly, she's in therapy. "My shrink once said to me, 'You're 39 and your best friend's a parrot, and you don't need therapy?' She gets on me about balance."
On a typical day at the Realsongs offices, A-list producers drop by to shop for songs that flatter vocal range and persona. Here lies Warren's secret: Her hits provide any megavoice with a vulnerable identity. Producer Randy Jackson, of American Idol fame, stops in one day and sums her up this way: "This woman is the heart and soul of the industry. Most artists are lost. They have to come to Diane to figure out who they are."
"Then they don't listen," Warren shoots back. "Cher hated 'If I Could Turn Back Time.' I had to beg her, literally, on my knees, just to try it. Happens all the time."
The classic Warren tune is born in a flash of inspiration, often as a title or chorus hook. The best of these are witty plays on the concept of love, such as "I don't want to fall asleep, because I'd miss you, baby" — an Aerosmith lyric that came to Warren when she heard a James Brolin quote about Barbra Streisand. As for making millions (her catalog is worth nine figures) evoking experiences she has never had, Warren compares songwriting to acting. Think about it: Julia Roberts didn't work as a hooker to do Pretty Woman. "I know what it's like to have a broken heart. I know what it's like to feel pain: When my songs don't become hits, it breaks my heart. There are a million ways to break a heart. I can relate."
Only a handful of her titles recall specific events in her life. She wrote "Numb" (recorded by the Pet Shop Boys) after her mother passed away, and recently penned Jessica Simpson's anthem of female independence, "I Belong to Me." "That's the one I really relate to," she says.
"I don't need someone to complete me; I complete myself." Otherwise, she is essentially a fiction writer.
On the second morning of my visit with Warren, country crooner Billy Ray Cyrus slides into her studio to record — what else? — a love song. Cyrus explains his career quandary. "How do you follow up 'I Want My Mullet Back'? The only thing to do is work with a class act like Diane." Cyrus is new to the Warren sphere and nervous about meeting her. "Coming here is like going over to Mozart's house and hanging," he says, and laughs. "But her looseness is why she writes such great songs. She captures the realness that people feel."
Warren emerges from "The Cave" — the writing room she hasn't cleaned in two decades that features two keyboards, 1980s posters of Cher and Michael Bolton, and towering piles of cassettes. She greets Cyrus by throwing an arm around his shoulder. Small talk turns to Valentine's Day, which is fast approaching. "I don't do much on Valentine's," she says, with a grin. "Maybe I'll write a fucking love song."
Celebrity news, beauty, fashion advice, and fascinating features, delivered straight to your inbox!