The Rise of Groomzillas
Men are taking over weddings — scrutinizing seating charts, agonizing over color schemes, and vetoing bridal gowns.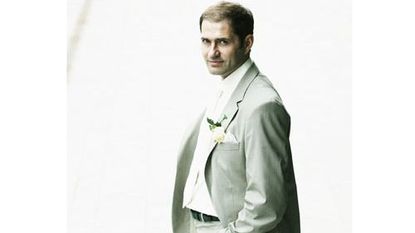 (Image credit: Archives)
Midway through planning his April 2011 wedding to New York-based publicist Rhalee Hughes, 38, Yoav Perry, a tech entrepreneur, lost it. First, there was the issue with the florist ("I asked for yellow and white tulips, and they gave me funeral flowers"). After having someone fire his florist for him, he tackled the menu at the wedding tasting. "I was horrified — all the food was brown," says the 38-year-old. But it got worse. Every dish they served was "too dry," "overcooked," or fried "at the wrong temperature," and Perry sent each dish back to the kitchen. "I said, 'Unacceptable! Bring me something to excite my palate!'" he says. The final straw came when Perry was served a salad with a steak knife — he stormed out of the tasting. After being coddled by four chefs and the owner of the venue, Perry calmed down — but not before screaming at the owner.
Perry is not an anomaly. "I've seen so many grooms have meltdowns," says Alabama wedding planner Martie Duncan. "One guy dragged his fiancée dress shopping all over town. Nothing was good enough for him, and he wasn't interested in his bride's input. At each fitting, he made me wear a tuxedo jacket and stand next to his fiancée so he could envision the photos. Since he couldn't find a gown he liked in Chicago, he flew everyone to New York City to resume the dress hunt. On the big day, he called the airport repeatedly to ask if planes flying overhead would disturb their outdoor nuptials. And he harassed the weather station to confirm sunny skies."
Another one of Duncan's male clients had a fit an hour before the wedding when the flowers weren't grand enough. He ran out of the Four Seasons, loudly cursing, returning only after a search party was called. And yet another groom had an anxiety attack about the seating chart right before the ceremony. His bride was in tears, but he didn't notice because he was rearranging flatware.
Meet Groomzilla. He's seizing wedding planning, obsessing about details that were once strictly bridal turf. What turns otherwise sane men into fire-breathing divas in tuxes? It's due in part to age, says Katherine Jellison, Ph.D., of Ohio University and author of It's Our Day. Data released by the Pew Research Center found that men are marrying at an older age than ever before. "Because they're waiting so long to settle down, these grooms have developed tastes, so they're more opinionated and stubborn than younger men," says Jellison. Finances can also cause the sanest groom to go postal. According to Jellison, there's been a recent spike in couples paying for their weddings (more than half do). And when the grooms are shelling out, they're more vocal about where the money goes.
Financial analyst Jonathan Nowling, 28, says he's an "over-the-top penny-pincher" when it comes to planning his September 2011 nuptials to insurance underwriter Nicole Johnson, 30, in Sacramento, California. "I feel guilty — it's supposed to be her day," he says.
Nowling and Johnson have visited six bridal fairs to scout photographers, caterers, and DJs, a process Nowling enjoys because "it's people doing things for me — it's my day, and people want to take care of me." Johnson takes her time with each vendor, but Nowling admittedly has "the attention span of a goldfish," and if he doesn't fancy a booth, he abruptly — and loudly — announces, "Let's go. This guy is expensive!''
"Wedding planning has evoked my inner girl," he says. "I used to cut my hair at Walmart, now I have my own stylist. And I may get a manicure with clear polish for the wedding."
Although his fiancée is thrilled to have some help, "I get embarrassed sometimes," says Johnson.
Another reason grooms are freaking out: The wedding industry has recently set their sights on men. Having already sold women on the fairy-tale ending, savvy marketers are appealing to guys. Bridal websites provide tips for coed showers ("Jack and Jill parties"), and luxury spas offer "Groom Specials." Even wedding reality shows aren't solely female-focused anymore. Cake Boss and My Big Friggin' Wedding appeal to a male audience.
Seth Abbey, 37, a New Jersey-based sports researcher, is engaged to writer Abigail Lorge, 34. They watch TLC's Four Weddings, and recently bickered over whether to DVR a marathon of reruns (his choice) or a ball game (her choice). "When I click on The Knot and it says, 'Welcome back, Seth!' I feel like a deadbeat bride," says Lorge.
Teacher Tara Gerritz, 30, is married to Jeff Trinci, 31, "The CEO of our wedding." When they wed in 2007, Gerritz was startled by Trinci's zeal. "Jeff did way more than me."
Back then, there were no male-oriented resources for the things Trinci cared about — the music for the reception and first dance; booking the venue, the budget, the menu, the color scheme. So he created thegroomslist.com, a guide for men who want a voice in wedding planning. "Weddings aren't just for women," says Trinci. "Men really need this."
Celebrity news, beauty, fashion advice, and fascinating features, delivered straight to your inbox!