7 Signs the Guy You're Seeing Is Boyfriend Material
Whether you're on date one, two, or five these telltale signs prove he's worthy of something more serious.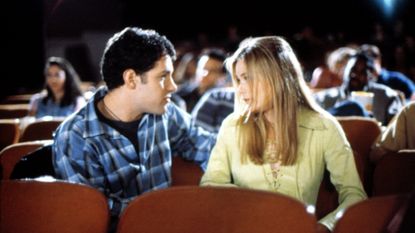 (Image credit: Everett)
He's a nice guy. Somewhere deep down you may hope that the brooding bad boy is going to suddenly change — perhaps order you a refill when you head to the bathroom instead of talking up the bartender. But really, he's just looking out for himself. A nice guy is just that: He cares about your feelings, is interested in spending time with you, and is courteous. All traits, that if this goes well, he'll pass onto his son.
Being reliable isn't just something he saves for his bros. When he says he'll meet you at 7 p.m. he's there on time. And, after your third date when you left your keys in the cab, he came over to sit with you outside your apartment until the locksmith came.
He doesn't want to play games. He's not looking to just get laid, he's in this to find someone to date seriously. So, when you text him "I'm so tired today," he responds within minutes (not a day later) with a "Me too. Dinner later?"
There's never a shortage of something new to talk about. It's only been four dates, but you already can't wait to tell him about your day and listen to him recount his.
You feel like you could introduce him to your friends tomorrow and they'd get along seamlessly. You don't have to worry if your friends will like him or make excuses for his behavior once they do.
He remembers the things you tell him. On your first date you told him your favorite movie was Ever After but you somehow lost your copy when you moved apartments. On date five he brings you a new one.
You feel comfortable around him. You don't have pretend to be more or less of what you actually are. And while you're still shocked that he didn't make a run for it after seeing you in sweatpants, he actually seemed genuinely interested as you explained your sweatpants categorization: fancy, errands, sleep, cleaning, and sick.
Related:
I Went on 157 First Dates

How to Turn a 'Friends with Benefits' into a Boyfriend

8 Very Real Reasons He Broke Up with You

If Your Family Doesn't Like Him, Is the Relationship Doomed?
Photo via Everett
Marie Claire email subscribers get intel on fashion and beauty trends, hot-off-the-press celebrity news, and more. Sign up here.