10 Totally Free Valentine's Day Gift Ideas
Because it's the thought that counts anyways.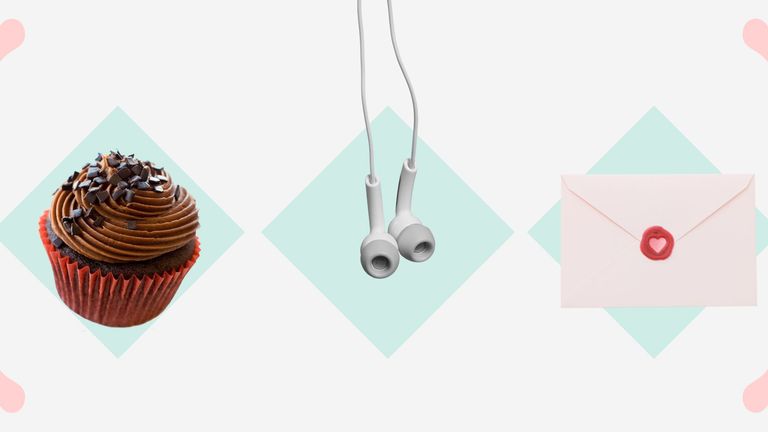 (Image credit: Design by Sade Adeyina)
Whether you're on a budget or just really hate consumerist holidays for making you spend $$$ to show your affection, find some creative ideas ahead for how to show your love this Valentine's Day—little to no money required.
1/10
Make a Montage of Memories
Instead of watching a *real* movie on Valentine's Day, why not take cues from Kylie Jenner and make your own documentary-style video? The video can feature you and your S.O.'s most memorable moments you've captured throughout your relationship. Bonus if you make it an after-dinner special (with wine).
2/10
Frame It
Make a collage of all your favorite pictures together. Though you've likely kept most of your selfies on your phone, a printer and some scissors can do the trick for a low-budget gift.
3/10
Get Baking
They always say that the best way to the heart is through the stomach, and if you're not forking out for hearts and chocolates, it's not a *terrible* idea to just make sweet treats from scratch. This one's a gift both of you can both enjoy together.
4/10
Write a Personalized Love Letter
We'd like to thank The Notebook 👏 for instilling in us a deep reverence for the hand-written letter, and we think it's the perfect way to sum up the things you love about your significant other that often go repressed or unspoken.
5/10
Cook a Dinner for Two
If you've both fallen into a routine of Seamless dinners or eating out, the best gift can be a thoughtful meal that you've put together yourself. Add some candles to set some mood lighting (which is very important, as Clueless has taught us) or to create an aromatic experience (just don't do the whole holy-shit-thats-a-lot-of-fragrance shtick).
Technically this one requires actually buying groceries, but it really beats fighting for a reservation at a crowded restaurant and drooling on yourself while you wait for the food to arrive.
6/10
Utilize Your Crafting Skills
Channel your inner craftiness into a creative project that you can whip up for your better half (like this ceramic vase). Bonus points if it actually ends up successful, but that's not really the point, is it?
7/10
Set Up Your Own At-Home Spa
As skincare freaks here at Marie Claire, we're always advocates of setting up your own spa in the middle of the living room (because why would you not?), and it feels especially apropos on Valentine's Day to extend the pampering to your loved ones. Give a back rub and a head massage or convince them to try out a dewy Korean face mask with you (best of luck).
8/10
Create a Playlist
This one's an oldie, but an eternal classic. Whether you're blasting it at your S.O.'s window Say Anything-style or simply sending them a Spotify link, it's a sweet way to package your feelings about the other person.
9/10
Give Your Quality Time
It's a real cliché—but still true—that the best gift to give someone is simply the act of slowing down, canceling all other non-important chores, and enjoying spending time together. Working on a crossword together with breakfast in bed, a game night indoors, or a weekend away could be just the trick to getting back on track as a couple or keeping things alive.
10/10
Plan a Mini Excursion
Especially if you've been dating for a while, it's worthwhile to spend time outside the routine of your usual dinner, movies, and cuddling at home. Plan an excursion somewhere both of you have never been before: experts say that an element of the unknown drives excitement and better bonding experiences. Set up a picnic lunch in a cozy secluded spot or drive somewhere far away from the city and go stargazing—both require little to no money.