Can Women Fix Dating?
As digital dating degenerates into a soul-crushing time suck rife with bad behavior, what's a single girl to do? A crop of apps designed for those who've lost all hope just may restore her faith in the swipe.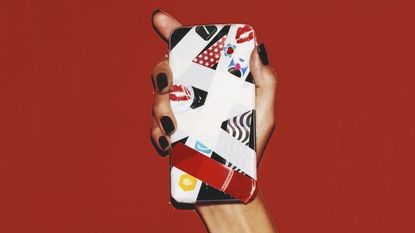 (Image credit: Eric T. White)
Marie Claire Newsletter
Celebrity news, beauty, fashion advice, and fascinating features, delivered straight to your inbox!
Thank you for signing up to Marie Claire. You will receive a verification email shortly.
There was a problem. Please refresh the page and try again.
In this post-post-post sexual revolution era, there's a different kind of "having it all" pressure that comes before marriage and family, perpetuated by social media, where everyone's life is a #nofilter highlight reel. On the must-have list: a dream job, famulous friends, cool hobbies, and a killer dating life. But between work, family, friends, the gym, and volunteering, we don't all have the extensive social networks we simultaneously idealize and expect, the kind where we meet friends of friends at parties and dinners—a smorgasbord of potential partners who conveniently come with the implicit endorsement of someone trusted.
Enter dating apps, which (the logic goes, anyway) put an entire city of eligible singles at your fingertips. There's something for everyone. Want long-form profiles complete with a "self-summary"? Join OkCupid. Searching for some semblance of that "we met through friends" story line? Hinge connects you to those with whom you share Facebook friends. Prefer some- thing more looks-based? (It's OK to admit it.) Tinder, famously, gives you the opportunity to swipe left or right on a seemingly unlimited number of men, an endless game of Hot or Not.
But the convenience of dating apps brings with it a whole other set of frustrations. As documented by Vanity Fair's Nancy Jo Sales last summer, young hetero culture is a post-Tinder "dating apocalypse" in which no one commits; everyone either hooks up or dithers around texting the entire world. And in Millennial chill culture, dating seems like a never-ending competition in who can't care less. You're not supposed to want to put a label on whatever it is you're doing. You're supposed to just be laid-back, not possessive, not texting too much or too quickly.
Lately, a slew of tech-savvy, successful women has decided to take matters into their own hands and create a new generation of dating apps to address the mobile miseries—feeling objectified or harassed, going-nowhere conversations—that have turned looking for "happily ever after" into a living hell.
One of the biggest plagues is what we'll call The Deluge. On apps where anyone can message anyone, women feel inundated. Guys send lame pickup lines or reams of information, and if you don't respond, they may retaliate by criticizing your profile. Dawoon Kang, 33, cofounder (with her two sisters) of dating app Coffee Meets Bagel (CMB), remembers this feeling of being under siege. "I got on OkCupid, spent 10 minutes on it, and had to get off because I was being spammed like crazy," she says. "The experience itself was so overwhelming—[being] bombarded with hundreds of different profiles in one sitting.
"A lot of guys find browsing countless photos of women very entertaining," Kang continues, citing research done by then Harvard Business School professor Mikolaj Jan Piskorski, author of A Social Strategy: How We Profit From Social Media. "But not a lot of women find browsing photos of irrelevant guys a fun thing to do." To weed out fakes on her app, Kang implements monitors who keep watch. CMB curates matches, and only first names are revealed when a match is made with your "bagel" (sent daily at noon; you have 24 hours to bite or not). "Your profile is not there for hundreds of thousands of people to search," she says. "Random people looking at your photos and information can feel scary. We wanted to create a brand that feels comfortable and safe for women to use and that focuses on quality versus quantity."
Because many dating apps provide a seemingly bottomless number of potential matches, users can't help but browse. According to the Pew Research Center, 32 percent of those surveyed feel "online dating keeps people from settling down because they always have options for people to date." If a first date isn't amaaazing, why bother going out again when you could try someone else? Your magical unicorn soul mate is out there, and who can invest time in getting to know people if the connection isn't instant? Sonia Weiser, 23, a freelance writer in Manhattan, was on OkCupid, but, "You end up being really nit-picky about it," she says. "It's like, 'This person answered this question in a way I didn't like, so I'm going to disqualify everything about them.' Also, because there's this endless supply of people, you get into this mindset of, 'There must be something better, so I'm going to just keep looking, looking, looking..."
When it comes to finding, finding, finding, that idea of quality over quantity is paramount. "With our brand, men shouldn't be texting you at 1 a.m. to come over," says Amanda Bradford, 31, the founder and CEO of The League, an invitation-only dating app that vets career-oriented users via LinkedIn and Facebook. Launched in late 2014, it's currently in beta in San Francisco and New York City, with 100,000 people on a waiting list and plans to launch in additional cities this year. (Wait lists can help build a business and help with quality control.) "They should be inviting you to a drink at 8 and paying for it. It's setting expectations, so even if you're meeting the exact same person you would have met on Tinder, it feels different. It's like meeting someone at a friend's dinner party versus an all-you-can-drink bar in Cancún where everyone is shitfaced."
Asked about her worst dating-app experiences, Ysabelle Cheung, a 26-year-old writer in NYC who has tried Hinge, Happn (a location-based app), OkCupid, and CMB, says, "Have I been hurt? No. Have I been offended? Many times. I've been sent messages with bulging packages and penis heads, and, strangely, on one of them, I receive a lot of messages from men into BDSM. The messages that disturb me the most are the ones from guys asking if I want to violate them or hurt them—and they always say I look like I'd be into it!"
Neqtr launched in 2015 as the antidote to this kind of Fifty Shades approach. Unlike The League, you don't have to be a baller—you just have to want to save the world. "We are for socially conscious, health-conscious, and creative people looking to meet," says founder Sonya Davis, 31. She partners with more than 50 nonprofits to send people on dates where their interests align, to a yoga class, say, or a beach cleanup. Davis is happy to be part of the "anti-Tinder," as Bustle dubbed the app, which has several thousand users in New York and California (and wait lists in the U.K. and Australia, among other countries.) "It's starting to give women a voice, an opportunity to say, 'I'm not OK with [Tinder], and this shouldn't be the norm.'"
A new normal was what Tinder cofounder Whitney Wolfe wanted when she launched self-described "feminist" dating app Bumble in December 2014; it was downloaded 100,000 times in the first month. On it, women make the first move. Wolfe, who left Tinder in the summer of 2014 and later settled a sexual harassment and discrimination suit against the company, says her Sadie Hawkins model attracts not penises and propositions, but respect. "She has put herself out there and said, 'Hey, I'm a secure woman and confident enough to say hello to you,'" says Wolfe. "The man, in response, is flattered, because he has no fear of rejection, [as] she has already expressed interest. It really does create a fascinating effect."
Whoever makes that first move, you have to actually, you know, meet. "I'll have a really great connection with someone via text over three days—which means you've potentially exchanged hundreds of messages. You know the names of their siblings and pets," says Cara Strickland, 27, a food writer in eastern Washington state who has used Bumble, Tinder, and OkCupid. "Then once you meet, there is zero chemistry. That is one of the greatest downfalls of online dating. There's no way to predict that."
Jean Kim, 27, a product manager at a New York City– based digital media company who is on Tinder and has tried Bumble, finds apps like Tinder "really hit or miss," she says. "I have over 200 matches right now but no real ongoing conversations. Sometimes I'll get excited about one person, but it's almost like these guys just want somebody to text all the time rather than actually meet up with. At a certain point, I give up. I'm getting carpal tunnel."
Whim was born out of women's frustration with being trapped in texting purgatory with guys who would ghost when it was time to meet. "How do we get people to the face-to-face a lot faster? That's what everyone's really after," says Whim cofounder Eve Peters, 33, a former product lead at OkCupid. Once you're matched, a dating concierge goes so far as to set the time and place for your get-together, ASAP. Launched in August 2015 in San Francisco, it's headed to L.A. and New York City within 2016. "We did some pretty in-depth quantitative research to understand the time and energy that people are currently investing in dating apps in order to get out on actual dates," she says. "We found that less than 10 percent of matches result in real-life dates and that it takes an average of two weeks of texting back and forth to eventually get out on a date. What that means is, on average, you've got to be texting back and forth with 10 people for two weeks to just get one date."
Dating has always been about numbers, but showing your true self is the real challenge, according to Susie Lee, 42, who, with Katrina Hess, 38, launched Siren in Seattle in September 2014 with 5,500 users and recently opened it to the LGBTQ community. "Men talk about having to play a numbers game on online-dating sites," says Lee. "You need to send out 100 messages, and maybe you'll get three responses. They don't even see women as individuals." Siren, whose premise is "personality first," draws in users via an ice- breaker Question of the Day (sample question: How would a 5-year-old describe your job?). Women scan men's responses and either reach out or put the guy on a watch list. Or he can indicate interest and the app lets her know, but he won't see a woman's profile picture unless she wants him to. "The men who get that are good guys. So, good guys join Siren," Lee says. In pitching the apps to Silicon Valley investors, these founders discovered that many guys, at first, just didn't get it. "The assumption that women needed a different dating experience was challenged pretty hard by men," Lee says. Siren's idea of women controlling the reveal of their photo was a head-scratcher. The standard venture-capitalist response, Lee says, was: "This isn't going to work, because women have always been the hunted and men have always been the hunter." VCs also told her, "'I don't know why women have to obscure their photos. Are they all fat and ugly?'" she recalls. "It's this judge-y objectification of women's photos, hilariously, that is exactly why." Peters pitched in Silicon Valley, too. "What is challenging is that most of the deep pockets in Silicon Valley are married men over 40," she says. "So they never experienced the world of dating as it is now—with mobile text at the center. It's a challenge to help them under- stand how different today's world of dating looks."
And when it comes to taking back that world, women say they are the ones to do it. "What makes a community and eco-system more viable is something that women seem to know how to do better than men," says Lee. So how well is it working? Established dating-app behemoths rack up numbers like Tinder's estimated 50 million users, 26 million-plus matches per day, and 1.4 billion swipes in 2015. OkCupid's 12 million or so users send 7.3 million messages a day (OkCupid and Tinder are majority-owned by IAC, which also owns Match). Hinge doesn't disclose its numbers but has reportedly said it sets up 50,000 dates a week. The newer, often smaller, female-founded apps are wary of releasing user numbers, so it's hard to compare stats. CMB is about the same age as Tinder, claims it has users in the millions, counts more than 25 million matches to date, and has produced at least 20,000 couples. (In attaining their goal of a less spammy or perverted dating site, the CMB sisters turned down investor Mark Cuban's $30 million buy bid on ABC's Shark Tank in January 2015. "Many people called us 'greedy' or 'ridiculous' for turning him down," says Kang. "We weren't going to sell ourselves short.") Bumble cites 200,000 messages a day, 60 percent of which lead to conversations. The League estimates 30,000 matches were made in its launch month. Whim's Peters says, "The most important metric right now is how many dates we're setting up every week. In the past few weeks, our number of dates has grown by 50 percent." Siren, says Lee, isn't as obsessed with racking up the numbers as it is about "growing a community meaningfully and authentically before expanding into other cities."
Wolfe's design was to make guys accountable for messages they send. "On Bumble, you can't send a photo without having your face and name attached to it," she says. "There are naysayers who are like: It's such a crowded market, why another dating app? But if you go into a relationship in a broken or insecure way, then it really has a detrimental effect on everything else in your life. All we're trying to do is start these conversations off confidently."
"I think men don't want to judge just on a photo. I believe that women don't want to sit there like objects on a pedestal. We have agency; we have a voice," says Lee. "I really believe there are good men out there who want something better than a swipe."
The response to these apps has been, as Kim says of her dating-app experience, "mixed." While she dated someone she met on Tinder for a while, it's mostly "a hook-up thing," she says. "I don't even really know why I'm still on there, to be completely honest. I'll swipe because it's a habit at this point, but it doesn't seem to be leading to anything worth my time." As for Bumble, she says, "I appreciate that I have to be the one to initiate, but just because you do doesn't mean that what comes back at you is quality, either. Also, sometimes the burden is too much on me, which I know is contradictory."
Zoë Weiner, 24, a freelance journalist in New York City, likes being the instigator on Bumble after being on Hinge and Tinder. Still: "I've had some great conversations, but I haven't been on so many dates. I will text first, but I won't be the one to suggest meeting in person. I'm initiating the conversation, but then it's sort of awkward."
These new apps may be unavailable beyond major cities, or the pickings slim where you live: "The mainstream ones are pretty well used here," says Strickland, who found both "douche bags" and a boyfriend on Tinder. "When I got on Bumble, though, there were crickets—very few local people seemed to be on."
Others swear female-friendly dating apps are the way to go. Amanda Nelson, 29, an executive at a production company in San Diego, has ditched Tinder for Neqtr. "I definitely find that it leaves out some of the sleaze factor," she says. "Where I live, everyone is always looking for the next hot thing, but with Neqtr, people are meeting to find a real partner, not just an awkward one-night stand."
Having previously encountered convicted felons on Tinder, 27-year-old marketing manager Katherine Carter, in Los Angeles, is now solely on Bumble. "Tinder feels more like a hook-up site—and the amount of unflattering guy selfies is pretty absurd. They ask for your cell phone number and then send you dick pics, and now this creep has your number," she says. "Bumble is more about trying to find love. I feel the caliber of men is higher, and I can get a good grasp of who that guy is. I've met fewer creeps on it."
Maria Valatkaite, 23, who works in communications in D.C., has found real relationships from both OkCupid and Bumble. "I feel like no one really takes Tinder seriously anymore," she says. She tried Bumble "more to find friends to go out with and to have a good time without being serious." But, she adds, "With that attitude, I accidentally got myself a boyfriend."
Megan Fisher, 23, who works for an insurance company, had just moved to Seattle when she started out with traditional apps. "It's primarily from the male standpoint. It's shallow. It's your face, your body," she says. When she tried Siren, she liked that she could reveal her photo when she wanted, and that profile photos can be taken via the app so that "you don't have to deal with guys' pictures from high school." The Question of the Day icebreaker worked for her. "It was so easy to just put myself out there, and it was a completely comfortable environment," says Fisher, who met her fiancé via the app.
Whether these apps will save dating remains to be seen. If love is a battlefield, they're just trying to give a girl a fighting chance.
Additional reporting by Lane Florsheim. This article appears in the February issue of Marie Claire, on newsstands now.
Celebrity news, beauty, fashion advice, and fascinating features, delivered straight to your inbox!
Maria Ricapito is a writer who lives in the Hudson Valley.