A Bid for Justice
How Liz Seccuro's rapist apologized — and was finally prosecuted — after 20 years.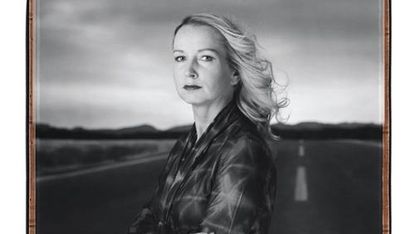 (Image credit: Mary Ellen Mrk)
The morning of September 8, 2005, begins like any other. Isn't it strange that the days that change your life always seem to begin so ordinarily? My family—my husband, Mike, an investment banker, and our 2-year-old daughter, Ava—is preparing for a much-needed three-week working vacation in East Hampton, where we have rented a house. That morning, in my home office, I furiously type e-mails to clients and vendors—I am an event planner—letting them know I'll be out of town. When I finally emerge from a steamy shower and jump into cargo pants and a tank top, I plunk a straw cowboy hat on my wet head as a final nod to the idea of vacation. I scoop Ava up under my arm, jostle her onto my hip, and descend the stairs. We're pulling down the driveway when I blurt it out. "Wait! Get the mail, get the mail!"
Mike sighs, puts the car in park, and ambles over to the mailbox. "Hey, you got a letter," he says, sliding it across my legs. It's an actual snail-mail letter—a relic! "Who writes letters anymore?" I ask as my eyes scan the postmark. Las Vegas. Funny, I know no one in Vegas. My eyes slide left to the return address, and the air is literally sucked out of my lungs. I struggle to catch just one cleansing breath, but it won't come. There on the return-address sticker, so neatly positioned in the upper-left corner, is his name: William Beebe. My rapist.
After what seems like an eternity, I unfold the sheet of paper and read.
Dear Elizabeth:
In October 1984 I harmed you. I can scarcely begin to understand the degree to which, in your eyes, my behavior has affected you in its wake. Still, I stand prepared to hear from you about just how, and in what ways you've been affected; and to begin to set right the wrong I've done, in any way you see fit. Most sincerely yours, Will Beebe
Out slides a shiny white business card with his address, phone, cell, and e-mail address. My heart skips several beats, and when it starts up again, tears slide down my face. I am subtly aware of rivulets of sweat escaping from under the silly cowboy hat. I start to hyperventilate and rummage in my handbag for a Xanax. Perhaps I am imagining this whole thing and it's some sick prank. Silently I hand the letter to my husband. He reads it with no expression. He knows. I can hear the hum of the car engine again and the sounds of Finding Nemo drifting from the backseat. Normal sounds; everyday sounds. Slowly, I exhale as the Xanax starts to take effect, but within a minute or two, the sobbing takes over. "Let's go," I say. Mike puts the car in gear while looking at me intently, as if to ask whether or not we should leave. I read his look and nod a silent "yes."
I WAS ALREADY in pajamas, enjoying a relaxing evening at my dorm, when my friend Jim invited me to the Phi Kappa Psi party. I didn't want to go. But he was rushing the fraternity, he said, and needed a date. So I relented. It was a Thursday night, October 5, 1984, and I was just weeks into my freshman year at the University of Virginia. I put on a sweater of aqua, pink, and white squares, a denim skirt, and a pair of navy flats. A strand of pearls, so popular among the preppy set, completed my ensemble.
The Phi Kappa Psi house was lit up like a Christmas tree, and we could see revelers gathered with cups of beer on the porch and dancing in the large rooms inside. I was introduced to several of the fraternity brothers, one of whom asked if Jim and I would like a house tour. We agreed and climbed the grand staircase. Upstairs, Jim was offered pot, and left me for a while to smoke. I saw people I knew from my dorm, so I felt comfortable. Someone offered me punch, calling it "the house special." Though I had a beer and didn't want to drink more, I didn't want to seem like a loser, either. So he poured the pale, citrusy green drink in a small, clear plastic tumbler, and I sipped it. Almost instantly I began to feel light-headed and dizzy.
A tall, owlish-looking young man introduced himself as Will and kept leaning in to whisper in my ear. I felt like Alice in Wonderland. Everything was in slow-motion. Will took me by the hand and lifted me off the couch. I could barely walk. He began to yank me into a room, insisting that he wanted to show me something. Pulling. Dragging. As he tightened his grip on me and told me to relax, I broke free and ran. But another fraternity brother caught me, picked me up like a sack of autumn leaves, threw me over his shoulder, and shoved me back into the room. The door slammed shut loudly and the lights were cut. I swam in total blackness. Someone was holding me up and ripping my clothes off roughly, restraining me first by one arm, then the other. I had never been naked in front of anyone in my life. I screamed "No!" repeatedly. Then, with a wash of pain, I passed out.
Hours later, sunlight streamed through the window. I opened my eyes and assessed my situation. With horror, I saw the bloodstains from my thighs all the way down to my ankles. At 17, I had no experience with crime or with sex, but I knew that after something so unspeakably violent I needed to get to a hospital. In 1984, there were no cell phones, no easy way to call a friend, so I just willed myself to walk. When I arrived at the University of Virginia Medical Center, I approached a desk and stood there like a ghost. "I've been raped," I said. "I need to see a doctor." I was left waiting for what seemed like hours, and then the nurse on duty informed me that the hospital didn't have the tests that needed to be conducted on rape victims. I'd have to go to Richmond or Washington, D.C. for that. There was no way I could make the trip, so I gathered my things and walked out the door.
In the weeks that followed, I went many times to the deans and university police, who sat respectfully and listened but weren't hearing me. I was advised that the frat house wasn't in the jurisdiction of the Charlottesville Police Department, so the university would handle it internally. No one at the fraternity was speaking, and Beebe was gone—one of the deans said he'd been having academic problems and "left of his own volition." My case was cold. I'd call the university police every once in a while, but I was always told there was no new information. Finally, they stopped returning my calls and I, too, stopped calling them. It was over. They had won.
I was determined not to let the rape destroy the rest of my college years, and the remainder of my time at Virginia was pretty typical. I made lots of friends, partied, dated a little bit. I went to football games and movies and fell in love with Latin American literature. For a time, I steered clear of the Phi Kappa Psi house. Even with Beebe gone, I was scared and ashamed to be recognized by someone who had seen my assault. But eventually I felt as indistinguishable as the next coed.
After thinking and stewing and not sleeping, I've made a decision: I am going to reply to Beebe's letter. I need to know he's in Las Vegas and not creeping outside my door. That's it. End of story. On September 19, 2005, after putting Ava to bed, I'm sitting with my legs dangling in the pool of our Hamptons rental, puffing surreptitiously on a Marlboro (I'd quit years ago) as I tap out the e-mail on my BlackBerry.
Mr. Beebe: I am in receipt of your letter. My life was terribly altered by the fact that you raped me, and I want to know why you did it and why you are reaching out to me now. Every decision in my life has been colored by wanting to feel safe. Now I don't feel safe again. How can you live with yourself?
I don't sign it. He'll know who it's from.
As we try to enjoy our vacation, I obsessively check the BlackBerry. And then it arrives. I see the "new mail" icon in shiny bright yellow, see his name, and click on it. He describes the selfishness of his youth, a time when he rarely thought about the consequences of his actions, especially when he had been drinking. He'd joined Alcoholics Anonymous. He wanted to right the wrongs in his past. It seems that he regards his crime against me as just one more instance of collateral damage from the alcoholic life he has put behind him. He says he prays for me.
This is torture. I can't let this e-mail be the last word. Shamefully, I haven't discussed with my husband the correspondence—can't he tell something is wrong? That night, I e-mail Beebe back. Are you married? Does your wife know what you did? My life was a living hell after the rape. Almost 24 hours later, my BlackBerry buzzes. Again, he speaks mainly about himself and not the effect he had on me. "I get it! Alcoholism!" I yell out loud. "So what? That doesn't give you an excuse!"
The end of November brings so many emotions to my household. The e-mails from William Beebe continue to haunt me, and I intermittently e-mail him back. The correspondence is never friendly, although my questions are sometimes benign. I am still afraid he might come after me—I believe that if I stay in close touch with the predator, he can't sneak up on his prey. One night I finally tell Mike about the e-mails. He stares intently at me, his expression changing from sympathy to anger to fear in the time it takes for me to sputter out what is happening. I look up at him and see tears in his eyes. Beebe has hurt him as well.
In early December, I pick up the phone, hesitate, then punch in the number to the Charlottesville Police Department and ask for the chief. I am transferred to the voice mail of Timothy Longo. "Hi, you don't know me, but I was a student at the university, and I was raped by a fellow classmate in 1984 at the Phi Kappa Psi house. I reported it to the deans and the university police. Nothing was done. This person has made contact with me again and knows where I live. Sir, I think I need your help."
Forty-five minutes later, Chief Longo calls me back. I give him a synopsis of what had happened in 1984, what reporting procedures I had been through, the arrival of the letter in September, and what had transpired. He is polite, strong, and businesslike. He tells me that, contrary to what the Dean of Students had told me two decades earlier, the frat house is indeed under the Charlottesville Police Department's jurisdiction, and always has been. My brain freezes. Had they lied to me? I am stunned. Longo also tells me that there is no statute of limitations on rape in Virginia, that Beebe can still be charged with the crime. Longo and I exchange e-mail addresses, and he tells me that he or one of his detectives will follow up.
The next evening, the phone rings. It is Detective Nicholas Rudman of the Charlottesville police asking if I'd be willing to come to Charlottesville to give a statement. I ponder the logistics and think, Why not? I phone Mike, who is still at his office, and we agree to go that Friday night. At noon on Saturday, Detectives Rudman and Scott Godfrey are in the hotel lobby to meet me. It is a glorious late-fall day with deep-blue skies and brilliant sunshine, the kind of day that always reminds me why I love Virginia.
"Liz, could you take us to some of the places you mentioned in your statements to Chief Longo?" asks Godfrey. Sure, I say. As we drive, I point out the salmon-colored building that housed the university police and tell the detectives of my visits there. I point to the Phi Kappa Psi house, sitting gracefully on Madison Lane. "That's the room I was raped in," I say, gesturing toward the second-floor window on the far right. "There's a window overlooking Madison, and the bed was flush against that window."
We double back and drive toward campus, to my freshman dorm, and park. On the second floor, at the end of a long hall, I see the door to my room. I touch the door, almost caressing it. I feel overwhelmingly sad as I stand there, feeling so much older, but still so frightened. I show them the communal bathroom where I had showered the morning after the rape. I list off the names of friends who lived in each room, and I am amazed at my own power of recall.
Finally, we begin our drive to the police department. They ask if I am ready to tell what had happened to me that night in October 1984. It has been 20 years since I have spoken about it in such detail, from beginning to end. Telling it now, especially being back in Charlottesville, is the oddest sensation. I ask for a piece of paper and draw a layout of Phi Kappa Psi—the common rooms, the foosball table, the kitchen, the staircase, the bar. I draw a rough diagram of the room in which I had been raped and draw myself as a stick figure on the bed and on the sofa where I had awoken. I stand up and ask Detective Godfrey to stand in order to describe Beebe's height and weight. I take off my boots to demonstrate my own height. I can hear the clock on the wall ticking softly.
And then we come to the part where I have to describe the rape itself. I stumble frequently, but their questions are calm and direct. My whole statement takes more than two hours. The story I had kept buried comes pouring forth, the details fresh. People are listening to me, hearing me, and I will never be silent again. "I think we have enough here," says Rudman, clicking off the tape. "Would you like to press charges against William Nottingham Beebe for your rape in October of 1984?" The emotions are too much to bear, and I begin to sob. "Yes," I say, "I would like to press charges, please."
Read more about Liz Seccuro's groundbreaking case against her college rapist—and the shocking revelations it unearthed—in Crash Into Me (Bloomsbury USA).
Celebrity news, beauty, fashion advice, and fascinating features, delivered straight to your inbox!