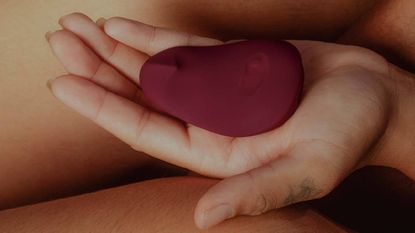 (Image credit: Dame Products)
A lot of the culture around Valentine's Day involves activities that don't actually sound that fun. A fancy dinner can be really nice, of course, but jockeying for a reservation on the busiest date night of the year? Less so. Or the old-school tradition of receiving jewelry and chocolates: Both of those things are great, but most people want to pick out their own jewelry if they're going to wear it every day, and since when do we need permission to eat whatever we want, whenever we feel like it? Intimacy shouldn't feel like an obligation, and things that make you feel good shouldn't be some rare indulgence. Maybe it's time to rethink what V-Day really stands for and use this February holiday as an opportunity to focus on what's important: Pleasure. Consider this a friendly reminder that Dame Products, the bestselling sexual health and wellness brand, wants to make sure that you come first this February. (And be sure to read to the end for a special discount for Marie Claire readers.)
Pleasure means more than just orgasms, of course. But while deepening your intimacy with a partner can be a priority for any day of the week, Valentine's Day does offer the chance to talk about pleasure and sex in an open, honest way—something that, unfortunately, isn't the case (yet) for much of the year. For the coupled-up among us, February 14th could be seen as a whole holiday dedicated to celebrating and strengthening your connection with another person. Sure, for some people, that might look like a swanky prix fixe dinner and an elaborate flower display. For others, building intimacy can be as low-key as trying out a new recipe to cook together, or playing a game that helps you better know your partner. (For a fun and free experience, check out Gottman Institute's Relationship Quiz to test your knowledge of each other.)
But pleasure can also mean orgasms. So when it's time to slip into something more comfortable and retire to the bedroom, make sure pleasure is the priority. Dame's beloved couples' vibrator, Eva, focuses on clitoral stimulation to enhance pleasure during penetrative sex. This little cutie's got three quiet but powerful speeds for customizable fun, and since it's hands-free and was designed to stay in place, the focus can stay on you and the other person—no need to multitask, and no engineering degree required.
Eva is Dame's classic couples vibrator. It fits inside the labia for a hands-free addition so you and your partner can keep the focus on each other while enjoying Eva's powerful vibrations.
Aer is Dame's powerful suction vibrator, which creates a soft seal over the clitoris and delivers waves of intense air pulses to mimic the sensation of oral stimulation.
$80.75 with Code "MARIECLAIRE"
Com is Dame's body-friendly take on a classic wand vibrator. Its powerful motor, with five patterns and intensities, and its curved head make it perfect for first-time vibrator buyers or expert-level sex toy operators.
And if the emphasis on coupledom is not your vibe (pun intended), remember that exploring your pleasure is great as a solo adventure. Treat yourself and be your own Valentine with Pom, Dame's versatile, bendy vibrator that's perfect for romps, be they solo or with a friend. Pom is waterproof, velvety soft, and super flexible, moving to target whatever feels best for you. Pom is small but mighty, with five different rumbly speeds and patterns. A quick-but-sexy review of high school Physics: Rumbly vibrations move at a lower frequency, so you'll feel them much deeper in your body than you would with buzzy vibrations. That means full-body pleasure—Happy Valentine's Day to you!
More than just a provider of mind-blowing orgasms, Dame is a go-to resource for sexual wellness—a woman-powered company with the goal of closing the pleasure gap and helping every unique body find the product that helps them prioritize their pleasure. Their products are also gorgeous to look at, like art pieces that'll make you think twice about keeping vibrators in a drawer. So enjoy your Valentine's Day, however you plan to spend it, and bring Dame along to make it the best night ever. Get 15% off your order at DameProducts.com using offer code MARIECLAIRE.