We Were *This Close* to Having Timothée Chalamet in 'Barbie'
He even stopped by the set!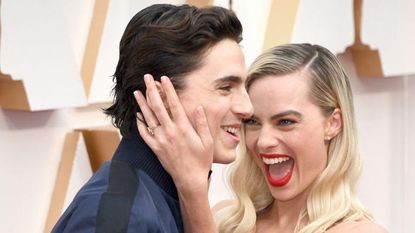 (Image credit: Getty Images)
Marie Claire Newsletter
Celebrity news, beauty, fashion advice, and fascinating features, delivered straight to your inbox!
Thank you for signing up to Marie Claire. You will receive a verification email shortly.
There was a problem. Please refresh the page and try again.
Look, no one's denying the delightful summer romp that is the Greta Gerwig-directed Barbie film. It's funny, it's heartwarming, it's weird, it's completely star-studded. No notes. And it grossed over $1 billion, so the world agrees. How could one improve upon, for example, Ryan Gosling strumming Matchbox 20 on the beach? Or Kate McKinnon serving weird Barbie realness? Or the cavalcade of Kens in their macho battle scene? Or Helen Mirren's sassy narrator? Or Allen?!
And yet, we have been given a glimpse of what might have been, courtesy of an interview with Gerwig, and it's making me a little wistful.
Speaking with Hollywood First Look after the film's release, the director was discussing the stars she wished she could have gotten into the film had scheduling conflicts not interfered. Specifically, she sought a minor Lady Bird reunion with Saoirse Ronan and Timothée Chalamet, and was "so annoyed" when their respective schedules prevented them from stopping by Barbieland.
That's right: Timmy was almost a Ken. Maybe Earring Magic Ken? I could see it!
If this news disappoints you—and it should, you're human—you may be pleased to know that few are as disappointed as Timothée himself. According to Gerwig, though he was unable to make his schedule work, "Timothée did come by the set and then said 'Oh, I should have been in this.' And I was like, 'I know, why aren't you in this?!'"
Timothée Chalamet visited the Barbie set at some point. He and Saoirse initially had a brief appearance in the film.pic.twitter.com/eFbXP1Ol9kAugust 15, 2023
See more
Ronan, too, was unable to make time for Barbie, thus depriving us all of the interconnected Gerwig Cinematic Universe we deserve. HuffPost speculates that Ronan was too busy starring in and producing The Outrun, based on a 2016 memoir of the same name.
Can you imagine how Timmy and Saoirse would have fit into Barbie?! I actually can't, which is why I am so curious to know what Greta's plan for them was! (Though she did say in a different interview that they would have had "small," "specialty cameos.") And we'll likely never truly know, as Gerwig has been clear that she has no plans for a Barbie sequel.
But if it's any consolation, Gerwig's response to her previous leading actors going AWOL for Barbie was classic: "But I love them so much. But it felt like doing something without my children. I mean, I'm not their mom, but I sort of feel like their mom."
Celebrity news, beauty, fashion advice, and fascinating features, delivered straight to your inbox!