Weekend Trip Guide: Where to Stay, Eat, and Drink in the Hudson Valley
The perfect getaway for any season.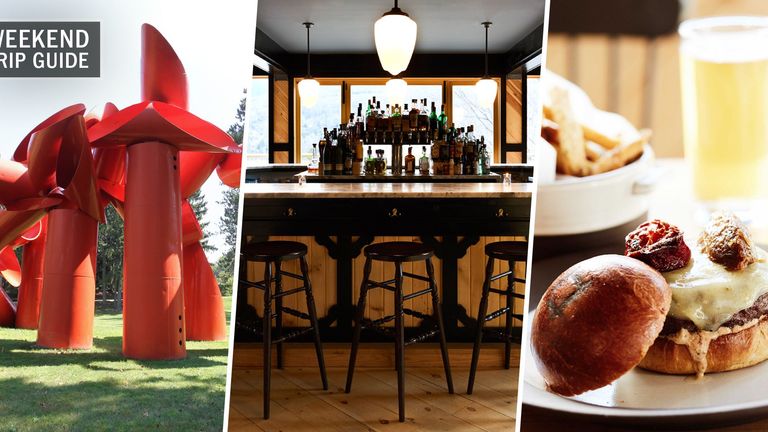 (Image credit: Getty, Prospect at Scribner's)
Welcome to MarieClaire.com's series on weekend travel—a smart girl's guide to making the most of those glorious two days off.
For all of you Northeast Corridor residents hunting for the perfect weekender, look no further than New York's Hudson Valley. Whether you're searching for a cozy girls' getaway or a quick snuggle-fest with your S.O., the Hudson Valley is the spot. Only an hour and a half's drive from New York City, the Catskills area is filled with outdoor activities to keep you moving in every season, and has tons of top-notch spots to unwind afterward with a craft beer or cocktail. Check out the best places to relax and enjoy the valley life.
Where to Stay
There are so many Instagram-worthy boutique hotels in the area. So how to choose?
There's nothing more comfy than a bespoke cabin, except maybe one that has the amenities of an ultra-luxe hotel. Meet Scribner's Lodge, your go-to spot in Hunter, NY. Conveniently located across the street from Hunter Mountain, use Scribner's as a base after a long day of skiing or zip-lining, depending on the season. Don't miss their bar, Prospect, serving up some of the most elevated and delicious cocktails around town. I tried the "Oaxacan Highball" with Mezcal, and was not disappointed.
There's a long tradition of cool Catskills hotels, with new ones popping up every day. Check out Hotel Dylan in Woodstock for its Bohemian spirit, or the nearby Graham & Co. for their rustic and unpretentious feel.
If you're looking to do some glamping, check out the yurt I stayed at in Palenville, NY called, "New Yurt City." If you're not familiar with yurt-life, these circular tent-like structures are filled with good vibes.
This particular yurt comes equipped with a record player (with awesome vinyl selections — like Odesza and The Fugees), plus a projector and some classic Blu-ray discs to throw on when you just need a cozy night in. If you're searching for a place to disconnect completely, this is it. When I stayed over, I woke up one morning to the sound of a pack of wolves howling. The yurt is completely insulated, so as long as you don't leave food open you're good—and the wild canines made my stay all the more authentic.
Where to Eat
I started my trip off with a bite at The Phoenicia Diner, and let's just say this roadside eatery is a hot spot among visiting city folk for a reason. The proprietors take your typical diner food and elevate it, plus they've got delicious cocktails and an unusual (but awesome) IPA selection. If you're a fan of craft beer, be sure to also hit up the Rip Van Winkle brewery (conveniently attached to Angela's pizzeria) for some local flare.

The Circle W is also a must-see. This Palenville eatery (and market) has been a staple of the region since the early 1900s, serving up organic breakfast and lunch. Using local ingredients and freshly roasting their coffee, this quaint spot is a highlight. Plus, they have the best matcha lattes.
In Saugerties, you can't go wrong with Miss Lucy's Kitchen or the Love Bites Cafe. Both have a farm-to-table feel, with options for everyone. Must try: the fresh baked bread at Miss Lucy's.
What to Do
Whether you want to get your drink on at one of the many wineries or breweries, get back to nature, or check out some local art, you can find it all in the Hudson Valley. You could actually go every weekend for a year and still not see it all!
If you're heading to the area in the spring or fall, make sure to stop at Storm King art center along the way. This is the best place to channel your inner photographer. Pro tip: Pack a picnic basket and hang on the grass with some light bites for a lovely lunch setting.
Fall is also the best time for the valley's biggest attraction: hiking. Try Overlook Mountain for the #views, and take in the beauty of the changing foliage or head to Kaaterskill Falls—also gorgeous in the winter time (just be sure to wear cramp-ons and dress for the cold.) Another winter staple is nearby Hunter Mountain, a great place to hit the slopes whether you're a beginner or pro.
RELATED STORY