Weekend Trip Guide: Where to Stay, Eat, and Drink in Dubai
Because there is so much more to this destination than the desert.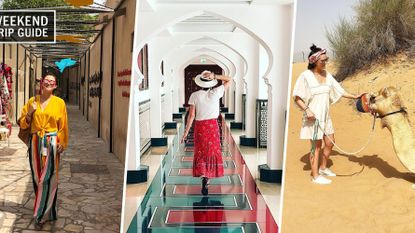 (Image credit: Marie Claire)
Dubai, the city of sand, skyscrapers, and crowds of cranes building this growing urban epicenter day-in-and-day-out. It seems like every day there is a new billion-dollar building that appears out of thin air with a "worlds best of" title (Dubai thrives on global recognition). An oil boom in the '60s sparked the city's growth, and it's accelerated rapidly since, thanks to an influx of curious tourists on the hunt for a luxurious cultural experience. The attractions on offer include an adventure desert safari, world-class hospitality, religious enlightenment, and shisha (a.k.a. hookah)–filled nights on the town, all sandwiched between two lavish Emirates flights.
Yes, this is the Weekend Trip Guide, and yes, the middle east seems like a long way to go for 48 hours. However, Dubai is a great stopover on the way to Africa or the far East, if you're already planning a longer vacation. We recommend booking your flights so that you have a couple of days away from the airport—this megacity is so much more than meets the eye.
Dubai has sweeping white sand beaches (including man-made islands in the shape of the world that are currently under construction), an influential business district, and a decent amount of rich, historic culture—despite its recent emergence. I'm not going to lie, it's overwhelming and may feel slightly like an über-wealthy version of Sims IRL, but it was one of the best trips of my life. Here's a list of things to do, see, eat, and drink in Dubai.
Where to Stay
Dubai is a destination with endless options. I stayed at the Renaissance Downtown Hotel, which features open-layout contemporary suites with majestic views of the Dubai Water Canal, six restaurants and lounges conceived by David Myers, Morimoto, and Sam Ross, and the Six Senses wellness spa.
If you're looking for something even more luxurious, check out the Burj Al Arab, the world's first and only 7-star hotel—yes, you read that right, seven stars. With over-the-top opulent design to match its hefty price tag, the Burj is worth at least a visit for high tea or cocktail at the Skyview bar—just be careful what you order; this bar could clean out your entire checking (and savings) account in seconds.
Lastly, the Madinat Jumeriah is a sweeping Arabian resort spread over approximately 100 lavish acres of villas, where you can take a boat ride through the grounds for a quick bite or trip to the beach—it's almost like a mini city within a city.
What to Do
Ride in a Hot Air Balloon
Ditch your morning cup of joe and opt for a serving of mother nature's natural caffeine with a sunrise hot air balloon ride, featuring an authentic Arabian brunch and desert safari finale. The balloon ride takes you (and approximately 15 other people) over the Dubai desert, where you can watch wild camels roam below you (and maybe meet one in person later) while a falcon (that costs as much as a Birkin) accompanies you on the trip for extra entertainment. Indulge in hummus, baked beans, halloumi, eggs, and (of course) Arabica coffee in a boho-chic oasis then hop in a Series 1 Land Rover from the '50s and take on the sand dunes for a ride through the desert—all before noon.
Tour Alserkal Avenue
Head to the Al Qouz industrial area to get acquainted with your inner-artist. Alserkal Avenue is a 250,000-square-foot warehouse space where you can get lost in a maze of hip contemporary galleries (12 of 'em) and underground fashion pop-ups. Don't forget to pop into Wild and The Moon for an adaptogenic beverage or healthy snack for a midday pick-me-up.
Wander the Gold and Spice Souk
Spice up your life as you walk through a corridor of wall-to-wall authentic Arabian seasoning outlets at the Spice Souk. The marketplace also has plenty of fashion and home goods shops, so it's the perfect place to pick up some souveniers to bring back home with you. While you're in the area, make sure to take a stroll down the Gold Souk, where you can peruse glitzy gems, diamonds, and jewels—including the world's largest ring that costs a casual $3 million
Take a Cultural Heritage Tour
Gain an appreciation for local life at the Sheikh Mohammed Centre for Cultural Understanding (SMCCU) where you can indulge in traditional UAE cuisine and learn all about the historic muslim culture. The best part is you can ask the teachers any radical questions (like on the topics of feminism and fashion) you've been wondering about behind closed doors.
Visit the Louvre, Abu Dhabi
That's right. Paris' finest opened in Dubai's neighboring city, Abu Dhabi, in November 2017. The Louvre, Abu Dhabi boasts four wings and 12 sections featuring impressive works of art ranging from Da Vinci to Van Gogh. Throughout the museum, three art pieces of equivalent aesthetics are strategically displayed in a case to convey the commonalities of artistic evolution despite hailing from a different geography or era. Super digestible and fascinating for everyone from families with kids to a group of girlfriends.
Where to Eat and Drink
Dubai is a global city, so despite its sober Muslim community, there are still plenty of places to drink and an endless amount restaurants, featuring both local cuisine and those of Europe and the States. These were a couple of my personal favorites:
Arabian Tea House Restaurant and Café
Frequented by both locals and tourists, this open-air restaurant set in a quaint stucco house is the place to indulge in massive platters of mouthwatering Arabian food. The ambiance is incredibly Insta-friendly with white-and-cobalt decor and lush flowers and winding vines hanging from almost every corner. Don't be fooled by the photo, there are indeed seats at this establishment.
Atmosphere at the Burj Khalifa
Take your trip to new heights and dine at Atmosphere at the top of the tallest building in the world, the Burj Khalifa. Standing at 2,716.5 feet, you can brunch with the birds at Atmosphere, gazing over sweeping desert city views. The squid ink potato roll was a hit at this hotspot. Don't forget to make it to the floor-to-ceiling glass observation deck—unless you're scared of heights that is.
Bliss Lounge
Bliss Lounge is a top-rated spot where you can hang during happy hour, cocktail in hand, with good music and beachfront views. If you're a lady, you're in luck, because almost every night is ladies night in Dubai. Some of the other most talked about nightlife spots include Sensation Club, 360º, Cielo Sky Lounge.
What to Bring
This city by the sand experiences three seasons: hot, hotter, and hottest, so staying hydrated is key here. Nix buying plastic water bottles on-the-go and opt to travel with an eco-friendly glass water bottle—I use Soma x Parley's newest bottle that's made out of ocean plastic. It's best to bring lightweight apparel no matter what time of the year it is, as temperatures range from 75 degrees in the winter to upwards of 105+ degrees in the summer. Maxis and silk culottes ruled my wardrobe, as it was both fitting for the weather and respectful of the Muslim culture. When it comes to tops, opt for tees over tanks because if you explore the religious mosques, you have to cover your shoulders. A versatile shawl is also wise to have on hand.
Shop my Dubai Packing List
Helpful Tips
1. Taxis are your best friend
Take advantage of the cab-culture in Dubai. Ubers, taxis, and even water taxis are cost- and time-efficient—not to mention they take a whole lot less stress when navigating a new city. If you are a woman wanderlusting solo, opt for a pink-topped, female-driven cab that is designated for female and family passengers only. Although, you truly have nothing to worry about here as Dubai has a 0 percent crime rate.
2. Keep the PDA to a minimum
The low crime rate in Dubai is supported by conservative social regulations. Kissing in public, holding hands (unless you're married), and profanity, are all not tolerated. Dubai and Abu Dhabi are more liberal due to tourism, it's still wise to be mindful and respectful.
3. Travel between October and April
Although Dubai is well-equipped for the heat and humidity with air conditioned hotels, malls, and even bus stops, save yourself multiple showers a day and travel during the fall, winter, or early spring when temperatures are hot (around 75º-90º), but manageable.
Celebrity news, beauty, fashion advice, and fascinating features, delivered straight to your inbox!