Stopover In Frankfurt, Germany? Here's Exactly What to Do
It's a major transfer point for flights heading east from the U.S. And, yes, it's worth leaving the airport.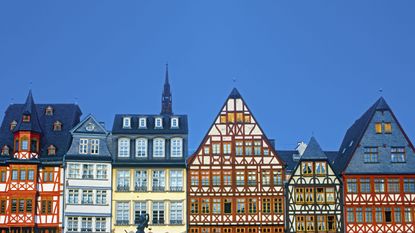 (Image credit: Visions Of Our Land)
Marie Claire Newsletter
Celebrity news, beauty, fashion advice, and fascinating features, delivered straight to your inbox!
Thank you for signing up to Marie Claire. You will receive a verification email shortly.
There was a problem. Please refresh the page and try again.
If I'm being honest, Frankfurt, Germany, was never high on my travel destination wish list. It doesn't have quite the same reputation as Paris, London, or nearby Berlin. But the major financial center is home to the fourth busiest airport in Europe and the 14th globally. Travelers can catch flights from Frankfurt am Main (airport code: FRA) to more than 300 destinations on 5 continents, which means if you're trying to go from the States to…another continent, there's a good chance you'll have to connect through Frankfurt. Like I did.
Recently, I was planning a vacation to Sicily, Italy—quite an expensive proposition from New York City. But once you're in Europe, a flight to pretty much anywhere else in Europe can be had rather cheaply. The best route for my dates, time, and budget? Via FRA. Rather than grumpily spend an uncomfortable few hours in the airport, I selected a connecting flight for the following day and decided to explore a new city. It was worth it.
Admittedly, I spent most of my 24 hours there at my hotel: Villa Kennedy, an "oasis in an otherwise sterile city" says my boyfriend who, in a previous job, frequently traveled to Frankfurt on business. I disagree with his judgement of Frankfurt as sterile, but we're in agreement about the oasis part.
The luxurious Villa Kennedy (so named because it's just off a road called Kennedyallee, which got its own designation following a visit from JFK in June 1963) opened in 2006—three modern wings built around a preserved neo-gothic family home circa 1901. It's a gorgeous, quirky mix of rich colors and textures, minimalist design, and oversized hyper-real photographs of JFK and his contemporaries.
Having just de-planed from a red-eye, we headed straight to the hotel's four-floor spa for their anti-jetlag massage. I'm not a massage connoisseur, so I couldn't tell you how this really differed from a traditional treatment (plus I'm pretty sure I drifted off for a bit there), but I can say that after the 90 minutes were over I felt more refreshed and rejuvenated than I ever have after a transatlantic flight. (Perhaps this is what life is like for people who fly first class?) Afterwards we relaxed for a while on the plush lounge chairs, took a steam and sauna, and did a few laps in the 15-meter indoor pool.
I could have easily spent all my time in Frankfurt within the four walls of Villa Kennedy; everything about it is lovely. The rooms are beautifully appointed (and recently renovated), the service is impeccable. It feels sophisticated but not stuffy. Still, I like to experience a place, and so I couldn't head back to the airport without wandering through the city a bit and indulging in some authentic local cuisine and drink.
We started by strolling along the south bank of the River Main, which is flanked by a park with a serene pedestrian and bike path, dotted with cafes, bars, food stands, and plenty of places to sit and picnic. For views, you're treated to half a dozen bridges of various styles and an upcropping of office towers along the river's north bank, which a local told me is affectionately nicknamed "Mainhattan." The street adjacent is Museumsufer, or Museum bank—a stretch of historical and cultural outposts one right after the other covering a variety of topics from film to architecture, with the Städel (home to one of Germany's top fine art collections) as the centerpiece.
Head south and you'll find yourself in a neighborhood known as Sachsenhausen. Picture narrow cobblestone streets filled with independent shops (flowers, fishmonger) and lots of places to imbibe. The drink of choice: apfelwein (literally, apple wine). It's cider that's sour, not sweet, and I found it quite refreshing. I tried it at Adolf Wagner, a could-not-be-more-authentic tavern that's been family-run since 1931. We sat at a communal table along the sidewalk in the shade and sipped our local drink with some local food, including grüne sosse (hard-boiled eggs with a green sauce) and frankfurters (lightly smoked pork sausages served with bread, mustard, and horseradish). Sure, they're essentially hotdogs, but you're eating them in Frankfurt. In fact, the name "frankfurter würstchen" can only be used for sausages made in the region.
Walk directly north from there over a pedestrian footbridge and you'll end up in Altstadt, Frankfurt's old town. And in the center of that is Römerberg, the quaint, historic town square that you'd mistake for a backlot at Universal Studios if you didn't know better. Look any direction and you're treated to Instagram-worthy medieval architecture, including the steeped buildings of the Römer (city hall since the 1400s) and half-timbered homes. The area was heavily bombed during World War II, but has since been meticulously restored. I didn't visit over the holidays, but Römerberg is home to Frankfurt's famous, elaborate Christmas market, and I can only imagine how charming and festive it all must be.
Frankfurt is a city of roughly 750,000 people and nearly 100 square miles, so certainly there is far more to see and do (I'm told there is top-notch shopping and an impressive electronic music scene). Unfortunately, I could only fit the top sights into my whirlwind day in this charming destination. Guess I'll have to book another flight through FRA to see it all.
For more stories like this, including celebrity news, beauty and fashion advice, savvy political commentary, and fascinating features, sign up for the Marie Claire newsletter.
Celebrity news, beauty, fashion advice, and fascinating features, delivered straight to your inbox!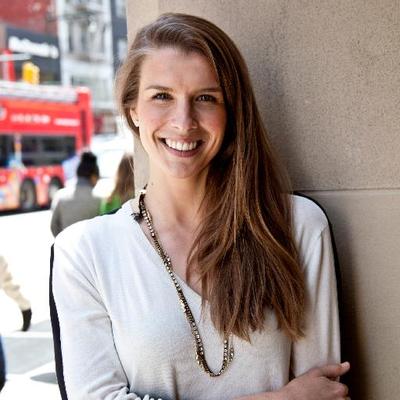 Danielle McNally is a National Magazine Award–winning journalist. She is the executive editor of Marie Claire, overseeing features across every topic of importance to the MC reader: beauty, fashion, politics, culture, career, women's health, and more. She has previously written for Cosmopolitan, DETAILS, SHAPE, and Food Network Magazine.