The Instagram Guide to Misugi, Japan
Unplug from city life in this culturally rich Japanese village.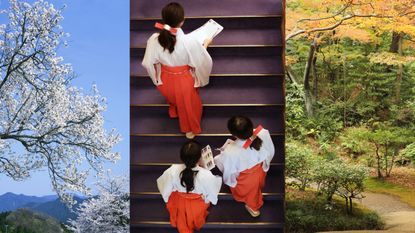 (Image credit: Getty + Shutterstock)
When traveling it's easy to treat large cities like a definitive window into a country's culture. Food, music, shopping—cities are where a nation keeps its defining characteristics. And certainly, when it comes to Japan, it's true, the big three, Osaka, Kyoto, and Tokyo, are dizzying, singular experiences that you'll probably have to visit several times to fully appreciate.
But absorbing the vibe of a nation other than your own and detoxing from city life, aren't mutually exclusive—the perfect case study being Misugi, Japan, which will also provide you with a whole different set of Instagram photos than your friends who never quite made it past Tokyo.
Located in the mountainous Mie Prefecture, about one hour south of Kyoto, the former village was merged with nearby Tsu after their population dipped to 4,000 in 2006. (However, locals will still call the area by its former name.) With its quiet nights, and boundless forests, it's a place that calls you to slow down and breathe. As if you needed any more inspo to chill out, Misugi's namesake resort even has a beer onsen, a traditional Japanese hot spring bath mixed with beer brewed on site. There's also a newly opened beer room at the hotel, where a night's stay entitles a guest to as much on-tap Hinotani Brewery beer as they care to consume.
When you're done soaking up and drinking in Japanese culture (literally), here are a few other creative, cultural, and just straight-up stunning windows into Japanese daily life worth experiencing.
Forest Therapy
Forest therapy, or "forest bathing," is as magical as the name would imply. Head into the mountain-side woods of Mie Prefecture to absorb the cedar trees' natural healing properties (it's believed to help chest infections, insomnia, and diabetes among other ailments). You can also book a session with Youki Nakagawa (resort co-owner, resident beer brewer, and bread baker, who also happens to be trained to guide you through the 10-year-old practice), who will remind you to slow down, breathe, and use all your senses to enjoy the enchanted, moss-heavy surroundings. Embrace your inner mystical beast, just set your phone to airplane mode before snapping a few selfies.
Azumaya's Candy Shop
Misugi is an area rich with traditions, which means families often have established trades, that have been practiced over many decades. Such is the case at Azumaya, where fourth (!) generation candy makers use large, iron stoves to create perfect, emerald-colored candy from adzuki beans. Less popular abroad than the red bean, these treats are chewy and only slightly savory and—conveniently enough for anyone with a with a sweet-tooth—they also photograph like perfect gemstones.
Cherry Blossom Viewing
You've heard of cherry blossoms. They're on your bucket list, your mother's bucket list, and splashed across every travel inspo Instagram during March and April. But if the crowds in Tokyo and Kyoto aren't your jam, remember—this natural phenomenon happens across the entire country. The Mie prefecture is the perfect place to witness this event, not only because you won't be competing with your fellow 'gramers, but because the area around the Kimigano-dam, located a short car ride just outside Misugi in Tsu, bursts into life with over 20,000 sakura (a.k.a. the Japanese word for cherry blossom) a show of pink that'll easily snag you all the likes.
Sanae TORII's Doll Gallery and Tea House
In her 80s, Sanae Torii has been handcrafting dolls for decades. The big ones take up to 10 hours (although she says she could make them much faster if life didn't get in the way). Big or small, her creations are eye-catching, as are the brightly-colored red bean desserts she server before large cups of traditionally made Matcha tea.
Ise Honkaido
Shinto is the traditional religion of Japan, which means there are shrines across the entire country. Ise Honkaido is considered to be one of the oldest, a location where believers enter through stunning archways to pray, meditate, and sometimes leave behind small offerings as signs of devotion (like Maneki-neko "waving cats"). It's so venerated, the incoming Emperor of Japan will pay a visit later this year. If you do stop by this place of peace, be sure to wash your hands at the ceremonial fountain in the front, and walk to the side of the path, not the path itself, which is reserved for the gods.
Ise Honkaido's Waterfall
The shrine isn't the only eye-catching landmark in the area. Walk another ten minutes up the trail over a bridge encircled by twisting vines to the top, where you'll find a waterfall, encircled by steep cliffs and trees growing sideways. Note: you have not stepped into an episode of Game of Thrones, even if the surroundings are fit for a Mother of Dragons. Sit and on the rocks for a bit—the same ones used by Shinto pilgrims to pray. Think deep thoughts, or just think about your laundry—it doesn't matter, you've earned a break.
Editor's Note: If you're interested in experiencing any of these activities yourself, many businesses don't have formal websites but can be contacted via INAKA tourism.
For more stories like this, including celebrity news, beauty and fashion advice, savvy political commentary, and fascinating features, sign up for the Marie Claire newsletter.
RELATED STORY
Celebrity news, beauty, fashion advice, and fascinating features, delivered straight to your inbox!