The Instagram Guide to Turks and Caicos
With 40 islands to choose from, you can pick the best option for your vacay style, or hop to several throughout your stay.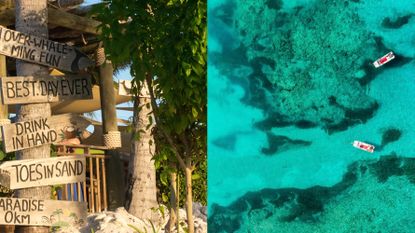 (Image credit: Getty Images)
Editor's note: As we continue to practice social distancing, we encourage our readers to check the Center for Disease Control website for up-to-date information on how to safely travel during the COVID-19 pandemic. For now, bookmark this Instagram travel guide for inspo—you're going to love it.
The islands of Turks and Caicos have reopened to tourists, but before you escape to paradise, you'll have to take a few health and safety precautions (more on that below), then figure out where, exactly, to go. With 40 islands to choose from, you can pick the best option for your vacay style, or island hop to several during your stay. If you must choose one, we recommend the island of Providenciales ("Provo" to locals). Provo provides comfort and convenience—it's the easiest island to access and boasts a variety of top tier resorts, which are only about a 15-minute drive from the airport. If you're looking to get off the beaten path, South Caicos is a quiet paradise, sparsely developed, and teeming with wildlife.
People residing in the United States will be happy to know that Turks and Caicos' currency is the U.S. dollar, and they use the same electrical plugs as we do. If you're renting a car, remember that the islands are a British Overseas Territory, so people drive on the left side of the road. However, you'll likely spend the most time on the beach, enjoying the warm, sparkling, turquoise water and soft white sand. Find out what else is in store during a scenic trip to Turks and Caicos, below.
The most popular area to stay in Provo is Grace Bay, a beach that is consistently named one of the best in the world. Dip into the Seven Stars Resort's adults-only saltwater pool to take in the underwater music or check out the family-friendly main pool and grab a shady cabana. Once you've had your fill of relaxation, complimentary use of standup paddleboards, Hobie Cats, and snorkel gear offers plenty of ocean adventure.
Kayak in Tranquil Blue Waters
Explore the beautiful wetlands of Turks and Caicos on a kayak—an easy way to discover marine sights including mangroves and isolated lagoons. Many resorts offer free use of their kayaks, or you can take an organized kayak tour from Big Blue Collective to cover more ground. In Provo, Mangrove Cay is the most popular kayaking spot. It's part of the Princess Alexandra Nature Reserve that features stunning red mangrove estuaries around an uninhabited island.
Unwind at the Shore Club Turks & Caicos in Long Bay Beach
On the other side of Providenciales from Grace Bay is Long Bay Beach, home to the Shore Club. The only resort on Long Bay Beach, the Shore Club is a breathtaking property complete with four pools, three restaurants, and suites and villas in a serene location with incredible views. Celebrities love the resort for the luxe villas—and the underground tunnels that can bring you directly to yours. The main pool and rope bar are the highlight of the property, featuring a firepit lounge in the center of the pool, copious cabanas, and swing chairs directly over the water.
Treat Yourself at the Dune Spa
The Dune Spa has three oceanfront bungalows for private massages by experienced therapists who wear face masks during your treatment. Down a sandy path away from the resort, bunaglows are set up for individual or couple's treatments, including massages, facials, and indulgent body therapies.
Enjoy Fresh Catch at Coco Bistro
The romantic Coco Bistro is one of the few restaurants on Providenciales not set on the beach. Instead, the intimate seating is nestled among palm trees with glowing lights. While the atmosphere is transportive, the food is what makes Coco Bistro one of the most popular restaurants on the island. Try the exceptional blackened grouper, served with a Thai red curry sauce and fried plantains. If you want to sample conch, one of the island's specialties, try it via Conch 2 Ways, which offers a ceviche martini scented with lemon and hot pepper, as well as sweet and sour conch with fresh pineapple.
Jump in the Water for Sensational Snorkeling
Turks and Caicos is home to the world's third-largest barrier reef (after Australia's Great Barrier Reef and the Belize Barrier Reef). Crystal clear water lends itself to incredible visibility, showing off a variety of marine life in the coral reefs. Dive into the warm water and look for stingrays, barracudas, parrotfish, starfish, conch, and even turtles and sharks. During winter months, keep an eye out for humpback whales during your boat ride, as they migrate January through March.
Take a Day Trip to Sailrock Resort in South Caicos
Hop into a tiny, eight-seat plane for the 40-mile flight from Providenciales to South Caicos. The secluded island is described as Provo 30 years ago, with miles of natural coastline and rugged landscape. On your way to Sailrock Resort, the premier hotel in South Caicos, look out for flamingos walking through the salt flats, wild donkeys in the brush, and uncrowded oceanside bluffs. From the Great House of Sailrock Resort, watch the sunrise over the Atlantic Ocean and the sunset over the Caicos Banks.
Up the Action on ATVs
Experience the wild side of Turks and Caicos on ATVs. In South Caicos, drive your ATV up to the abandoned LORAN Coast Guard station. Along the way, you'll be treated to coastal views as well as exciting dirt and mud trails. Take a peek inside the old Coast Guard station—its operation building still holding computers and mail that were left decades ago when the station shut down. End your trip at Plandon Cay Cut, the northernmost point of South Caicos, for incredible views.
If you've fallen in love with Turks and Caicos, book a trip here. But first, know that you'll need to take a COVID-19 PCR test within five days of arrival and get proof of medical insurance or travel insurance with COVID-19 coverage, including medical evacuation. All of this documentation, plus information from a health screening and passport information, must be uploaded into the Authorization Portal for approval. You're supposed to complete the form 72 hours before your arrival to the islands, meaning you'll likely need a rapid COVID test to ensure your approval, which should happen before boarding your first flight. For those on the West Coast, that adds an extra day of travel to your timeline. Flights are much quicker from the East Coast—around three hours from New York and less than 90 minutes from Miami. You can find all of the Turks and Caicos COVID-19 travel measures here.
RELATED STORIES
Celebrity news, beauty, fashion advice, and fascinating features, delivered straight to your inbox!
Michelle Stansbury is a San Diego-based freelance writer who writes about travel, food, and relationships. Misuse of the word "literally" drives her figuratively insane.