The Instagram Guide to Santorini, Greece
The island has all of the #views you could possibly imagine—and yes, it looks exactly like the pictures!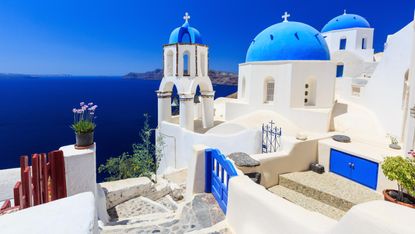 (Image credit: Alamy)
Marie Claire Newsletter
Celebrity news, beauty, fashion advice, and fascinating features, delivered straight to your inbox!
Thank you for signing up to Marie Claire. You will receive a verification email shortly.
There was a problem. Please refresh the page and try again.
Editor's note: We encourage our readers to check the Centers for Disease Control and Prevention website for up-to-date information on how to safely travel during the COVID-19 pandemic.
Greece is in the vacation spotlight right now. Ever since it became one of the first countries to open its borders to Americans on May 14, people seem to be flocking there in droves, eager to finally turn their lockdown dreams of a European vacation into a reality.
As one of those people myself, I'm here to tell you: A re-entry trip to Greece definitely lives up to the hype. For one thing, unlike many other European countries, vaccinated travelers don't need a negative COVID-19 test to enter (you just need to fill out a passenger locator form 24 hours before you go). But on a bigger note, Greece is the perfect antidote to the past year-and-a-half. I just got back from my first trip to Santorini, island of Instagram fame, and thought it offered an ideal blend of everything I so missed about traveling during those dark stay-at-home days: breathtaking views, delicious food and drinks, history lessons galore, and fun locals who were genuinely pumped to have travelers on their turf again.
Now, do people tend to associate Santorini with honeymooners? Absolutely. Arguably the most iconic of all the Greek islands—known as the Cyclades—Santorini has been luring newlyweds for years. But it's still one of those special bucket-list places that you have to see at least once in your life, romantic trip or not—and now is an especially great time to go because it's not as crowded. On that note, here are my recommendations for what to do and where to stay to make sure you make the most of your Santorini adventure.
First Things First: Learn Your Geography
Part of what makes Santorini so special and different from all the other Greek islands is the land itself, so it's a good idea to do a bit of research before you depart. While Santorini used to be one big island, it's actually now an archipelago of five islands, thanks to several volcanic eruptions that broke it up over the past couple thousand years. The biggest of the five islands is Thira, though most people just call this one Santorini, as it's home to pretty much all of the hotels and action. The other four islands are Thirasia, Aspronisi, Nea Kameni, and Palea Kameni, though they're collectively known as Santorini.
Most importantly, all five islands are arranged in a ring around a giant caldera—i.e. a large volcanic crater—that's almost submerged beneath the Aegean Sea. The caldera is the result of the Minoan eruption, which was the biggest volcanic eruption of them all that took place around 1613 BC. While most of the caldera is filled with water today, what's left of it above ground is a semicircle of land on Thira (Santorini) that faces west and has become the most well-known part of the island. Those photos of people floating in infinity-pool bliss high above the Aegean Sea, we're likely taken in one of the villages on that western side, overlooking the caldera below. The other side of the island—the eastern side—is where most of the beaches are, though the majority of people tend to stay on the western caldera side.
Stay at Katikies Santorini
If you have the cash to splurge on a luxury hotel, you will not regret doing so in Santorini, which is where Katikies comes in. The Greek boutique luxury hotel group owns five properties on the west side of the island, and although they are on the pricier side, they are exactly what you think of when you think of a sweet hotel in Santorini. Like most hotels and homes on the caldera side of the island, they've all got those iconic whitewashed walls (which, fun fact, are repainted every single morning to keep them bright and pristine). Katikies is also credited with introducing the popular cave hotel concept—i.e. rooms that are built into the cliffside—to the area.
Perhaps most importantly, though, Katikies will help you pack in everything you want to see and do while you're in Santorini. Here's the breakdown of each hotel to help you decide which one is best for you:
Take a Stroll Around Oia Village
Though there are many other villages throughout Santorini—most notably Fira, Imerovigli, Perissa, Pyrgos, and Emporia—Oia is the one people tend to talk about the most. It can definitely get quite crowded during peak season, but that's because it has so much to offer, from its famous blue dome churches (see above!) to its upscale boutiques, which sell everything from high-quality local olive oil to beautiful gold jewelry to all of the flowy white linen and crochet dresses to books on ancient Greek mythology. Be sure to check out Atlantis Books, which offers a wide variety of Greek literature as well as philosophy and travel guides. It's tucked away and will make you feel like you've found a hidden gem.
Charter a Boat
Though there are many companies that offer boat rides around Santorini, another perk of staying at a Katikies property is that you can explore the area your own private luxury motor yacht directly through their Katikies Club, a private concierge club accessible only to guests. This was one of my favorite parts of my Santorini trip, as I loved seeing all of the smaller islands up close, and there was day drinking, too—always a plus.
Katikies Club offers five standard motor yacht tours, but you can charter a boat to take you anywhere else you want; you just have to ask. When my group and I went out for the day, we did our own thing, first riding past Ammoudi (a small fishing port below Oia), then the iconic Santorini Volcano (a.k.a. the volcanic island of Nea Kameni), and finally stopping in front of Thirasia, another of the five islands of Santorini, to swim. I have to say, it was a little bit creepy to think about the fact that we were swimming directly above the crater of a volcano—the depth of the water there is around 3,280 feet, no joke—but the sea itself was amazing (as was the depth, once I stopped picturing it in my head).
Visit a Winery
Even though Greece was one of the main producers of wine in the ancient world, most people don't think of the country as a top wine destination—but you really should! Santorini has 18 wineries and is famous for its white wine in particular, thanks in no small part to the aforementioned volcanic eruption. As a result, the soil on the archipelago is incredibly acidic, filled with volcanic minerals like basalt, ash, granite, pumice, and obsidian. This gives the wine a very mineral-y taste (which, in non-wine-geek terms, basically translates to crisp, dry, and refreshing).
To try some of the best wine at the source—and see the unique way the grapes grow—go for a tasting at Domaine Sigalas, a family-run winery in Oia. While there, I learned that unlike most grapevines, which grow vertically, Santorini's grapevines grow horizontally on the ground using a technique known as kouloura (basket). This is mainly due to the area's unique climate: Because Santorini is defined by blazing sunlight and powerful winds, the winemakers train the vines to grow in a protective circle on the ground so that the grapes develop inside that circle, which essentially acts as a basket. This not only protects the grapes from the wind, it also protects them from the sun because the leaves grow right on top.
When you sign up for a tasting at Sigalas, you'll also learn about some of the grapes that are unique to the area. The most famous one for white wine is Assyrtiko, which is the base for the majority of whites seen on menus throughout Santorini and is so delicious it made me a white wine convert (I'm usually red or bust). Another famous wine to try is Vinsanto, which is Santorini's legendary dessert wine. Although it's fairly red in color, it's actually made from white grapes (a mix of Assyrtiko plus others) that have been laid out in the sun.
Enjoy a Local Meal in Ammoudi Bay
You can't leave Santorini without eating your weight in seafood, and Sunset in Ammoudi is the spot to make sure you do just that. Located right on Ammoudi Bay—a small port just below Oia—the legendary taverna has been serving up fresh fish since the early 1980s, in addition to other local favorites like fava (made from mashed peas, not fava beans), taramosalata (fish roe spread), shrimp saganaki (a local Santorini dish that pairs shrimp with feta), and my personal favorite: fried tomato fritters (another Santorini specialty).
Although the food is undoubtedly delicious, the best dish of all may just be the atmosphere itself. Locals often refer to Sunset by the owner's name—Paraskevas—as going there is as much about his warm nature and the warm vibe he has created as it is about the meal. This is the kind of place that has old framed photos of beloved guests on the walls, and a story to go with each one. Be sure your phone is charged: the golden sunset over the water, not to mention the fresh octopus hanging on a chain when you enter, will have you snapping pics immediately.
Experience the Fine Dining Scene
While Santorini has no shortage of amazing upscale restaurants, Selene tops the charts. With 36 years of history under its belt, the restaurant, which is located in a gorgeous former monastery in the heart of Fira, has become known as the quintessential spot for fine dining in Santorini. For starters, it has its own brand of signature wine of the same name, the result of a collaboration with Venetsanos winery, a Santorini staple since 1947. And in December 2020, Selene brought in Michelin-starred Greek chef Ettore Botrini to lead its kitchen, an exciting fact locals can't stop talking about. A Corfu native, Botrini is known as one of the best chefs in Greece, and people are pumped to have him on the island.
My advice: Start your night with a stroll around Fira, and perhaps a warm-up cocktail or two, before entering Selene's doors—and then expect magic the moment you arrive. The monastery is centered around an open-air courtyard home to white-tablecloth seating and imported palm trees, both of which set the laid-back luxury tone right away. And then there's the food. One local introduced me to the Greek concept meraklis, which describes something made with passion and love, and that's definitely the secret ingredient in these dishes. Don't miss the zucchini truffle olive oil phyllo pastry, the smoked swordfish belly with Santorini pistachios and vanilla-scented coffee grounds, and all of the local wine pairings. Selene even has antique wine caves where you can do private tastings.
Get to Know the Locals
While I was in Santorini, I learned about philoxenia, the Greek word for hospitality that loosely translates to "friend of the stranger." Rather than treating guests like guests, many Greeks tend to treat guests like friends because they see their guests as friends from the get-go. I felt that welcoming spirit in a big way while I was there, and can't wait to return to experience the fun and love all over again—and explore even more of the country, too.
If you've fallen in love with Santorini, book a trip here.
RELATED STORIES
Celebrity news, beauty, fashion advice, and fascinating features, delivered straight to your inbox!
Annie Daly is a fourth-generation freelance journalist based in New York City. A former editor at SELF, Cosmopolitan, BuzzFeed Travel, Yahoo! Travel and Good Housekeeping, she has also written about wellness and travel for AFAR, Condé Nast Traveler, Travel + Leisure, Lonely Planet, Women's Health, and more. Destination Wellness is her first book.