All the Harry Potter Filming Locations You Can Visit in Real Life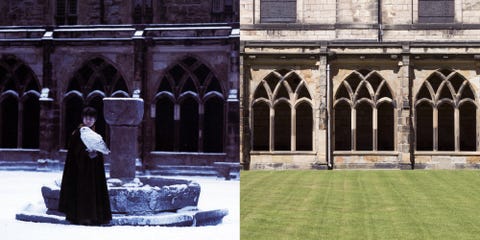 Sadly for all of us Harry Potter fans, Hogwarts only exists on the page/screen (and in our minds!). But the sets and locations that brought the movies to life do very much exist. The movies were one big love letter to the U.K., and many of these locations are available to at least walk around. You might even be able to find a Potter-themed tour, while you're at it. Here are the filming locations to visit that'll satisfy all your cravings for movies, muggles, and magic. Accio!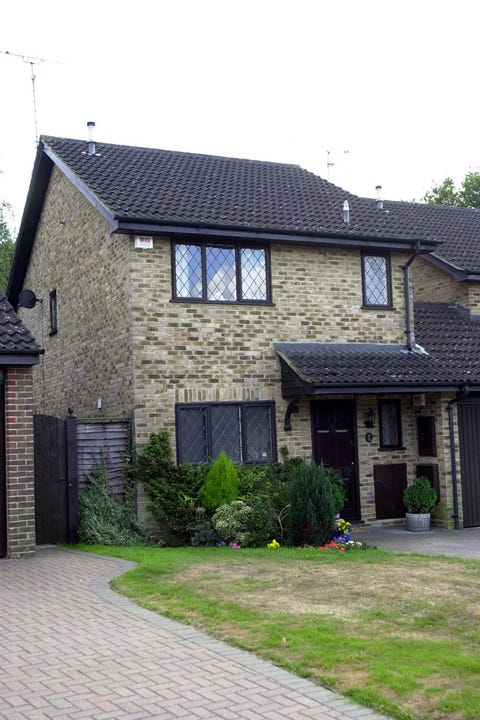 Tim Ockenden - PA Images
Getty Images
Picket Post Close, Bracknell
Also known as the "Harry Potter house," this actual residence was used as the set for No. 4 Privet Drive, Little Whinging, in the first two films. It was auctioned off in 2003; It's probably still a private residence, so we wouldn't recommend asking to go inside, but you can certainly walk around.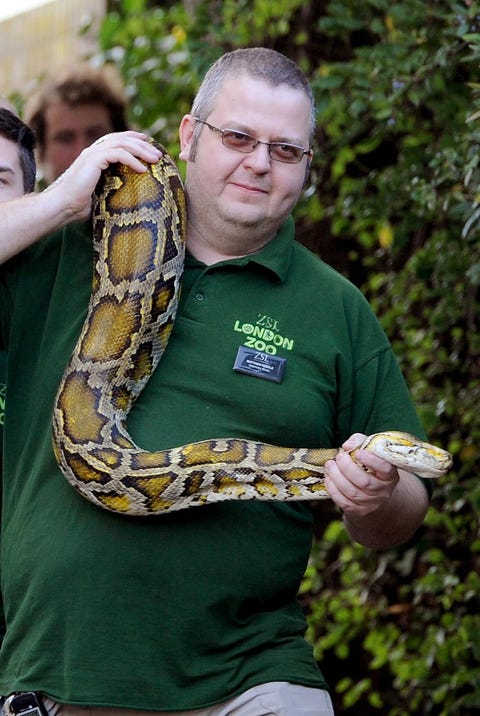 Anthony Devlin - PA Images
Getty Images
London Zoo's Reptile House, London
Harry frees a python and realizes he can talk to snakes in Harry Potter and the Sorcerer's Stone. Both inside and outside the real-life Reptile House were used for this scene.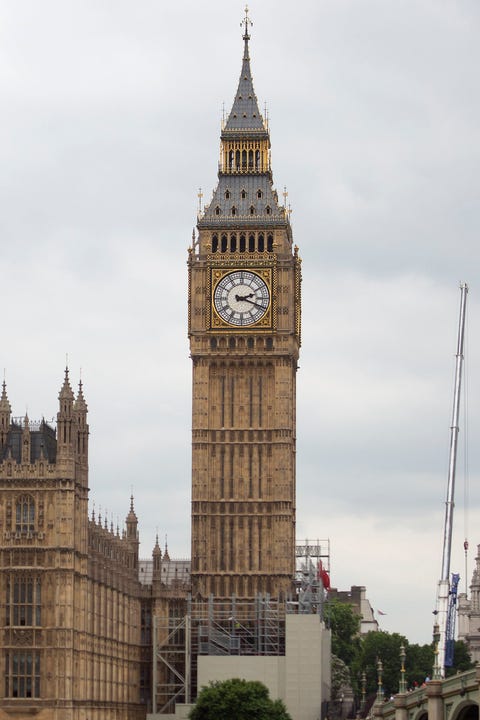 Victoria Jones - PA Images
Getty Images
Big Ben, London
It's just for a moment, but Big Ben and the Houses of Parliament are two landmarks in the background when Harry first travels to London with Hagrid.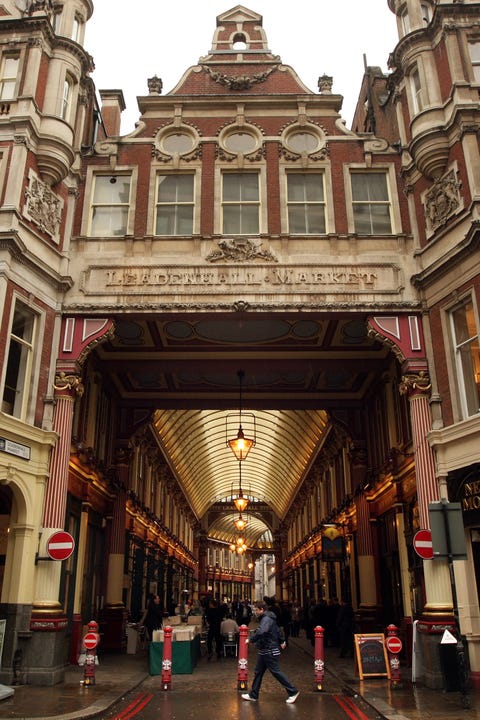 Leadenhall Market, London
This famous covered market in London is where Hagrid takes Harry to the entrance to the Leaky Cauldron Pub (42 Bull's Head Passage, in real life).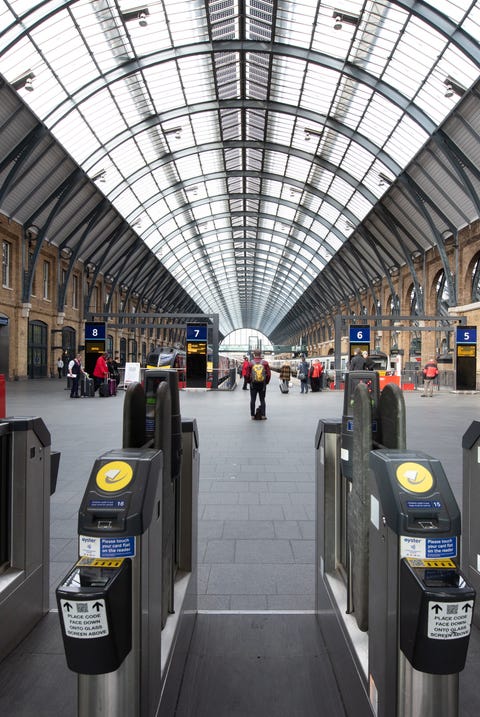 King's Cross Station, London
Hagrid takes Harry to King's Cross so he can board a train to his new wizarding home.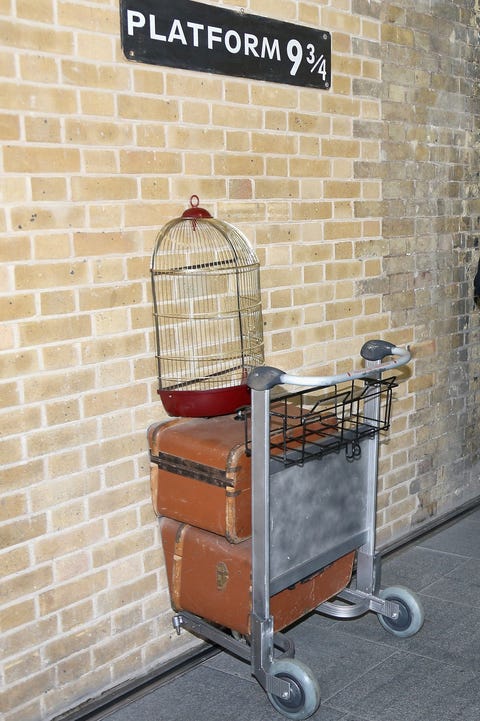 Chris Jackson
Getty Images
King's Cross Station, London
At the time of shooting, platforms 4 and 5 were apparently temporarily re-numbered 9 and 10. There actually is still a Platform 9 3/4 sign to this day (although you can't board the Hogwarts Express, sadly) with a cute disappearing trolley.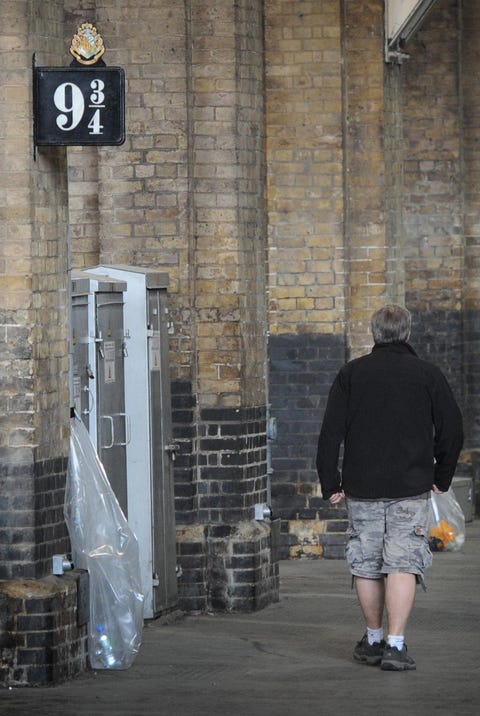 Stefan Rousseau - PA Images
Getty Images
King's Cross Station, London
King's Cross was also used in other Harry Potter films, all the way through Deathly Hallows.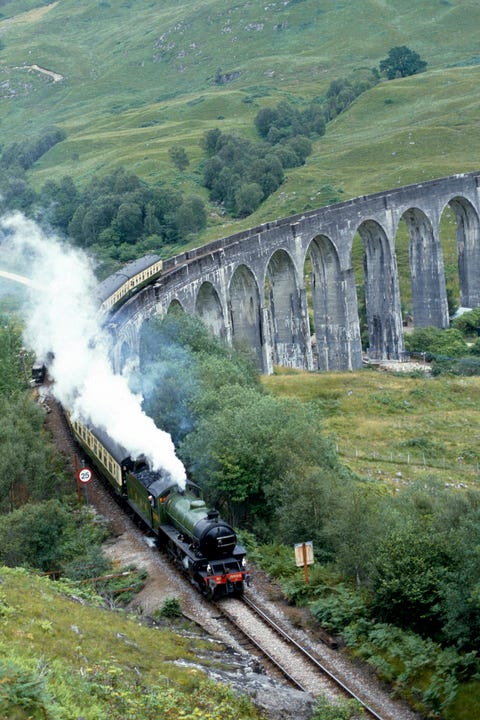 Construction Photography/Avalon
Getty Images
Glenfinnan Viaduct, Glenfinnan
This railway viaduct in Scotland was used for those gorgeous aerial shots of the Hogwarts Express. Nowadays, West Coast Railways has a train service that will take you over it as part of an 84-mile trip.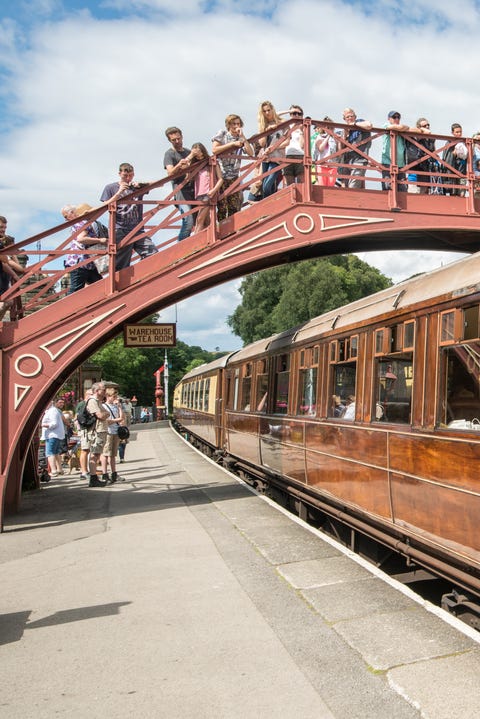 Goathland Train Station, Goathland
And this station served as the location of Hogsmeade Station, where the students get off for Hogwarts.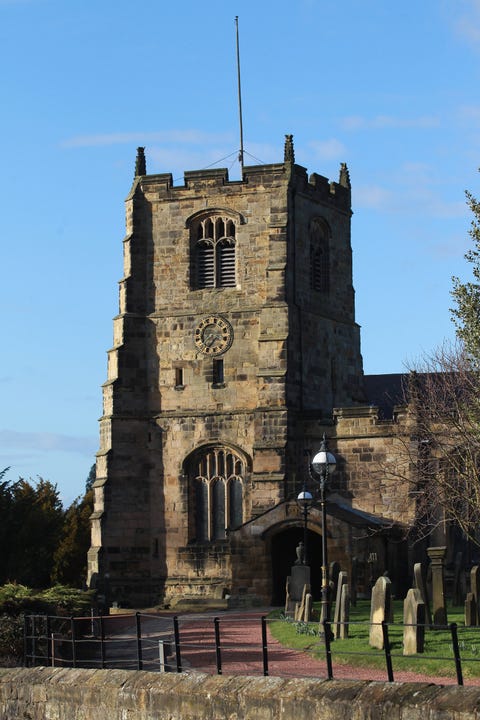 Chris Jackson
Getty Images
Alnwick Castle, Northumberland
In the first and second Harry Potter films, Alnwick Castle acted as the set for Hogwarts; A number of other productions have also filmed there, including Downton Abbey and Robin Hood: Prince of Thieves.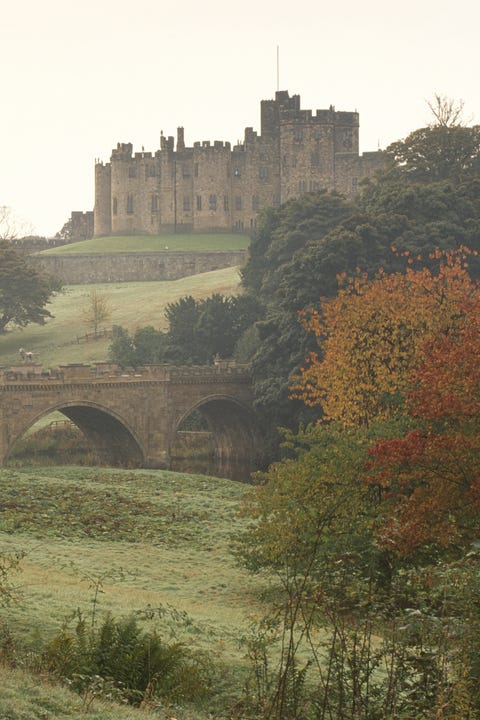 UniversalImagesGroup
Getty Images
Alnwick Castle, Northumberland
The location is stunning and expansive. It also (if you happen to be a fan of the Royal Family as well) was the location for Prince William's BFF Thomas van Straubenzee's wedding to Lady Melissa Percy.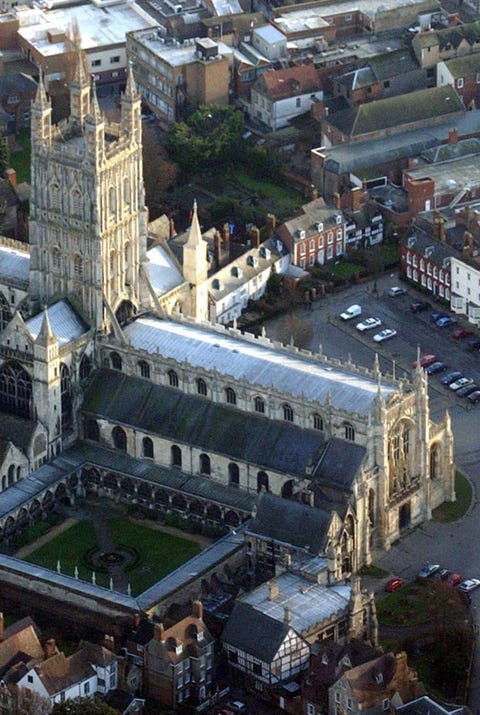 Barry Batchelor - PA Images
Getty Images
Gloucester Cathedral, Gloucester
The cathedral doubled as the inside of Hogwarts on multiple movies, including The Sorcerer's Stone, The Chamber of Secrets, and The Half Blood Prince.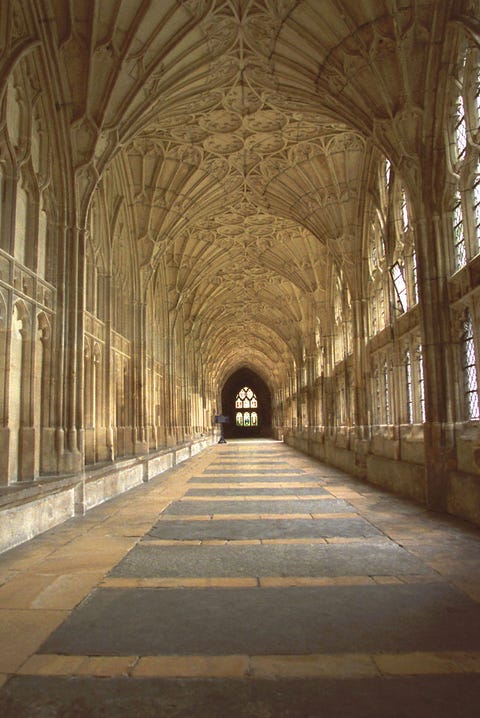 Graham Barclay
Getty Images
Gloucester Cathedral, Gloucester
Including when Harry and Ron spot an enormous troll down a long hallway.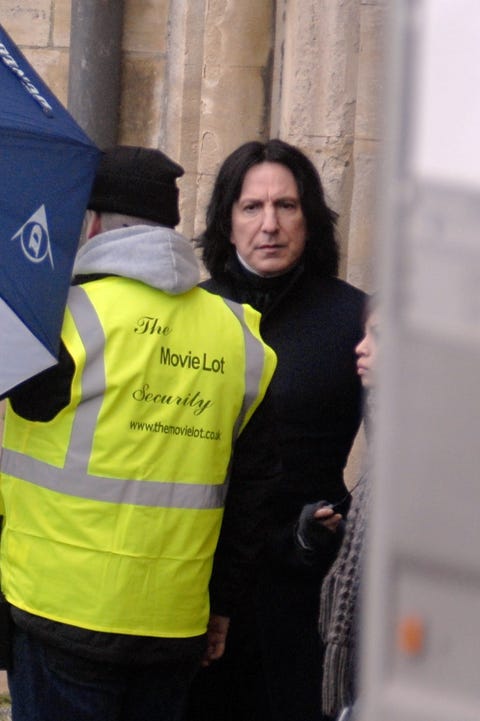 Gloucester Cathedral, Gloucester
And here's a shot of the late Alan Rickman (a treasure, gone too soon) shooting The Half-Blood Prince.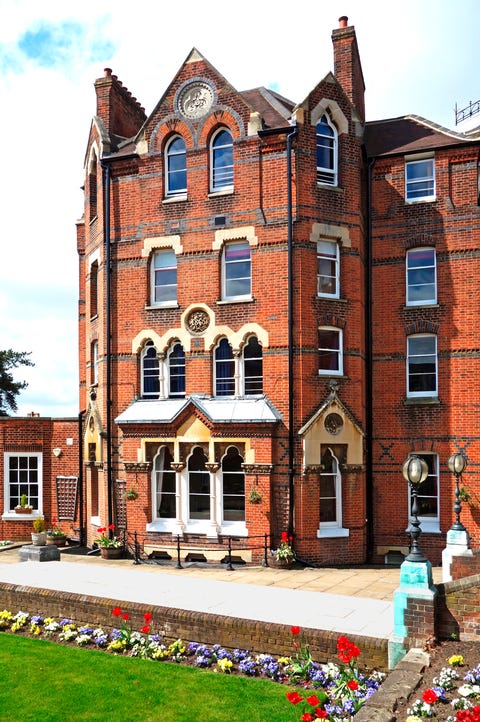 Education Images
Getty Images
Harrow School, Harrow
Professor Flitwick teaches Harry how to use a wand in the Harrow School's Fourth Form Room (the classroom dates all the way back to 1615). The Crown has also apparently shot at Harrow School. There are public tours, but check to see when.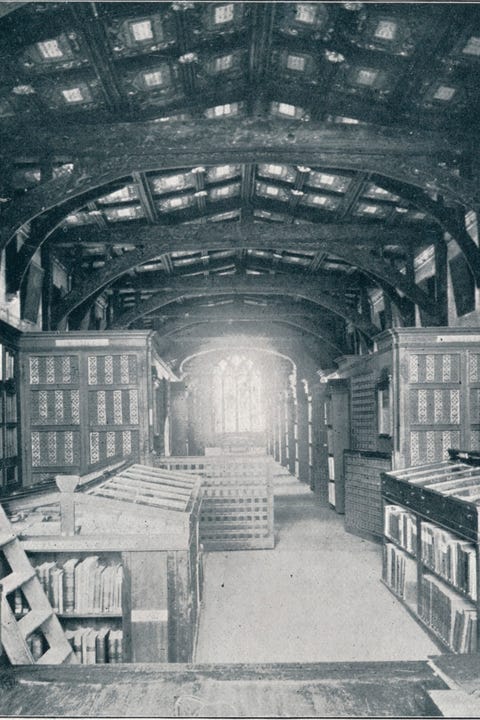 Print Collector
Getty Images
Duke Humfrey's Library, Oxford
The scenes in the Hogwarts Library—where Hermione reads, where Harry steals a restricted book—was one of a few locations filmed at Oxford.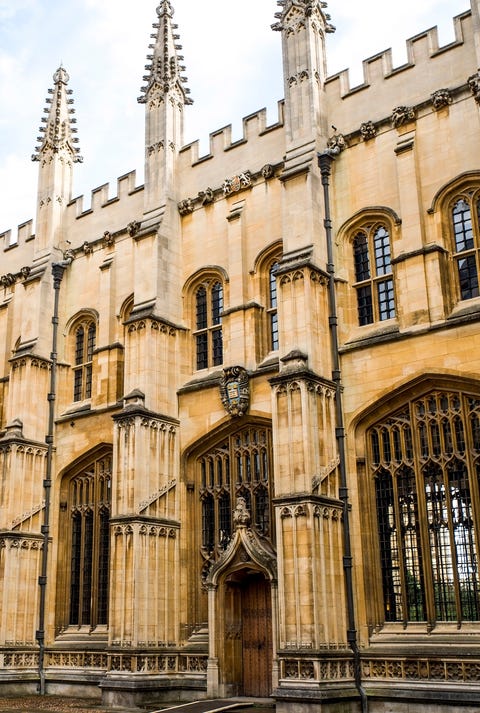 Divinity School, Oxford
In The Half-Blood Prince, Ron recovers in the infirmary after being poisoned—which was actually shot inside the Divinity School.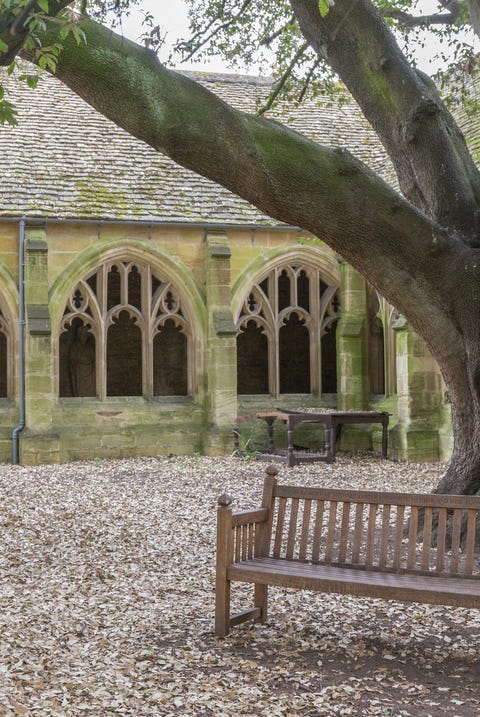 Hanneke Luijting
Getty Images
New College Cloister, Oxford
In The Goblet of Fire, Mad-Eye Moody transforms Draco Malfoy into a ferret, right in this courtyard.
Christ Church Dining Hall, Oxford
And, even though filming actually didn't take place in this iconic dining hall, it was the inspiration for the Great Hall at Hogwarts.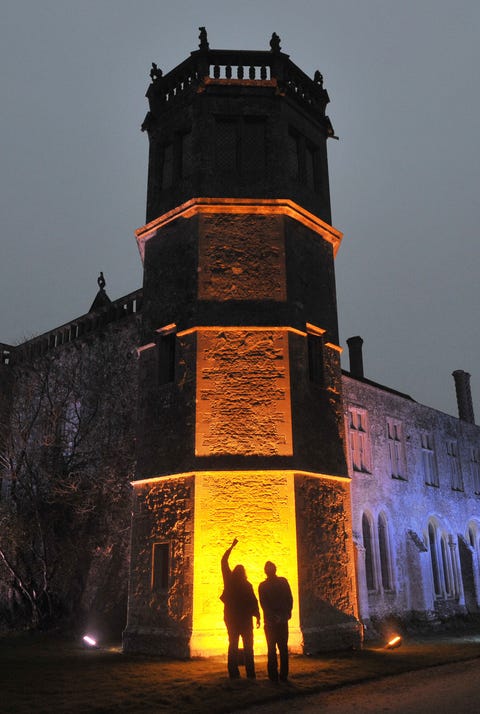 Tim Ireland - PA Images
Getty Images
Lacock Abbey, Wiltshire
The abbey served as another set for Hogwarts. Harry is chosen for the Quidditch team and attends Snape's classes here. Yes, you can take tours of the abbey.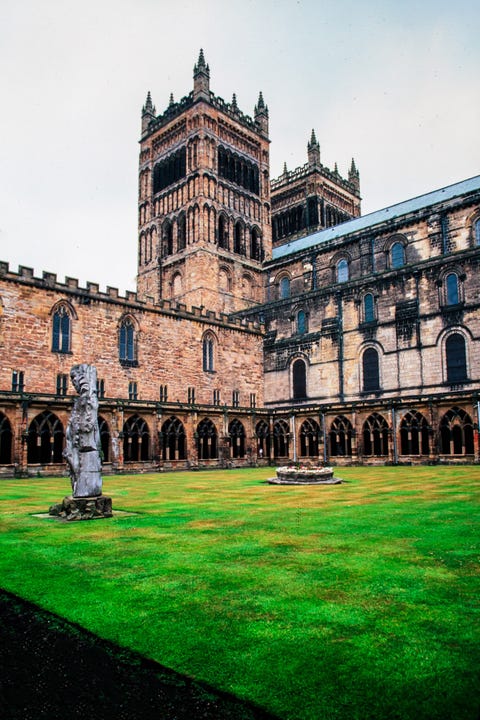 ©fitopardo.com
Getty Images
Durham Cathedral, Durham
And Durham Cathedral also contributed exterior and interior locations for various scenes in the early films...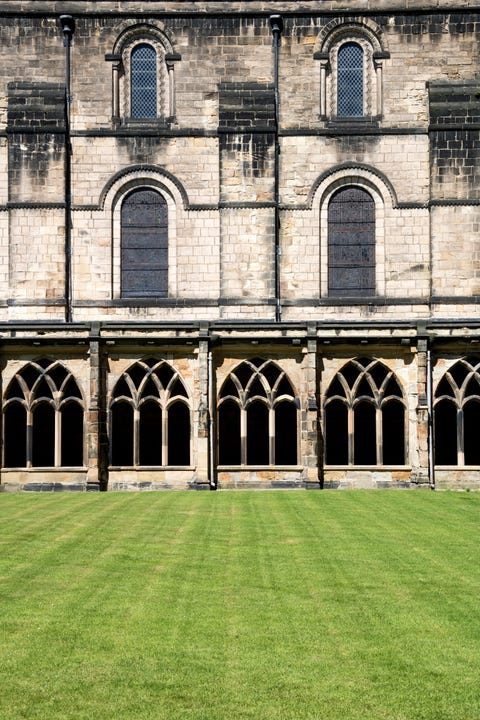 Durham Cathedral, Durham
...including one where Harry walked with Hedwig through a snowy, secluded courtyard.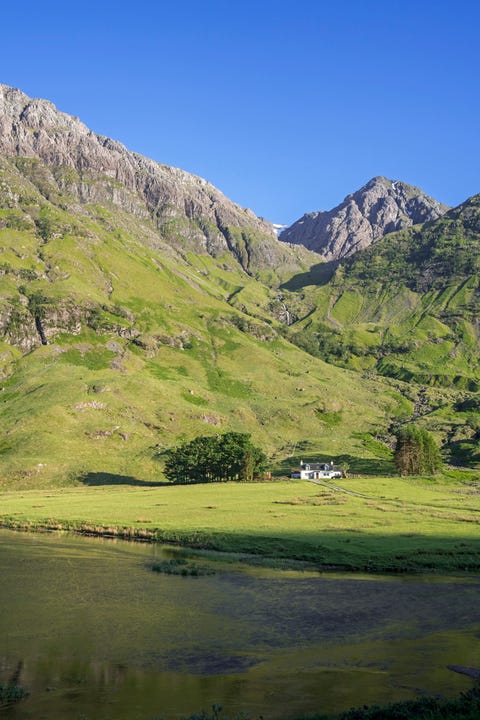 Glencoe, Highlands
This Scottish village was used for many an outdoor shot—the bridge to Hogwarts and Hagrid's hut, to name a couple. It's as close as we'll probably get to an actual Hogwarts campus.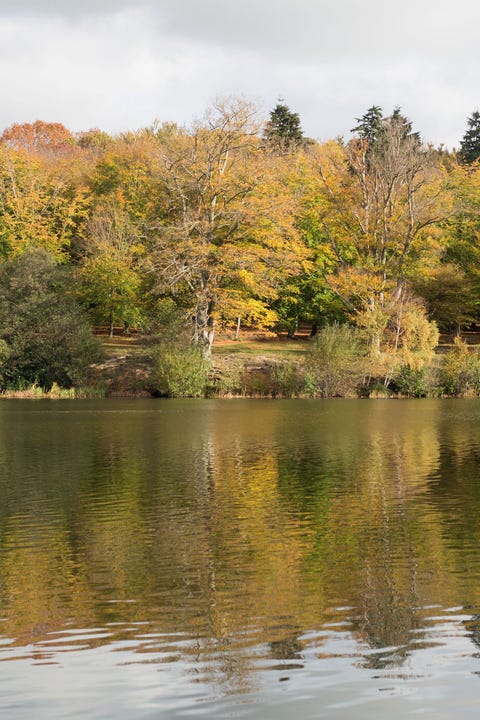 Steve Parsons - PA Images
Getty Images
Virginia Water, Windsor
Meanwhile, this was the set of Hogwart's Lake when Harry rode on a hippogriff, as well as scenes between Harry, Ron, and Hermione in The Goblet of Fire.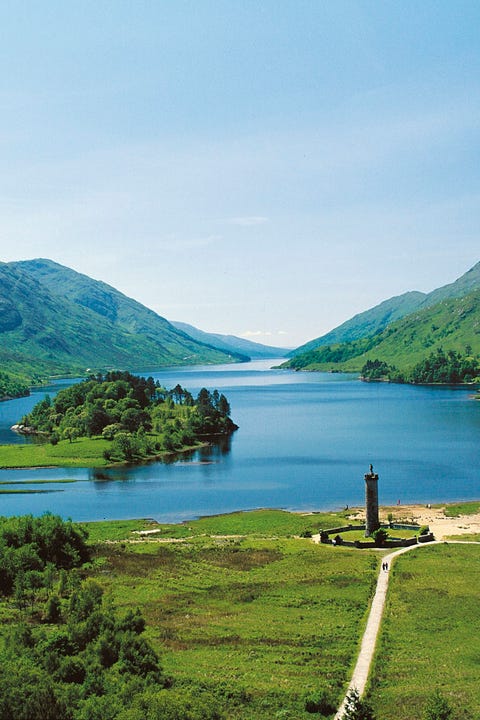 DEA / M. BORCHI
Getty Images
Loch Shiel, Highlands
Several Scotland lakes (lochs) were used in The Prisoner of Azkaban (where Harry finally summons his Patronus). Loch Eilt and Loch Morar were also used.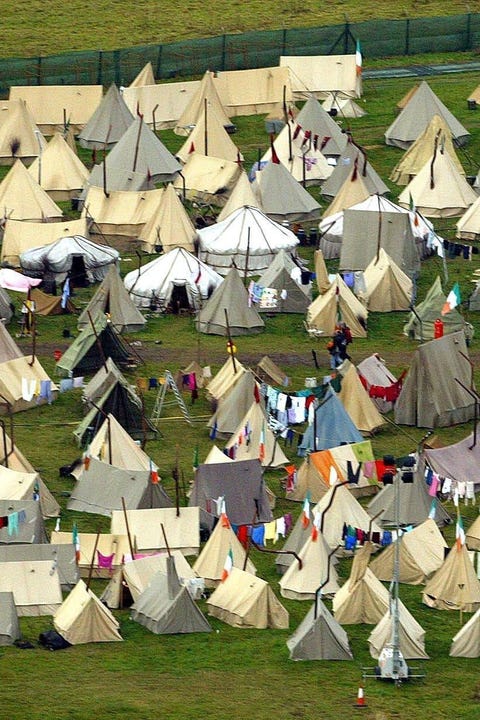 Andrew Parsons - PA Images
Getty Images
Warner Bros. Studio, Leavesden
When the cast and crew weren't headed off to a historical location, they shot primarily at the studio in Leavesden. Here, for Goblet of Fire, tents were set up for the Quidditch World Cup (they likely don't exist anymore, but there's plenty more at the studio).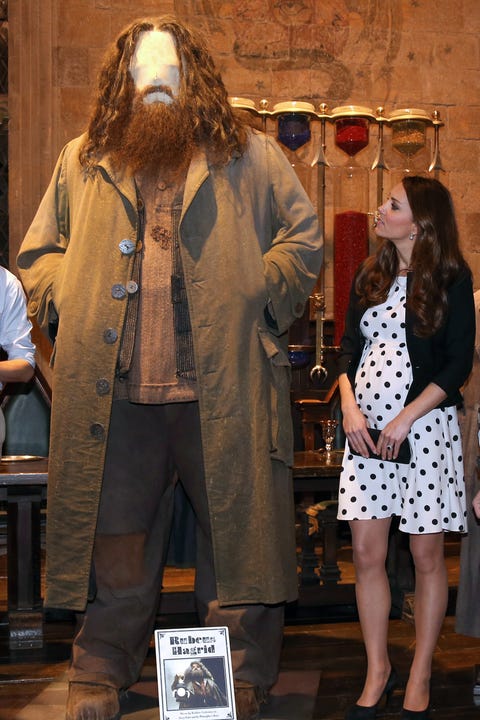 Warner Bros. Studio, Leavesden
The studio now has a very detailed Harry Potter tour, with sets, costumes, and all sorts of props from the various films.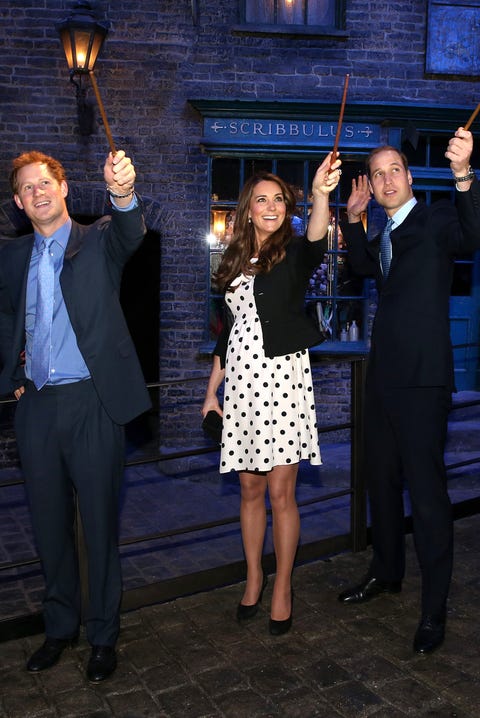 Warner Bros. Studio, Leavesden
Oh yeah, and Kate Middleton, Prince William, and Prince Harry all visited for the opening of the attraction in 2013. Here's the set used to depict Diagon Alley.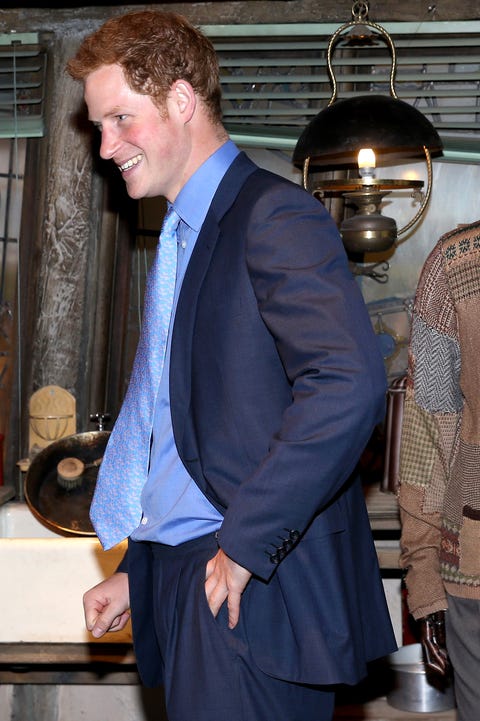 Warner Bros. Studio, Leavesden
Here, Prince Harry visits the set of The Burrow (the Weasley house).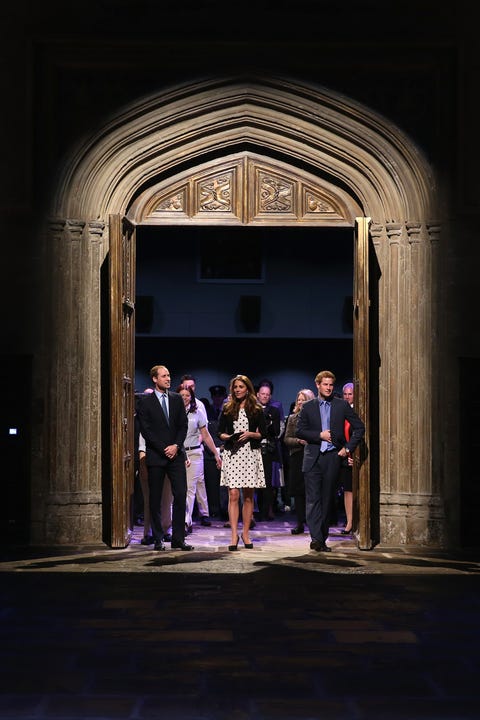 Warner Bros. Studio, Leavesden
And the trio visit the Great Hall of Hogwarts (so impressive)!
This content is created and maintained by a third party, and imported onto this page to help users provide their email addresses. You may be able to find more information about this and similar content at piano.io