Postcard From Bangladesh
Marie Claire's roving correspondent sheds light on how women are transforming one of the poorest, most corrupt countries on the planet.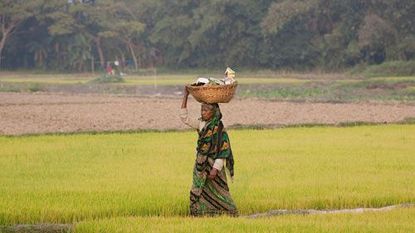 (Image credit: Josh Estey/CARE)
Marie Claire Newsletter
Celebrity news, beauty, fashion advice, and fascinating features, delivered straight to your inbox!
Thank you for signing up to Marie Claire. You will receive a verification email shortly.
There was a problem. Please refresh the page and try again.
It's a bright, smoggy January morning in Bangladesh, and I'm walking through an ancient village called Nowapara, where the homes are made of tin and mud. I arrived in the middle of the night, after a 20-hour journey from New York City, and I'm here to see how life is changing for the mothers and daughters of this town, thanks to microloans.
This village has long been known for its skilled male weavers, who created colorful, striped fabrics known as jamdani for centuries. These textiles have become one of the most sought-after fabrics produced in South Asia. But in recent years, many of the male weavers have left Nowapara for opportunities in the nearby capital city of Dhaka. So last year, a local nonprofit called Seva (which means "selfless service" in Hindi, as I know from my years of yoga) stepped in to help. In partnership with the humanitarian group CARE, Seva started giving small loans to women so they could learn weaving skills themselves, then start their own businesses.
As I walk through the village, jamdani production appears to be in full force; I'm pleasantly surprised to see how many couples and family members are working together at giant wooden looms, which look like whimsical Calder sculptures. The more senior weaver sits at one end with an apprentice by her side, and they work in unison. It's quite beautiful, and almost meditative, to follow their rhythmic, hypnotic motion. Beyond the room with the loom, you'll often see an elder man or woman dyeing the yarn for the thread, and a younger child spooling the yarn nearby.
A young woman with enormous brown eyes peers up at me from the folds of her artfully draped sari. Her name is Runi Mamun and she's the oldest of seven. She describes how, at age 20, she is her family's money manager, parlaying several $1000 loans into small businesses, like selling cow's milk and weaving. "I do a bit of everything," she says, adding that her dream is to build a constructed home for her family, rather than their mud hut. As for her own future, she intends to marry, but only when the house is built and when her suitor has achieved a similar economic status. She is a practical dreamer.
My visit to Bangladesh comes just days after the country has elected a woman, Sheikh Hasina, as its prime minister; her party enjoyed a landslide victory. There's a feeling of hope in the air, with the prospect of a new year and a new administration, much like the feeling we recently experienced in the U.S. But it's a tough road ahead here. It's been nearly 40 years since Bangladesh won its liberation from Pakistan in a hard-fought battle; since then, the country has been declared one of the poorest and most politically corrupt places in the world. But to its credit, Bangladesh recently produced a world-changing Nobel Peace Prize winner, Muhammad Yunus, a financier who got the microloan movement off the ground here with his Grameen Bank, inspiring similar projects throughout the world.
"What you see today is a dramatic change," says Mr. Yunus, describing life for people who have been able to take advantage of microloans, when I meet with him at his headquarters in Dhaka. In the case of the Grameen Bank, the number of borrowers is around 6.9 million—and 95 percent of them are women. Almost every penny has been paid back.
To be sure, Runi, who has received no formal education, tells me how her family is on track to repay its loans within three months. And for the first time in the family's history, members of her family—her younger siblings—will be attending school.
Poverty is often inherited and undeserved, particularly for women in poor parts of the world like Bangladesh. With microloans, a door to opportunities that people never dreamed possible has been pried open. Indeed, millions of men and women around the world have been able to reclaim their sense of dignity due to these small loans, proving that they themselves are a sustainable solution to the plague of poverty.
There are countless organizations, such as Seva, using the Grameen Bank model as a starting point. In talking to Runi and other women like her who have benefited from such initiatives, I'm deeply moved to hear them describe their lives before and after the loans. Before Runi and her family received their loans, they were desperately poor. Now she and her family members are looking toward the future—a future that includes education, a home, a successful business. It could be said that the first step toward women's equality is education, but the second step is financial empowerment. An empowered woman has the potential to do anything she sets her mind to. Witnessing these loan projects firsthand makes me question what my life might have been like without the women's movement in the U.S.
As I prepare to leave Bangladesh, I have mixed emotions; I wish I could be here to see the people of Nowapara prevail, but they're on their way. Several days later, back home in New York, I read about a savage shooting spree by antigovernment rebels in Dhaka, which left 74 people dead. My new friends assure me that they're safe, but I feel shaken to the core. There's still a long way to go.
Christy Turlington Burns is a CARE global ambassador and a Marie Claire contributing editor. She is working on a documentary on maternal health.
Celebrity news, beauty, fashion advice, and fascinating features, delivered straight to your inbox!