Christy Turlington Burns: Postcard from Tanzania
Marie Claire's globe-trotting correspondent hits a corner of the world where giving birth can be deadly.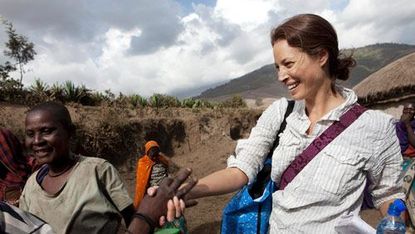 (Image credit: Jake Lyell)
The first time I saw Africa, I was doing a shoot for a British fashion magazine on a small island off the coast of Mombasa, the Kenyan port city. While the trip was extremely lovely and memorable, it wasn't quite the Africa I had anticipated. So the following year, I returned, this time to Tanzania. On the flight over, I remember looking out at Mount Kilimanjaro from my airplane window and promising myself: The next time I come back, I will climb that mountain.
That was nearly 20 years ago. Over the years, I did make it back to sub-Saharan Africa several times, spending time in Madagascar, Swaziland, South Africa. I returned to Tanzania and Kenya and stayed with a friend who lived in the Masai Mara, beside a river packed with wild hippos. And yes, I did climb Mt. Kilimanjaro. This year, I decided to make the journey again, to Tanzania—but with a much different purpose. As an advocate for maternal health, I wanted to help ensure that mothers live to see their children grow up.
Exact numbers are hard to come by, but recent surveys suggest that for every 100,000 babies born in Tanzania, nearly 1000 mothers lose their lives in childbirth. Tanzania recognizes the magnitude of the problem; the country's president, Jakaya Mrisho Kikwete, says he is committed to reducing maternal mortality by 75 percent by the year 2015. With the help of development partners like the World Bank and the Swiss government, President Kikwete plans to further educate hundreds of doctors, nurses, and midwives over the next 10 years, and train clinicians to perform emergency services like C-sections.
It's a big, but achievable, goal.
I land at Kilimanjaro Airport at 7:30 p.m., after almost 20 hours in the air from New York. It's dark outside when I step off the plane, which is disorienting, but the moment I walk onto the tarmac and breathe in the night air, I know exactly where I am. I spend the night at the hotel of an old friend I'd made on my first trip. I sleep for 12 solid hours, something I haven't done since having my children.
The next morning, I sit down for a breakfast of homemade muesli, mango, and freshly brewed African coffee before climbing into an old Land Rover and driving to Arusha, the outpost city for many Safari companies in the region. I visit Mt. Meru Hospital, a regional government hospital, twice, to try to meet my contacts—they aren't around either time. I quickly learn that it's just as challenging to reach people in person in Tanzania as it is via e-mail or telephone from the States.
A day later, I head out to the rural village of Ol Doinyo Sambu, to visit a health clinic I plan to monitor for a week to better understand the scope of the situation. When I arrive, several pregnant women are sitting outside, sharing a patch of grass under the shade of a tree in front of a humble three-room building. With their newborns and toddlers asleep at their breasts or on their backs, the women wait to be seen by someone in a white coat.
I ask if they're comfortable being filmed for a documentary I'm doing on maternal health called No Woman, No Cry. Some are shy and politely opt out, but many others are more than happy to discuss their medical histories in the hopes that I may help in some way.
Agnes, 33, tells me that 10 years ago, she lost her second child during childbirth. It was only after an excruciatingly long labor that doctors finally performed a C-section and removed her dead baby. Since that procedure, she has been incontinent from a condition called obstetric fistula, which occurs all too often in cases like Agnes', when the bladder or another organ is ruptured during prolonged labor. Because Agnes is so poor, it was inconceivable for her to return to the hospital for follow-up repair surgery to help her condition.
I also meet Lightness, a serious-looking 16-year-old with cropped hair, whose 35-year-old mother (of five) tells me that she fears for her daughter's life, as Lightness is well past her due date. I learn that Lightness got kicked out of school when teachers discovered she was pregnant, and that both her boyfriend and father have since disappeared.
Women have it far from easy here. Being pregnant does not excuse them from having to collect water or wood miles away from their village. And fully equipped health facilities are hard to come by, especially in remote areas.
As a result, many women end up going it alone, trying to give birth in their own homes with the help of a relative or traditional birth attendant. Many die of postpartum hemorrhages, infections, and other complications that could be easily treated in most sufficiently staffed hospitals.
The country's Chief Medical Officer, Dr. Deo Mtasiwa, a kind-looking man, says he plans to build a health facility within three miles of every village as part of the government initiative to reduce maternal mortality. Of course, that's still quite a distance for a pregnant woman to reach on foot. And many Tanzanians remain skeptical. "We need to see more action, not all of this talk," says a staff member at the clinic in Ol Doinyo Sambu.
I hope the Tanzanian government keeps its sights set on its maternal-health goals. As a mother myself, I can't help but feel invested in the lives of women and children here. I feel an instant connection with the women I meet, language barriers aside.
Still, all too soon, it's time for me to go. I find myself taking one last deep breath of the African night air, then stepping onto the plane. I know I'll be back.
---
Christy Turlington Burns is a Marie Claire contributing editor and a global ambassador for maternal health for CARE. Her documentary, No Woman, No Cry, will premiere in 2010 (nowomannocrythemovie.com). To learn more about CARE, go to care.org.
Celebrity news, beauty, fashion advice, and fascinating features, delivered straight to your inbox!