The Campaign That Is Shocking The Beauty Standards Out Of Us
Does a woman's looks determine her worth? The short answer is no f*cking way.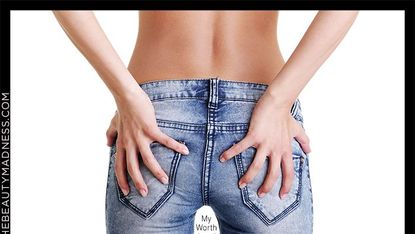 (Image credit: Archives)
Whether consciously or not, we're born and bred to believe that the better we look, the better our lives will be. You'd be hard pressed to find a woman who, at one point or another, hasn't felt less than based on her looks alone. To tackle this old-as-time notion, a brilliant campaign has come to fruition called Stop The Beauty Madness (opens in new tab) in which a series of 25 advertisements call out unattainable beauty standards.
Founder Robin Rice asserts that she wants you to "feel like you've been socked in the gut" upon viewing the honest and often jarring messages. The campaign forces us to question the already internalized idea that a woman's beauty determines her value in society—spanning her career choices, sexual encouters, and clothing.
In an interview with Huffington Post (opens in new tab) Rice explains, "My main mission is to say if women are worried about their weight and their looks to the point that they're not actually putting themselves in the world, then we're missing out on some really extraordinary individuals and some really important conversations we need to be having. Women need to be helping the world move in a more beautiful direction — a genuinely beautiful direction."
Naturally thin women are called sickly, curvy women too sexy, the list goes on and on. Even when a woman does technically fit the "ideal" image, she still suffers. Perhaps, though, this vicious cycle has a shelf life. To see the full campaign and get involved yourself, visit Stop The Beauty Madness (opens in new tab).
Related:

How To Use Social Media To Redefine Beauty (opens in new tab)


You Are More Beautiful Than You Think (opens in new tab)


Body Size, Body Shape: 6 Women's Stories (opens in new tab)

Follow Hallie Gould on Twitter (opens in new tab).
Hallie has worked in beauty editorial for ten years and has been editorial director at Byrdie since 2021. Previously, she was a senior editor at Byrdie since 2016. During her time at Byrdie, she's written hundreds of high-performing stories on skincare, wellness (including fitness, diet, mental health, body image, et al) makeup, and hair. She's a regular on set, helping to source inspiration for makeup and hair looks, as well as interviewing celebrities, models, and other notable women and men in the beauty space.
Before that, Hallie ran Marie Claire's social media and wrote beauty and culture stories for the site, and helped launch Time Inc.'s digital-only beauty brand, MIMI. After college, she contributed to Time Out New York's Shopping & Style section before landing her first beauty editor gig at Hearst's Real Beauty. Hallie's writing has also appeared in ELLE, Cosmopolitan, and InStyle. Hallie graduated with a BA in Communication Arts from the University of Wisconsin-Madison.