The Coolest Spas in the World
Start saving your frequent-flier miles, because these aren't your grandma's resorts. We've been buffed, primed, and polished across the globe (hard work, we know) in order to bring you a curated list of getaways that you'd actually want to spend your vacay days on. Not to worry, staycationers—we've included at-home treatments, too.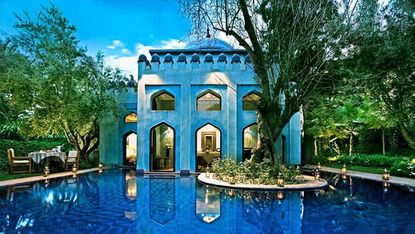 (Image credit: Archives)
Dior Institut (opens in new tab) at Es Saadi Gardens & Resorts in Marrakech, Morocco
Check it out: Though it's handily close to the city's legendary bazaars, this palace retreat is nestled in the kind of lush gardens you'd expect from a Moroccan paradise and boasts views of the Atlas Mountains. Outfitted in artisanal rugs, intricately carved furniture, and opulent silk, the sweet suites feel majorly exotic.
Signature treatment: Make like a princess and bask in the traditional hammams at the palace spa, or head to the new Dior Institut for an updated antiaging treatment, like the Intense Youthfulness facial ($334), where no expense is spared as polished sapphire dust buffs away dead cells to reveal glowing skin. Decadent, no?
DIY: Dior L'Or de Vie La Crème (opens in new tab), $350; Dior L'Or de Vie Le Sérum (opens in new tab), $395.
Rainforest Spa (opens in new tab) at Sugar Beach in St. Lucia
Check it out: The Amerindians worshipped this area centuries ago. Today its turquoise seas and volcanic landforms play backdrop for rustic tree houses. The eco-friendly spa uses indigenous ingredients like lime and sulfur, while the background sounds of tree frogs, waterfalls, and running streams chill you out, big-time.
Signature treatment: Following the property's minimal-waste efforts, the lava shell massage ($150) pairs local, heated shells with delicious scented and medicinal oils that are glided across tired and sore muscles. Total win-win.
DIY: Herb Pharm Arnica Oil (opens in new tab), $13.
Laucala Island Spa (opens in new tab) at Laucala on Laucala Island, Fiji
Check it out: Ever wish you were invited to a private island? Red Bull cofounder Dietrich Mateschitz has officially opened his own personal oasis to the public, giving a whole new meaning to "exclusive."
Signature treatment: Traditional Fijian flowers and fruits are infused into various "rituals" offered at the spa, but we especially love that guests can pick their own native spices and herbs on-site to craft a DIY essential-oil blend.
DIY: Organic Fiji Lavender Cold Pressed Coconut Oil (opens in new tab), $10.
Thereme Vals Spa (opens in new tab) at Hotel Therme Vals in Vals, Switzerland
Check it out: Architect Peter Zumthor's sleek, modern design, strategically built over natural springs in Graubünden Canton (think storybook Heidi's hangout), is basically sensory overload, in a good way. The quarry-like quartz structure houses therapeutic thermal baths that are worth the pruny fingers.
Signature treatment: Try the Water Massage ($118), which takes place in a 95-degree pool and combines Shiatsu techniques with the healing benefits—improved circulation and joint-pain relief—of warm mineral water. Afterward, take a hike (yeah, right) or, say, how about a nap?
DIY: Salin de Biosel Pur SPA Scrub (opens in new tab), $80; Salin de Biosel Bio Yang Thalassa massage oil (opens in new tab), $92.
Iridium Spa (opens in new tab) at the St. Regis in Le Morne Peninsula, Mauritius
Check it out: After an exhilarating day of kite surfing in the Indian Ocean, kick up your feet here. Just off the southeast coast of Africa and home to a Michelin-star-winning chef, this spot is all about high-end beach bumming.
Signature treatment: Release toxins with the Kite Surfer's Respite ($200), by indulging in an Epsom-salt-, coconut-, and mango-infused bath followed by a muscle-stretching sesh.
DIY: Valmont L'Elixir des Glaciers Votre Visage lifting anti-aging cream (opens in new tab), $530; Valmont Just Time Perfection, (opens in new tab) $195.
The Spa at Be Tulum (opens in new tab) in Tulum, Mexico
Check it out: The laid-back beach town's most luxe hotel just opened an über-eco-chic spa surrounded by the lush canopy of the emerald jungle. Bonus: The pool, a true rarity in Tulum, is stunning.
Signature treatment: Try an ancient body-cleansing technique in the Ancestral Maya Sobada ($240) that uses native plants and abdominal massage to aid with circulation.
DIY: Éminence Organic Skin Care Couperose-C Serum (opens in new tab), $48; Mayan Clay (opens in new tab), $30.
Related:
Our Earth Day Beauty Essentials Took Time Off to Spend the Day in Central Park (opens in new tab)
A Definitive List to Staying Sane While Getting Ahead in Your Career (opens in new tab)
Our Guide to the World's Chicest Spas 2012 (opens in new tab)
The Best Destination Spas 2011 (opens in new tab)
Still lifes: Jeffrey Westbrook/Studio D, Photographs: Courtesy of the companies