How François Nars Built an Empire While Toppling the Beauty Industry
The notoriously private makeup artist exclusively opens up to MarieClaire.com.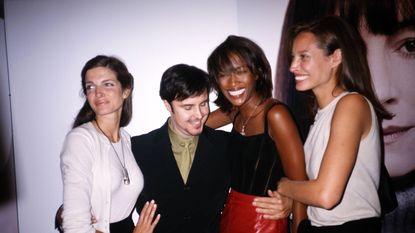 (Image credit: Getty Images)
There are makeup artists, and then there is François Nars. Since he was a young boy growing up the South of France, Nars was enchanted by women and the art of transformation. First, as a 10-year-old boy religiously watching old Hollwood films and sketching his own interpretations of the spreads he ripped from fashion magazines, and then as a teenager, cutting his teeth in his future art form by doing his mother's makeup. After enrolling and graduating from the Carita Institute in Paris, he entered the industry with tremendous momentum. First in Paris, with heavy hitters such as photographer Paoli Roversi and designer Yves Saint Laurent taking a chance on him, then in New York City in the '80s—a golden age to be young and creative, he recalls.
Long before you could book a job based off of your Instagram following, Nars established himself in the '80s and early '90s as a go-to collaborator—and trusted confidante—for designers, supermodels, and celebrities. But recognizing a hole in the market, he set out to disrupt the beauty space by launching his own collection of vivid lipsticks at Barney's New York in 1995. Since then, the founder and creative director of NARS (who also goes behind the lens as the brand's campaign photographer) has built an empire on robust color and glowing skin, introducing sensually charged cult classics, like his peachy-pink Orgasm blush and featherweight Radiant Creamy Concealer.
Compared to many of his contemporaries, Nars keeps a relatively low profile—at least, as much as someone presiding over an international beauty brand can. But for MarieClaire.com, the legendary makeup artist offers an intimate peak into his world, from his inspirations to staying a cut above above the rest in an ever-changing beauty landscape.
On the first professional makeup look he ever created:
"It was working for Marie Claire in probably 1980 or 1981. Marie Claire was the first magazine I worked for doing makeup. So it was the French edition of course, because at the time it was only French. I worked with a photographer who was just starting out, his name was Paolo Roversi. It was his first chance, and I was starting out too. We had this model who at the time was one of the best models, and I did this lavender makeup on the eyes. It was very natural, but beautiful. I remember these pictures very well."
On his favorite looks of all time:
"Well, because it was the first photoshoot in my entire life, it was pretty wild. But of course I have done thousands of looks over the years. I've worked a lot for Irving Penn with American Vogue—we did quite a lot of fun makeup—and with Steven Meisel for Italian Vogue. We did so many crazy looks on Linda Evangelista. I made her look like Sophia Loren: tons of black eyeliner and false eyelashes. I brought back false eyelashes a lot in the '80s. So those trends, they stay in people's minds when they think about me, all the '80s makeup I created."
On how Old Hollywood films have inspired him:
"From the silent era, to the golden age of Hollywood—'40s, '50s, '60s, '70s—I'm quite a big collector of movies. To this day, it's an inspiration to my makeup and taking pictures as well. I'm very sensitive to the light and the makeup, and they invented the glamour and the beauty of lighting. Growing up, watching movies was like school. From Joan Crawford, Greta Garbo, and Marlene Dietrich, to all the stars after that, like Bette Davis and Liz Taylor, I learned a lot. My parents were big movie lovers, so they didn't object me to staying up late and watching the movies. It was school."
On experiencing Hollywood firsthand:
"You know it's changed so much. I was able to work over the years with some older movie stars, you know, like Tippi Hedren and Leslie Caron. Unfortunately, so many of them are gone. But it's so much fun to see where Hollywood was created. It's not so old, either. It's only 100 years old. It's very magical to see the old houses of the movie stars and see what new movie stars live there. I'd do a lot of research to find out where Ginger Rodgers lived or where Marilyn Monroe had a house. I love Los Angeles and Hollywood is one reason."
On splitting his time between Los Angeles and New York and the different ways each inspire him:
"You know, they're so different! I love New York. I fell in love with it in the '80s. When I came I came from Paris, I had a fantastic time in New York meeting so many people from the fashion industry. But New York is so incredibly crazy, aggressive, and wild. Now, I'm enjoying L.A. because it's so much more laid back, and I'm enjoying the vegetation here. Also, having had a place in Tahiti over the years, New York is too 'city' now. L.A.'s the perfect balance because you feel like you can live and breath here. I think you have to be very young to live in New York. I was the perfect age because I was young and crazy and wanted to have fun. I worked very hard, but at the same time I played very hard."
On living in New York in the '80s with hair legend Odile Gilbert:
"It was such a fabulous time because we decided to leave Paris and then arrived in New York together. We found an apartment and shared it. We had the time of our lives discovering the city. In the '80s, the nightlife was so strong in NYC and the supermodels were emerging, so I came at the perfect time. There were fabulous clubs. We were like two kids in a candy store eating up life. I was having so much fun, but I was working very hard every day for major photographers and magazines. But when you're young you play, you go out, and you work the next day. Though I remember when I had to do an American Vogue cover with Richard Avedon, I went home very early and slept. But we were lucky to come at the perfect time in the '80s. Not that it's not still fun, but it's changed so much."
On his mother, his lifelong muse:
"You parents are always the people you connect right away with, and I was lucky to have great parents. My mom was, and is still, a very beautiful woman. I was lucky because I had a very glamorous woman in my life. People would turn on the street. So she gave me a certain sense of beauty and aesthetic and glamour in a way. But she was a woman who didn't wear much makeup, so it wasn't her [that inspired me] for makeup. It was probably more my grandmother. My grandmother was an artist and she was very talented—she could paint and sing opera, too. She gave me my love for makeup.
But my mom really shaped my vision of women and beauty. She had great style. I started doing makeup on her because she didn't wear so much. I was able do a bit more, like a smoky eye, and practice. She looked great with or without it, of course. But she never wanted to be burdened by makeup, so she kept me very fresh, and with my grandmother who wore more makeup, I found my balance. My mother hated foundation, so it helped me create products that are light, not too heavy. It sent a message: Wear makeup, but with a light hand."
On the makeup artist he admired growing up:
"One that stood out was Serge Lutens. Serge was my favorite–I don't want to say mentor, but he really pushed me to do makeup. Total artist, total genius, zero compromise. There's very few people like that. He's like the Picasso of makeup."
On why the '80s and the '90s were the best time to be a makeup artist:
"Because of the time, it's what we call in French, l'air du temps. It was in the air and in the people, and there was a lot of creativity, with less commercialization. Today everything is all about money. People were more laid back in the '80s. People were less worried. As long as it was a creative project, people would work. It wasn't about money. Today you feel like no matter what, there's always money involved."
On becoming a photographer:
"It was a very easy transition—not a transition because I was still doing makeup—but it was easy to jump into photography because I was at the best school for so many years with the best photographers in the world. I had learned so much by watching them. Makeup and photography are very similar and connected. And when we launched NARS, we had practically zero budget for hiring a photographer. So I thought, this is the time: I'll take the camera and shoot for NARS! And I haven't stopped since then. I took it very seriously and felt that if I'm gonna do it, I'm gonna do it well. And I ended up loving taking pictures, so it's been really fun."
On keeping a low profile:
"Actually, I [feel I do] have a lot of exposure. I feel extremely exposed compared to what I'm about. I never wanted to have my picture taken. I never want to talk. I'd do my job and I would disappear. So I do this for the brand because it's important for me to be here and talking to you. I'm very shy and get very nervous, since I'm very private and that's my thing. I never was a performer, so every time I go out in public, I make a big effort. Some people love that! It's very rare for me to go to those big events with the red carpets. Yes, I could go, but I usually say no. I've done it with Madonna when I worked with her, and there'd be 500 photographers following us, which was a nightmare. I hated it, and she hated it too."
On casting real people versus professional models:
"People are people, but you have to make people dream a little bit. I feel to represent the brand, I'm interested in working with models or movie stars in any way. We're selling glamour, we're selling makeup, and it's fun, so the part that you can translate to real people is important. But the look is important always. I would not give up the look. There are people in [my books] that are not 'perfect' beauties, and that's important because makeup is for everybody and everybody is beautiful in some way. But when you shoot the campaign, it needs to have a certain power; the person that sells the brand needs to have a certain impact. But when it comes to certain things, I will never give up using celebrities, since people still want to dream. When there's no more dreaming, that's the end of the world."
On the facial feature that's the most transformative:
"It varies person to person, but I think the eyes, like when you do a smoky eye, are what you can transform somebody the most because right away it glamorizes you the most. But a red lip can transform somebody, too. So I think eyes and lips are really the most transforming in terms of makeup. But a smoky eye usually looks good on everybody and that you really change. It brings out another side of you."
On bold colors, and why people are intimidated by them:
"Because they're not as easy to wear, and they're not for everybody. My mother would never wear bright colors, and I would never put bright colors on her. Some people carry them very well and some don't. So how do you know? First, there has to be an attraction, and then a makeup artist can help to show you how to make the colors look good, though it's definitely not for everyone."
On pushing women out of their comfort zone:
"Over the years, I've learned how to capture the vibes of people. You feel it by the way they dress, how they wear their hair, their walk, and what shoes they're wearing. You feel it. And when a woman comes into a store, it's going to be hard to push for purple eyeshadow or bright turquoise. You have to feel those things and that's what makes a good salesperson. You have to understand how people are. I think I'm usually really good at that."
On the process of naming his products:
"I hate names that are very casual; I love names that are really catchy and mean something. I try to give names that are either from songs, places, movies, or names of people that I love. It gives the product some significance, some weight. It's beyond just a tube of stupid makeup. Because when you think about it, it's just stupid makeup. But by giving it a name, it brings it to a different level. It makes it personal and it gives it a mind. And then people remember. And the way I do it, it's all from my culture, my life, what I see, and what I read. I have agendas where I write names constantly, and it's nonstop."
On changing the way he approaches new launches in an extremely saturated market:
"I always look at what the market is doing—you have to keep an eye on what's happening—but I follow my own instinct. I follow what I love and my vision of what makeup should be. I try to stay as new and modern as possible, making sure NARS has the best formulas for the products.
It's a challenge because there's so many makeup brands today, so you can't be completely oblivious to what's happening. But you also have to stay who you are and not try to be who you're not. I always value the quality; I don't want to make products that are cheap or not holding well. I love when you come out of the store and have products that are worth the money. So I keep it strong and different, too, because you don't want to match another line or copy something that's already been done. So it's a lot of work, and it's about staying vigilant, but I do my best to not ever lose it. I always question myself, 'Is this right? Can we do this better?' I try to keep NARS what it is while keeping it on edge. You want to keep it going on and on and on so that it's a brand that's timeless."
Celebrity news, beauty, fashion advice, and fascinating features, delivered straight to your inbox!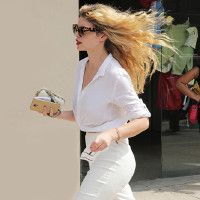 Lauren is the former beauty editor at Marie Claire. She love to while away the hours at coffee shops, hunt for vintage clothes, and bask in the rough-and-tumble beauty of NYC. She firmly believes that solitude can be a luxury if you've got the right soundtrack—that being the Rolling Stones, of course.