Beauty Travels: Exploring Cambodia and the Power of Sacred Flowers
Is the lotus the secret to beautiful skin?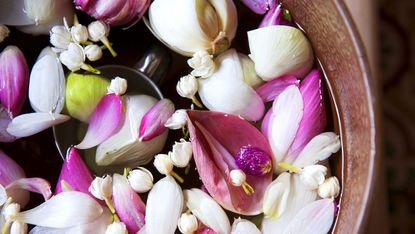 (Image credit: Getty Images)
"Thanks to impermanence, everything is possible." I'm pondering this quote by the famed Buddhist monk Thich Nhat Hanh while attempting (key word: attempting) to meditate at a monastery outside of Siem Reap, Cambodia. As a gong sounds in the distance—prompting a dog to howl—I resist the urge to giggle and try to focus. Finally, a breakthrough: Though I have little tolerance for boring people, I can't help but wonder if I am one.

"Impermanence" be damned; I hate change. My husband is both amused and exasperated by the fact that I can eat the same meals on rinse and repeat. The prospect of moving or, say, cutting my hair too short kind of terrifies me. Nightmares of losing my wallet/dog/identity disturb my sleep. For Lev Glazman and Alina Roytberg, however, embracing change means everything really is possible. The business partners both emigrated from Communist Russia and went on to open a modest soap shop in Boston in 1991, which eventually grew to become the empire that is Fresh cosmetics today. And because they are two of my favorite people in the world, I packed my bags and hopped on a plane to Cambodia the minute they invited me to come meet their latest creation, a face mask that harnesses the healing powers of an extraordinary botanical hailing from Southeast Asia, the lotus flower.
In Cambodian culture, lotus carries a symbolism that far transcends its obvious beauty: It is important to both Buddhist and Hindu traditions as a sacred emblem of purity and enlightenment, and even the great spires of Angkor Wat are carved in its likeness. Before meditating, I listen to a monk's lecture on the trajectory of the lotus and how it's analogous to human life, which underlies its cultural significance. The struggle is real: The lotus grows in the water, vulnerable to hungry fish and turtles, and must overcome barriers as it steadily climbs upward to expose its precious flower on the surface. When it finally crests, it's a triumph.
What's more, the sweet-smelling lotus flower is ridiculously versatile. Its parts—from seeds to roots—can be consumed and are frequently used in local cuisine and for herbal medicine. Inside its stems you'll also find a silk-like microfiber that can be woven to make fine textiles. Glazman and Roytberg were so inspired by this show-pony-meets-workhorse that they took the flower into the Fresh Research Lab, where they found yet another use for it: Clinical tests found the lotus was rich in antioxidants and polyphenols, making it an ideal antiaging ingredient, so they crowned it the main star of their Youth Preserve collection, which now includes an eye gel and moisturizer, among other products. This month, the line will be joined by the Lotus Youth Preserve Rescue Mask, which Glazman describes as a "five-minute facial" that imparts immediate radiance. Because it also contains underwater nutrients like seaweed, red algae, and sea fennel in the mix, he's pet-named it a "mermaid mask." (Attention Instagram, you have a new hashtag.)
Both Glazman and Roytberg point out that they love masks so much because the ritual is all about taking a moment for yourself, much like meditation. And of course, when it comes to skin benefits, no treatment is more instantly transformative: It's especially true of one that makes you glow like this mask does after only a few minutes. Even a stuck-in-her-ways curmudgeon like me can get on board with adding that gem to my routine. It's like that other sage says, right? Change—it's good.
Want more Marie Claire? Get Instant Access!
Erin Flaherty is a beauty journalist and consultant who has contributed to numerous publications including the Wall Street Journal and Domino, among many others. She is a board member of the Women's Global Empowerment Fund and especially passionate about worldwide beauty anthropology and women's issues. She lives in Woodstock, NY with her husband and dog.