We Tried Pubic Hair Oil So You Don't Have To
Meet the latest craze on the beauty beat.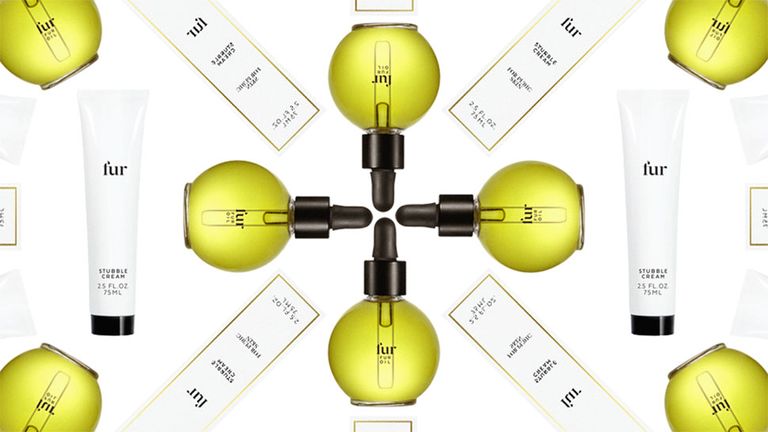 (Image credit: Fur/Design by Katja Cho)
It all started when Emily Schubert, 24, was looking for something to soften her pubic hairs. I know she's okay with me sharing that with the world, because since then she has become a key player in the business of pubes—or rather, a disrupter in the business of pubes.
Before Schubert began Google searching in vain (and really, isn't it the worst when even Google can't provide answers?), there was only one type of care product for hair down there, and it was for hair removal—though removing all or most of your pubic hairs is hardly "caring" for them. As Schubert scrolled through her options, she noticed two very disturbing patterns. One: Brands wouldn't use the word "pubic." When referring to products for your nether regions, it was always "intimate" and "bikini line." Two: The packaging might as well have been targeting children, with all the pinks, purples, and glitter.
"It's kind of insulting," she says of the products she found on her pube-softener search. "Everybody has this thing and no one is talking about it in a way that's elevated." That is, until Schubert teamed up with her sister, Laura Schubert, 32, and their childhood best friend, Lillian Tung, 32, to change the conversation.
So they invented Fur (opens in new tab), the first, and certainly the chicest, pubic hair oil designed to care for and soften your pubic hair.
There are many things I love about this product—the smell, the packaging, the back story—but what's most impressive is that Fur works, and it works well. It comes in two formulas: oil in a chartreuse orb, or cream in a tube. While it softens, it also fights off bacteria, inflammation, and ingrown hairs with clary sage oil and tea tree oil, and cares for skin with grape seed oil and jojoba oil. No need to worry about your favorite pair of silk panties, either; Fur oil dries fast enough that you can apply and get on with your life. As Schubert aptly mentions, "You don't want to have an oily crotch all day." And just like the wetness of the oil, the scent also fades, so you don't smell like a perfume-y department store. If your pubic hair motto is "long hair don't care," opt for the oil formula, which quickly absorbs into the hair cuticle to soften, and if you want to address prickly re-growth, try the cream, which softens rough hair and protects delicate skin.
Perhaps the best part of Fur is that it's made to empower women—or, as Schubert specifies, "really anyone with pubes." During our hour-long interview, she endorses everything from taking it all off to leaving it completely alone. For her, it's all about doing what makes you feel your best: "What's actually sexy is being confident with what you have, and that's it," Schubert says. Fur's mantra of total acceptance doesn't end there—men can also use this product on pubes, beards, and chest hair.
You might be thinking, "Why do I need to soften my pubes?" and the answer is that you don't. Fur is simply an option, a little luxury you can do for yourself if you want to. Schubert is quick to point out that "there's not one standard of what's good down there, and we're just suggesting that there might be more options."
And if Fur's body-positive message, kick-ass founders, and quality product aren't enough to convince you to give it a try, consider this: It's certainly something that the impossible to shop for girl on your gift list won't already have. And isn't it time that she get the gift of glorious pubes?
Fur Oil, $39, and Stubble Cream, $32; furyou.com (opens in new tab).
I'm a writer and editor based in New York City. I love a good coat, a well-articulated feminist rant, and face masking (yes, that's a verb) like it's nobody's business.