The 33 Best Shampoos and Conditioners, According to Marie Claire Editors
Curly hair, fine hair, textured hair—we've got you covered.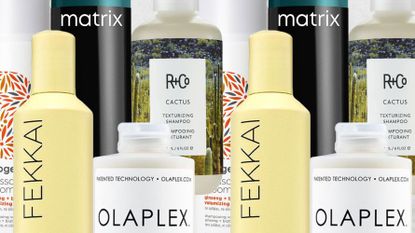 (Image credit: Briogeo/Fekkai/Matrix/Olaplex/R+Co)
Marie Claire newsletter
Celebrity news, beauty, fashion advice, and fascinating features, delivered straight to your inbox!
Thank you for signing up to . You will receive a verification email shortly.
There was a problem. Please refresh the page and try again.
I know perfection is supposed to be unattainable, and for the most part, it is. But if searching for the best shampoo and conditioner is wrong, we don't want to be right. As rote as it seems, we believe that haircare needs to be taken as seriously as skincare is, especially when it comes to the MVPs in your shower.
That said, choosing a new shampoo and conditioner can feel daunting, especially when there are so many options available. Marie Claire staffers have already written about the best shampoos for hair growth, the best shampoos for natural hair, the best hair thickening shampoos, and the best shampoos for oily hair, for example, so feel free to peruse those guides if you have specific hair goals.
For this list—our all-time favorite shampoos and conditioners, the products we use in our own showers and rave to our friends about—we've put our heads together, spoken to the experts, and pledged our alliance to the best shampoos and conditioners, below, for every hair type and hair issue.
How Often to Wash Your Hair
Yes, over-washing your hair is a thing. But how can you find the right cadence for your hair? Andrew Fitzsimons, celebrity hairstylist and brand founder, says that hair-washing schedules "change from person to person and has to do with what hair type you have, but generally, I recommend every two to three days, depending on how oily your hair is."
However, Fitzsimons notes that "If your hair is dry or on the curlier side, I would recommend shampooing less, roughly every five to seven days." And, just like your skincare routine, consistency is key. "I also recommend that once you have a hair washing schedule, sticking to the same routine is important to maintaining healthy hair. There is no golden rule when it comes to how often you should shampoo, just keep an eye on your hair needs, find a schedule that works for you, and keep it up!"
What to Look For in a Shampoo and Conditioner
Now that we've broken down when to wash, it's time to start discussing what exactly separates the best shampoos and conditioners from just good shampoos and containers. "Generally speaking you want to avoid sulfates, parabens, formaldehyde and hexachlorophene as these are known to dry out the hair causing it to become brittle and weak. If you're looking to lift locks and add volume," says Fitzsimmons. (Be sure to check out our guide to the best organic shampoos if you want more information about that, by the by.)
"I like to recommend products with caffeine as this stimulates the follicle and lifts from the root," he adds. "My go-to choice is the Andrew Fitzsimons Body Volume Shampoo. If your hair is in need of some serious TLC and, look for shampoos with moisturizing ingredients like aloe vera, jojoba oil and ceramides to bring your strands back to life."
Next up, let's talk about the thickness of your hair—because yes, that matters! The best shampoo for thick hair might weigh down thin hair, so make sure to learn about your hair type before you shop. "There are different formulas for different hair types and they definitely work differently for each hair type," says celebrity stylist Bobby Eliot, who has worked with Julia Garner, Kaia Gerber, and Sydney Sweeney recently. "For example, a shampoo for curly hair is generally heavier and would weigh down someone with finer hair. A shampoo for shine wouldn't be great for someone who is oily naturally because it would be too heavy. For thicker hair you would want something with shine or smoothing."
And the same goes for finding products if your hair is dry or oily. Just like finding the best moisturizer for your dry skin, finding a great shampoo for dry hair is all about looking for hydration. "Dry hair is a sign of damage and can cause breakage so you should choose a shampoo that is moisturizing and has conditioning ingredients," says Raven Hurtado, a stylist at Maxine Salon in Chicago. "Shampoos with oils like coconut oil, avocado oil, olive oil and aloe vera help hydrate hair. Emollient oils nourish the hair, so the more nourishing ingredients and vitamins will help dry hair. You should also follow up with a moisturizing conditioner since it'll help smooth, lock in moisture and control frizz."
Best Shampoos and Conditioners For Dry Hair
Best Shampoos and Conditioners For Fine Hair
Best Shampoos and Conditioners for Oily Hair
Best Shampoos and Conditioners for Curly and Natural Hair
Best Shampoos and Conditioners for Color-Treated Hair
Julia Marzovilla is an E-Commerce Writer at Marie Claire covering all things fashion, beauty, and entertainment. Offline, she's most likely browsing the web for another pair of black boots or listening to music too loudly—often at the same time.