The 32 Best Shampoos and Conditioners, According to Marie Claire Editors
Curly hair, fine hair, textured hair—we've got you covered.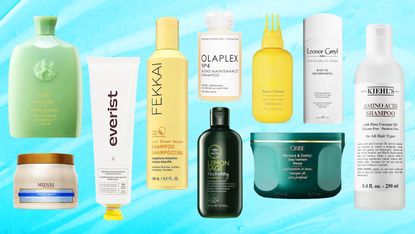 (Image credit: Future; Britanny Holloway-Brown)
I know perfection is supposed to be unattainable, and for the most part, it is. But if searching for the best shampoo and conditioner is wrong, we don't want to be right. As rote as it seems, we believe that haircare needs to be taken as seriously as skincare is, especially when it comes to the MVPs in your shower.
That said, choosing a new shampoo and conditioner can feel daunting, especially when there are so many options available. Marie Claire staffers have already hunted down the best shampoos for hair growth, the best shampoos for natural hair, the best hair thickening shampoos, and the best shampoos for oily hair, and the best drugstore shampoos, for example, so feel free to peruse those guides if you have specific hair goals.
For this list—our all-time favorite shampoos and conditioners, the products we use in our own showers and rave to our friends about—we've put our heads together, spoken to the experts, tried and tested dozens upon dozens of products, and pledged our alliance to the best shampoos and conditioners, below, for every hair type and hair issue.
What to Look For in a Shampoo and Conditioner
So, what exactly separates the best shampoos and conditioners from just good shampoos and conditioners? "Generally speaking, you want to avoid sulfates, parabens, formaldehyde, and hexachlorophene as these are known to dry out the hair causing it to become brittle and weak. If you're looking to lift locks and add volume," says Fitzsimmons. (Be sure to check out our guide to the best organic shampoos if you want more information about that, by the by.)
"I like to recommend products with caffeine as this stimulates the follicle and lifts from the root," he adds. "My go-to choice is the Andrew Fitzsimons Body Volume Shampoo. If your hair is in need of some serious TLC, look for shampoos with moisturizing ingredients like aloe vera, jojoba oil, and ceramides to bring your strands back to life."
Next up, let's talk about the thickness of your hair—because yes, that matters! The best shampoo for thick hair might weigh down thin hair, for example, so make sure to learn about your hair type before you shop. "There are different formulas for different hair types and they definitely work differently for each hair type," says celebrity stylist Bobby Eliot, who has worked with Julia Garner, Kaia Gerber, and Sydney Sweeney recently. "For example, a shampoo for curly hair is generally heavier and would weigh down someone with finer hair. A shampoo for shine wouldn't be great for someone who is oily naturally because it would be too heavy. For thicker hair, you would want something with shine or smoothing."
Sulfates and Sulfate-Free Shampoos
There are plenty of buzzwords in the beauty industry, but none are as commonly found as sulfates, a type of cleanser often present in shampoo. While Marie Claire has a full guide to the best sulfate-free shampoos already, here's a quick refresher. "Sulfates are powerful little compounds commonly used in shampoos to remove dirt, oil, and product buildup on your scalp and hair," says Frédéric Fekkai, Founder of FEKKAI. "They work by breaking down the surface tension of water, which helps to loosen and lift away all that gunk that can weigh your hair down—and can be more aggressive than needed."
Sulfates can be especially harmful if you have color-treated hair, Fekkai tells me. "It can cause your color to fade faster or alter your hue over time," he says.
Deals on Shampoos and Conditioners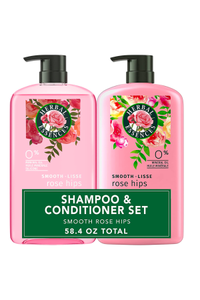 Herbal Essences Shampoo and Conditioner Set With Vitamin E, Rose Hips and Jojoba, $21 $17 at Amazon
This drugstore shampoo and conditioner duo from Herbal Essences is beloved by Senior Celebrity and Royals Editor Rachel Burchfield because it is "not only cost-effective, but it worked so well with my long, thick hair," she says. Get both products now for less than $20 on Amazon
The Best Shampoos and Conditioners
The shampoos and conditioners on this list have been tested, reviewed, and selected by Marie Claire's Commerce Editor, Julia Marzovilla (aka yours truly) or at least one current or former member of Marie Claire's award-winning team of editors. Our list is broken down by hair type and texture, so you can easily skip right to what you're looking for. While the *best* shampoo or conditioner for you will vary based on your hair type and desired style, you can't go wrong with one of the items on this list. For a more personalized recommendation, or if you have any concerns, check with your hair stylist.
Best Shampoos and Conditioners for Dry Hair
As with finding moisturizer for your dry skin, finding the best shampoo and conditioner for dry hair is all about looking for hydration. "Dry hair is a sign of damage and can cause breakage so you should choose a shampoo that is moisturizing and has conditioning ingredients," says Raven Hurtado, a stylist at Maxine Salon in Chicago. "Shampoos with oils like coconut oil, avocado oil, olive oil and aloe vera help hydrate hair. Emollient oils nourish the hair, so the more nourishing ingredients and vitamins will help dry hair. You should also follow up with a moisturizing conditioner since it'll help smooth, lock in moisture and control frizz."
Best Shampoo for Greasy Hair
Pureology Hydrate Shampoo And Conditioner
"This shampoo changed my hair from the very first wash. I have thin hair that tends to get greasy easily whenever I use conditioner, but this duo from Pureology has stopped all that. I can now go a few days in-between washes instead of rushing to clean my hair on day two, which is a godsend. I have hair that's dry at the end and gets oily easily, so I need something that will make my hair look healthy all-over, and this is it." — Julia Marzovilla, E-Commerce Editor
Pros: Has over 3,000 five-star reviews at Ulta; Doesn't weigh down your hair.
Cons: Shampoo and conditioner are sold separately; Some reviewers said it has a strong smell.
Customer Review: "I've been using Pureology Hydrate Shampoo and Conditioner for years…pricey, but worth every penny! I have coarse thick frizzy hair, and these products work perfectly for my hair type. My hairdresser is amazed at how healthy my hair has been since using these products. Always wait till on sale to buy. Love, love, love it!" — Ulta
Best Conditioner for Flyaways
Olaplex No. 5 Bond Maintenance Conditioner
"When I started using this, the sticker shock had me questioning my financial decisions on a higher level. Do I really need this 8oz bottle or am I just having a I-think-I'm-rich moment? Yes, to both. Had I not joined the cult of Olaplex followers my hair would have plotted a revolution against me, probably. This conditioner smooths every fly away and hydrates my split ends with every wash. The bottle is small, but mighty. I'm using half as much conditioner as I used to, and it's working twice as hard. The only downside? Since using the product is actually making my hair healthier, it's growing longer faster. This means my once every six month cut has turned into once every three—a price I'm willing to pay." — Susanna Hayward, former Associate Art Director
Pros: Over 700 five-star reviews at Sephora; Good for dryness; good for color-treated hair.
Cons: Some reviewers said it made their hair fall flat.
Customer Review: "Interestingly, I used this conditioner before when my hair was NOT color-treated, and found it to be quite heavy; it definitely weighed my hair down. A year later, I've since bleached my hair blonde and it was beginning to feel and look straw-like and damaged. I started using this conditioner again and found it to really work and restore the moisture and health my hair needed. Would definitely recommend for color-treated/bleached and damaged hair, but can understand that it may feel really heavy for some folks." — Sephora
Best Shampoo for Frizzy Hair
Ouidad Ultra-Nourishing Cleansing Oil
"When this shampoo was gifted to me by a friend who happened to get it in a swag bag, I was skeptical of the word "oil," thinking it might leave my hair greasy. But as a curly-haired person with dry, frizz-prone hair who's spent a good chunk of her life searching for the magic combo of products, I decided to give it a try. I love the scent and the fact that after I rinse it out, my hair feels soft and manageable. I follow up with a conditioner and my usual array of products and my curls look shiny and defined (not frizzy, even in NYC in July!). I only wash my hair once or twice a week and I've still managed to run out of that original bottle and buy at least two more, which is a sure sign that this one's staying in the mix." — Hanna Varady, former Deputy Art Director
Pros: Good for curly hair; Fights frizz; Vegan formula.
Cons: Formula is not sulfate free.
Customer Review: "This!! I'm not even kidding. Never used a shampoo with this much hydration and moisture. My hair felt so goo. It's just so good, I can actually detangle with it which I don't normally do when I'm using shampoo. This is now a staple in my house. It's worth every penny." — Ulta
Best Conditioner for Intense Hydration
Oribe Moisture & Control Deep Treatment Hair Mask
"I have very thick 4C curls that are dry 90 percent of the time. As a result, I'm always vulnerable to breakage and I even find myself using masks in place of conditioners. Oribe Moisture & Control Deep Treatment Hair Mask is a long-time favorite because the shea and cupuacu butters in it soak in and seal in moisture almost instantly. And, the coconut oil penetrates the hair shaft with extra shine." — Deena Campbell, Beauty Director
Pros: Good for damaged hair; Has a vegan formula; Good for curly hair.
Cons: Costs over $60.
Customer Review: "This stuff is just amazing. I have dry slightly damaged curly hair and have tried literally every conditioner and hair mask out there. This one stood out to me because of how rich and moisturizing it is, which is what I'm looking for. It smells amazing, actually works really well and I highly recommend this. 10/10!!!" — Sephora
Best Shampoo for Damaged Hair
Olaplex No. 4 Bond Maintenance Shampoo
"After years of frying my hair with blow dryers and flat irons, this shampoo gives me back the feeling of smooth, refreshed hair. I never know what my hair is going to look like after a wash-day, but this formula gave me consistency that I love. When I use it, I feel like at least a year of damage has been repaired in just one wash." — Tatjana Freund, Former Beauty Commerce Writer
Pros: Has over 1,000 five-star reviews; Sulfate-free; good for color-treated hair; good for curly hair.
Cons: Some reviewers say it's too heavy for thin hair.
Customer Review: "This is my favorite shampoo I've ever owned by far. It lathers so well and has saved my hair. my scalp used to be dry and flaky and its not anymore. I only use a penny size amount on my hair so its lasted me months. it may be pricey but I think it's definitely worth it" — Sephora
Best Shampoo for Dry Hair
Kiehl's Amino Acid Shampoo
"I'm used to buying whatever shampoo is on sale, as I love experimenting and trying new things, but I discovered this shampoo when I was visiting family in my hometown. I needed to wash my 4C hair after a particularly hot and humid summer day and this was a perfect choice. This shampoo is extremely moisturizing and still manages to be clarifying. It's rich, smells great, and has the most satisfying lather. The coconut oil and amino acids help my hair feel healthy and not stripped. It provides the perfect base for the rest of my products." —Brittany Holloway-Brown, Art Director
Pros: Gentle on hair; Has a paraben-free formula.
Cons: Some reviewers say the smell is too strong.
Customer Review: "Usually shampoos make my hair super dry but after using this shampoo I don't even have to apply conditioner because it leaves my hair really soft. Also it