The 32 Best Shampoos and Conditioners, According to Marie Claire Editors
Curly hair, fine hair, textured hair—we've got you covered.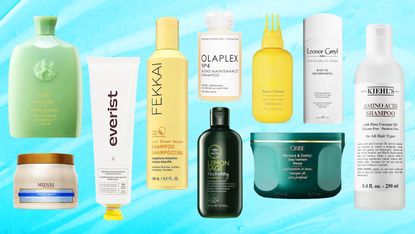 (Image credit: Future; Britanny Holloway-Brown)
Marie Claire Newsletter
Celebrity news, beauty, fashion advice, and fascinating features, delivered straight to your inbox!
Thank you for signing up to Marie Claire. You will receive a verification email shortly.
There was a problem. Please refresh the page and try again.
I know perfection is supposed to be unattainable, and for the most part, it is. But if searching for the best shampoo and conditioner is wrong, we don't want to be right. As rote as it seems, we believe that haircare needs to be taken as seriously as skincare is, especially when it comes to the MVPs in your shower.
That said, choosing a new shampoo and conditioner can feel daunting, especially when there are so many options available. Marie Claire staffers have already hunted down the best shampoos for hair growth, the best shampoos for natural hair, the best hair thickening shampoos, and the best shampoos for oily hair, and the best drugstore shampoos, for example, so feel free to peruse those guides if you have specific hair goals.
For this list—our all-time favorite shampoos and conditioners, the products we use in our own showers and rave to our friends about—we've put our heads together, spoken to the experts, tried and tested dozens upon dozens of products, and pledged our alliance to the best shampoos and conditioners, below, for every hair type and hair issue.
What to Look For in a Shampoo and Conditioner
So, what exactly separates the best shampoos and conditioners from just good shampoos and conditioners? "Generally speaking, you want to avoid sulfates, parabens, formaldehyde, and hexachlorophene as these are known to dry out the hair causing it to become brittle and weak. If you're looking to lift locks and add volume," says Fitzsimmons. (Be sure to check out our guide to the best organic shampoos if you want more information about that, by the by.)
"I like to recommend products with caffeine as this stimulates the follicle and lifts from the root," he adds. "My go-to choice is the Andrew Fitzsimons Body Volume Shampoo. If your hair is in need of some serious TLC, look for shampoos with moisturizing ingredients like aloe vera, jojoba oil, and ceramides to bring your strands back to life."
Next up, let's talk about the thickness of your hair—because yes, that matters! The best shampoo for thick hair might weigh down thin hair, for example, so make sure to learn about your hair type before you shop. "There are different formulas for different hair types and they definitely work differently for each hair type," says celebrity stylist Bobby Eliot, who has worked with Julia Garner, Kaia Gerber, and Sydney Sweeney recently. "For example, a shampoo for curly hair is generally heavier and would weigh down someone with finer hair. A shampoo for shine wouldn't be great for someone who is oily naturally because it would be too heavy. For thicker hair, you would want something with shine or smoothing."
Sulfates and Sulfate-Free Shampoos
There are plenty of buzzwords in the beauty industry, but none are as commonly found as sulfates, a type of cleanser often present in shampoo. While Marie Claire has a full guide to the best sulfate-free shampoos already, here's a quick refresher. "Sulfates are powerful little compounds commonly used in shampoos to remove dirt, oil, and product buildup on your scalp and hair," says Frédéric Fekkai, Founder of FEKKAI. "They work by breaking down the surface tension of water, which helps to loosen and lift away all that gunk that can weigh your hair down—and can be more aggressive than needed."
Sulfates can be especially harmful if you have color-treated hair, Fekkai tells me. "It can cause your color to fade faster or alter your hue over time," he says.
Deals on Shampoos and Conditioners
The Best Shampoos and Conditioners
The shampoos and conditioners on this list have been tested, reviewed, and selected by Marie Claire's Commerce Editor, Julia Marzovilla (aka yours truly) or at least one current or former member of Marie Claire's award-winning team of editors. Our list is broken down by hair type and texture, so you can easily skip right to what you're looking for. While the *best* shampoo or conditioner for you will vary based on your hair type and desired style, you can't go wrong with one of the items on this list. For a more personalized recommendation, or if you have any concerns, check with your hair stylist.
Best Shampoos and Conditioners for Dry Hair
As with finding moisturizer for your dry skin, finding the best shampoo and conditioner for dry hair is all about looking for hydration. "Dry hair is a sign of damage and can cause breakage so you should choose a shampoo that is moisturizing and has conditioning ingredients," says Raven Hurtado, a stylist at Maxine Salon in Chicago. "Shampoos with oils like coconut oil, avocado oil, olive oil and aloe vera help hydrate hair. Emollient oils nourish the hair, so the more nourishing ingredients and vitamins will help dry hair. You should also follow up with a moisturizing conditioner since it'll help smooth, lock in moisture and control frizz."
Best Shampoos and Conditioners for Fine Hair
While styling products like mousse can help achieve volume in your hair, those with fine hair should start by adding volumizing products in the shower for maximum effect. "When someone has fine hair, you want to look for a shampoo that is gentle and gives a lift to the hair," says Adriana Papaleo, a Master Stylist at Rob Peetoom Salon in Williamsburg, Brooklyn.
Best Shampoos and Conditioners for Oily Hair
If your hair gets oily quickly, finding a shampoo that will remove that oil without stripping your strands of much-need moisture is the name of the game. Papaelo recommends shampoos that balance the hair. However, she also says that "clarifying shampoo can help as well but if there is color on the hair you want to avoid clarifying shampoos because they are not color safe." When it comes to conditioning the hair—which helps to lock in hydration—she recommends that those with oilier hair "stick with a lighter weight conditioner [and] focus on mid-lengths and ends when using."
Best Shampoos and Conditioners for Natural and Textured Hair
"When you have naturally textured hair you should aim for products that will offer extra moisturizing benefits as well as a product that emphasizes its ability to strengthen hair from within," says Lacy Redway, Unilever Global Stylist. "Other benefits to look out for are products that define your texture and get rid of any unwanted frizz."