What It Takes—and How Much It *Costs*—to Be a Music-Festival Social Media Star
Between clothes, hair, skincare, and accessories, women are spending thousands.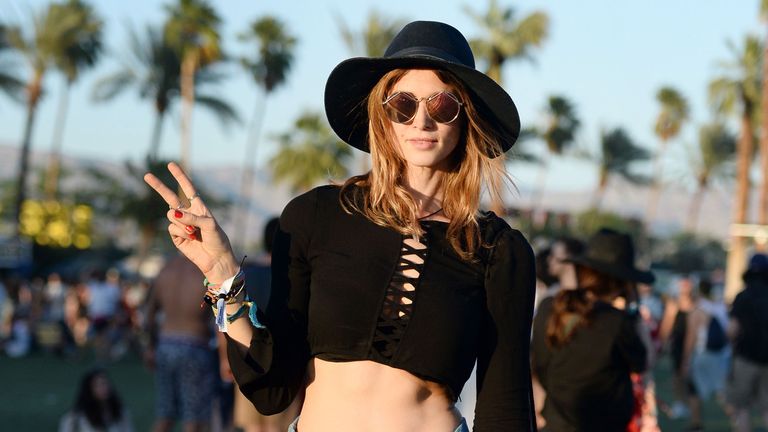 (Image credit: Getty)
The festival girl is cool. Her waterfall braids are both perfect and perfectly messy. Her mirrored shades match the floral accents in her vintage fringe shawl. She is making a casual peace sign. She is epically carefree.
This is the image that we see over and over again once festival season starts, to the point where some festival-style hallmarks (flower crowns) have already become cliché (R.I.P.). There's a huge market for the festival girl—from the fashion brands that sell collections specifically for the Coachella crowd to the media brands, like ourselves, who publish all the best street style photos of the women who wear them.
Like any modern "street style" event—say, New York or Paris Fashion Week—swarming with professional photographers and fans on iPhones who are all primed to capture celebrities and women with impressive style alike, it's a place for stars to emerge. In fact, now that festival season is so firmly in the spotlight, it's a place where people who already have clout feel they need to be seen.
And this is where that "carefree" idea starts to crack: If you're Instagram-famous, it takes a lot of work—and a lot of money—to play the Coachella game.
"It takes months of preparation," observes Caisa Airmet, the digital communications director of hair behemoth Pravana, of getting ready to hit the grounds. Take Katie Sanford, a YouTuber with 85,000 Instagram followers, who's a first-time festival attendee this year: She's been preparing for Coachella since last May, scouring Tumblr, Pinterest, and fashion magazines for inspiration to start planning her outfit—a year in advance.
For model and makeup artist Brighton Walmsley, who has 21,000 followers on Instagram, getting festival-ready means taking her fitness game up another notch: "I hit extra yoga classes beforehand to tighten everything up." Beauty and style blogger Jenny Ong of Neon Blush, who has 150,000 followers on Instagram and has been featured in the #HMLovesCoachella social campaign, says clothes make up the bulk of her festival prep: "I appreciate outfits that err on the side of practicality with bits of festive detail (short fringe, tasteful lace, etc.)." Getting ready for a festival day out takes about six hours, (including time to pack and make playlists).
And as pastel dye jobs and whimsical accessorizing become more commonplace, "festival hair" is also a regular cost consideration. According to Pravana guest artist and LA-based colorist Kait Marie, most of her festival-bound clients prefer bright shades that fade to pastel—which starts between $250-$500 per treatment.
Shelling out for expensive hair treatments, new clothes, and a trainer pre-festival is, of course, part of a broader strategy: "Getting featured on fashion blogs is a very important factor for many attendees," observes Airmet.
In fact, spending the money to look festival chic is a strategy that pays off—literally. For women with large social media followings like Ong, Walmsley, and Sanford, they can cash in on festivals by monetizing their personal brands. Ong, for example, features the clothing line BooHoo in this sponsored Neon Blush post on festival fashion, for which she was compensated with the brand's clothing.
Regardless of how much they earn, the up-front expenses are significant. Estimating conservatively, the breakdown for full-throttle festival prep costs then comes out to this: $300 for clothes and accessories, $200 for hair coloring and possibly styling, $30 for a spray tan, $50 for various beauty accessories like flash tattoos and specialty makeup; for those attendees who are particularly fitness conscious, like Natalie K., "about $120 a month on fitness and about $350 annually on food/nutrition." That's $2,350—and it doesn't include transportation, lodging, and tickets.
But hey, nobody ever said beating FOMO was cheap.
Follow Marie Claire on Facebook for the latest celeb news, beauty tips, fascinating reads, livestream video, and more.
I'm the night shift at Cosmopolitan.com and a writer and reporter around the web. I spend my daylight hours playing music, crafting, cooking, scheming, and rearing my pet chameleon.