15 Genius Sun-Safe Hacks You Need to Try This Summer
Always use protection.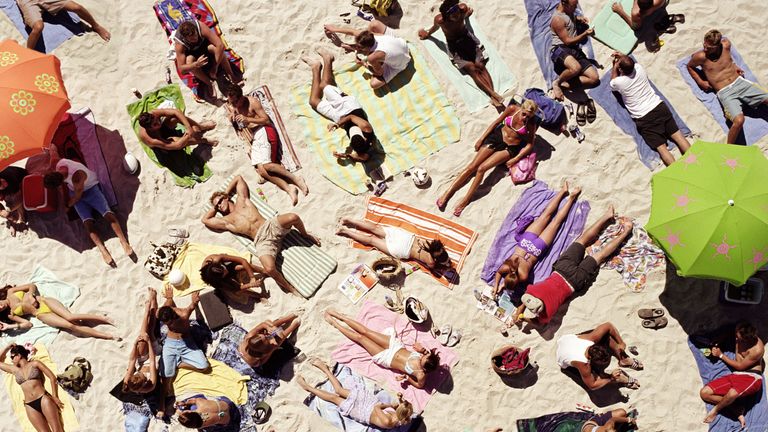 (Image credit: Getty Images)
Women may slip each other the number for an amazing colorist or share their favorite lipstick shade, but sun-protection strategies never seem to make the rounds. And that's a shame, because this intel is more than a shortcut to enviably smooth, unspotted skin—it's information that could potentially save your life. So let's start talking more about sun care, beginning right now, with MC's guide to the latest news and products, including 15 summer hacks from influential women who have the whole sunscreen thing figured out.
1. Get into the K-beauty multistep habit.
Alicia Yoon, founder of Peach and Lily, layers on her sun care. "I tend to get dark spots easily, so I'm diligent about always using plenty of protection," she says. "After cleansing and toning, I apply an antioxidant serum to neutralize free radicals caused by UV exposure and pollution, then layer on Lagom Cellus Sun Gel with SPF 50, and finally put on a CC cream that also has SPF."
2. Make mineral sunscreen look less pasty.
To prevent mineral-based SPFs from leaving behind an ashy film, don't rub them on in a circular motion. (That can cause the tiny protective particles to build up in certain spots.) "Use a straight, single-direction movement, like from your nose toward your ear," suggests Heidi Waldorf, M.D., a dermatologist in Nanuet, New York. "And don't try to put it all on at once. Apply a thin layer and let it sink in before adding more."
3. Pick a formula that doubles as a hair styler.
Mona Gohara, M.D., a dermatologist in Connecticut, says a powder sunscreen dusted along your part will prevent scalp burns and absorb oil like a dry shampoo, while an SPF stick can tamp down flyaways at your hairline and protect the sliver of forehead that many people miss. "I also like EltaMD's Aero mist, a clear continuous sunscreen, because it doubles as a texturizing spray," she adds.
4. Re-up your SPF without smudging your makeup.
To add a glow, revive skin, and protect it at the same time, makeup artist Tracy Murphy relies on Supergoop!'s SPF 50 Defense Refresh Setting Mist. "I used it on all the Sports Illustrated swimsuit models and ran around spritzing the crew on location too," she says.
5. Take a super-long lunch.
YouTube content creator and über California girl Audrie Storme (@audriestorme) always goes inside from about noon until 3 p.m.: "I live for the outdoors, but UV rays are strongest midday, so when I'm on vacation, I enjoy the sun in the morning and the late afternoon but take a break for a long lunch indoors."
6. Make application more invigorating.
New York dermatologist Ellen Marmur, M.D., puts her SPF on ice. "I keep my spray sunscreen in a cooler at the beach so the active ingredients don't degrade in the hot sun. Plus, the chilled mist feels so cool and refreshing that you'll want to mist it on every hour, which is how often you should reapply," she advises.
7. Shade your eyes—even in the water.
"Many people who've surfed for years are developing weird lesions on their eyeballs, so when I'm paddling or surfing, I wear eye protection," says journalist Susan Casey, author of The Wave: In Pursuit of the Rogues, Freaks, and Giants of the Ocean. "New designs, like Kurtis Eyewear's Kaiser Bowls goggles, are very thin and flexible—great for wearing in the surf."
8. Plan ahead.
Apply your sun lotion when you're naked. "This way, you won't miss a spot that's covered by your clothing or a bikini, and you won't get tan lines," says Becky van Dijk, cofounder of the website We Are Travel Girls (@wearetravelgirls). "Plus, you don't get sunscreen on the edges of your bathing suit."
9. See your sun protection.
Jun Lee, a surfer and founder of skincare line Eir, adds an opaque physical formula (body-makeup-style) to super-exposed spots. "I mix a dime- to a quarter-size amount of Eir's Surf Mud between my fingers and then lightly tap it onto my lips, ears, chest, and the tops of my hands and feet."
10. Force yourself to reapply regularly.
"As soon as I put on sunscreen at the beach, I set my phone timer to go off in two hours with a really obnoxious song; then I put it in a Ziploc with the bottle," says MC's beauty director, Jennifer Goldstein. "Since I have to go in the bag to turn off the music, there's no way I can ignore the reminder to reapply."
11. Sneak protection in, layer by layer.
Dermatologist Sandra Lee, M.D.—a.k.a. @drpimplepopper—makes sure that most of the products she applies daily include sun protection: "I slather on moisturizer with SPF 15, use a primer and foundation with sunscreen, and then top it with a powder SPF."
12. Remember the small spots.
When she's packing for a day at the beach, Gohara wraps her hair elastic around the sunscreen tube instead of her wrist. "When I put my hair up, it's a reminder that I need to apply sunscreen to the newly exposed spots, like my ears and the back of my neck," she explains.
13. DIY a cushion compact for SPF touch-ups.
Soko Glam cofounder Charlotte Cho uses Missha's tinted cushion compact with SPF throughout the day, but if you don't want to wear makeup, she says, you can make your own sunscreen compact: Use tweezers to remove the sponge insert from an old cushion compact and clean it with an oil-based cleanser. Fill the empty pan with a liquidy sunscreen—Missha Mild Essence Sun Milk works great for this—then replace the clean sponge. When you press on the cushion, you get a dose of (clear) SPF to dab on.
14. Wear your sun protection.
"When I'm in the water, I basically live in a long-sleeve rash guard and surf leggings from Body Glove or Salt Gypsy," says former pro surfer Holly Beck Obermeyer, founder of Surf With Amigas. "I'd rather cover up and keep the products to a minimum. Plus, I never need to reapply."
15. Look overseas.
Formulators in Asian countries have more approved sunscreen ingredients to work with, so if you haven't found a favorite SPF in the U.S. yet, consider ordering one from Japan or Korea. (Amazon.com and Jet.com are good sources.) "The cult-favorite Bioré Sarasara Aqua Rich Watery Essence has SPF 50 and goes on light and smooth," says MarieClaire.com beauty editor Chloe Metzger.
This story appears in the June issue of Marie Claire, on newsstands now.