Editors handpick every product that we feature. We may earn commission from the links on this page.
The Absolute Best Korean Sunscreens
Once again, K-beauty knows best.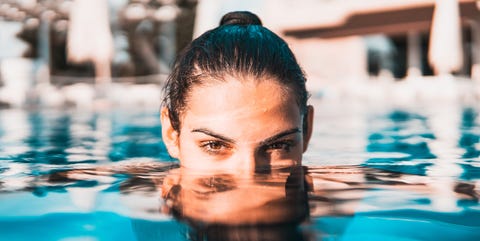 The wonders of K-beauty are nothing new to beauty obsessives. When it comes to makeup, skin, and hair care products coming out of South Korea, the textures are more innovative, the ingredients more advanced, and the technology always ahead of what brands are working with stateside. Korean sunscreen is no exception—in fact, it's likely the most advanced sun protection in the world. We asked Alicia Yoon, founder of K-beauty curator Peach & Lily, to break down why you should be buying Korean this summer (and all year round).

K-beauty sunscreens offer more options.
"It depends on the formula, but Korean sunscreens offer much more variety," says Yoon. "The Korean FDA (and the EU regulators!) have approved many more kinds of SPF filters than what is approved in the U.S., and Korea is always pushing the boundaries on texture innovations and formula stability as the market is hyper-competitive and demanding." This is especially important for women of color seeking formulas that won't leave a chalky white cast on the skin.
Korea's vetting process is super rigorous, which means better protection and better skin tone.
The SPF rating on U.S. sunscreens is obviously important, but the Korean system goes the extra mile to ensure your formulas are doing the work. Yoon notes that the PPD and PA rating system grades the strength of the UVA protection in more nuanced ways compared to the U.S.'s Broad Spectrum test.
"The Broad Spectrum rating system is a pass or fail system. As long as ninety percent of the UV absorption falls under a set measurement, the SPF can be labeled as broad spectrum. There is no way to tell how high or low that broad spectrum or UVA protection is," says Yoon. In Asia, the process is more extensive.
"The PPD (Persistent Pigment Darkening) rating system is used for UVA rays," explains Yoon. The amount of time it takes for skin to tan is compared to unprotected skin. If there is a PPD rating of 20, similarly to the SPF rating, it means that the skin takes about twenty times longer to tan compared to unprotected skin."
Following? Good. And in Korea and Japan, the process—the PA, or Protection Grade of UVA—is more simplified, but no less accurate.
"There are 4 grades in the PA system: PA+, PA++, PA+++, PA++++ and each plus sign covers a range of the PPD test. The highest number of +'s offers the most UVA protection." So while you're shopping, look out for sunscreen bottles with as many plus signs as possible," she says.

Korean sunscreen ingredients are more advanced.
According to Yoon, the U.S. is seriously behind on updating its toolkit for healthy sunscreens.
"They haven't updated the list of FDA-approved filters for more than twenty years, so I'm really excited for the day that more SPF filters get approved so that we can have more access to delightful textures and SPF that truly doesn't leave a white cast." But in the mean time, read on and find a silky, effective Korean option imbue some much needed Eastern influence on your daily routine.
This content is created and maintained by a third party, and imported onto this page to help users provide their email addresses. You may be able to find more information about this and similar content at piano.io