The 10 Best Zinc Oxide Sunscreens for Your Face
Gentle on sensitive skin, tough on sun protection.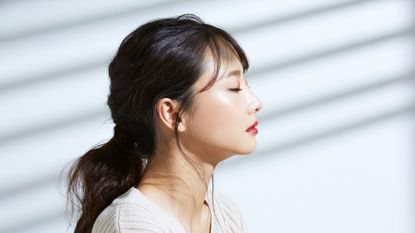 (Image credit: K-Angle)
Let's just get it out of the way: You need to wear sunscreen. Every. Single. Day. It doesn't matter if it's a cloudy day, or the weather is cold, or you want a tan. Even if your skin doesn't turn bright red, burn, or peel, UVA and UVB rays will still damage your skin on a cellular level. That damage can cause premature aging, melasma, and yes, skin cancer. There are two main types of sunscreen on the market: Physical sunscreens, also known as natural or mineral sunscreens—which includes zinc oxide sunscreens—and chemical sunscreens.
What is zinc oxide sunscreen, and how does it work?
When it comes to the products Marie Claire recommends, we take your faith in us seriously. Every product that we feature comes recommended by a MC writer or editor, or by an expert we've spoken to. Learn more about how we review products.
One of the most popular physical sun blockers is zinc oxide, because the ingredient gives the skin strong protection against both UVA and UVB rays. It works by physically blocking the sun's rays, scattering them when they hit your skin. For anyone who has sensitive skin or is wary of chemical sunscreens—some chemical blockers have been linked to harming coral reefs, for one thing—zinc oxide-based sunscreens are a great way to avoid that sun damage we're all trying to avoid. Whether you're looking for a hydrating SPF, a matte formula, or a mineral sunscreen that won't leave a cast on dark skin, there is a zinc oxide sunscreen that will work for you.
1/10
CeraVe 100% Mineral Sunscreen SPF 50
For Sensitive Skin
Say goodbye to sticky sunscreen. This product contains hydrating ceramides but doesn't leave an uncomfortable film on the skin. With SPF 50, this sunscreen is ideal for even the most sensitive skin types.
2/10
Supergoop! Zincscreen 100% Mineral Lotion SPF 40 PA+++
For Matte Skin
Supergoop! is well known in the sunscreen space, for good reason. They're known for invisible sun defense, and this zinc oxide-sunscreen is just as loved. The formula is lightweight and perfect for anyone who wants to look matte all day long.
3/10
Neutrogena Sheer Zinc Oxide Dry-Touch Mineral Face Sunscreen Lotion
For Poolside Application
This mineral sunscreen is perfect for sensitive skin tones that are wary of pore-clogging SPFs. This is ideal for anyone dying to go for a dip in the pool or ocean. Its water and sweat resistant, so you don't have to worry about it washing away immediately.
4/10
SkinCeuticals Physical Fusion UV Defense Sunscreen SPF 50
For Even Skin Tone
Sun damage can cause and exacerbate hyperpigmentation, and this product goes above and beyond to fix those woes. It has a light tint that blends easily into the skin, allowing for instant tone improvement, and long-term improvement with SPF 50.
5/10
Drunk Elephant Umbra Sheer™ Physical Daily Defense SPF 30
For Fine Lines
Sunscreen settling into fine lines and wrinkles on the face? Not a cute look. That's why this product contains ingredients that help slow down aging, while also fighting the most common culprit of wrinkles: sun damage.
6/10
EltaMD UV Clear Facial Sunscreen Broad-Spectrum SPF 46
For No White Cast
Zinc oxide-based sunscreens are notorious for sometimes leaving white casts on the skin. This product, however, won't need intense blending to look seamless. It works well on sensitive and even acne-prone skin, due to oil-controlling niacinamide.
7/10
EleVen by Venus Williams Unrivaled Sun Serum SPF 35
For Athletes
The creation of pro-tennis star Venus Williams, this mineral sunscreen protects the skin with a near matte finish and won't cause stinging eyes when it meets sweat. If it's Venus Williams approved, it's good enough for me.
8/10
UNSUN Mineral Tinted Sunscreen SPF 30
For Dark Complexions
For darker complexions, mineral sunscreens have been off-limits for too long. The genius minds behind UNSUN created tinted SPFs specifically for medium to dark skin tones. All the benefits of zinc oxide sunscreens, and none of the drawbacks.
9/10
IMAGE Skincare PREVENTION+ Daily Matte Moisturizer Oil-Free SPF 32
For Oily Skin
This product has a matte finish for anyone with oily skin that isn't looking for a dewy glow. Unlike some matte formulas, this sunscreen contains some hydrating ingredients like Vitamin E and shea butter, so the skin is protected but not greasy.
10/10
Dr. Loretta Urban Antioxidant Sunscreen SPF 40
For All-Over Protection
While sun damage can cause significant issues, blue light from devices and free radicals in the air are also troublemakers for the skin. This product offers SPF 40, while also keeping those other aggressors at bay.
Celebrity news, beauty, fashion advice, and fascinating features, delivered straight to your inbox!
Tatjana Freund is a Beauty Commerce Writer, covering makeup, skincare, and haircare products and trends. She's a fan of vodka tonics and creepy Wikipedia pages.