The 5 Truly Great Beauty Products I'm Loving This Week
My real, no-bullshit reviews of new products you'll actually want to buy.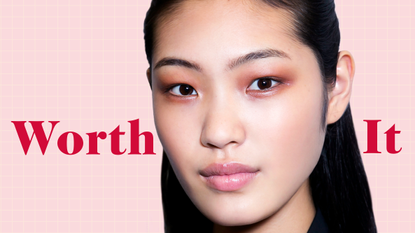 (Image credit: Design by Morgan McMullen)
Hi, hello, and welcome back to Worth It, my bi-weekly breakdown of the newest beauty products I'm completely head-over-heels obsessed with right now. No, I'm not getting a kickback to write about these products; I merely fell in love with them for one simple reason: They're really freaking excellent.

So please, read on to find out the five products that are actually worth your cash, and catch up on the latest Worth It breakdown, here.
1. Megababe Thigh Rescue Anti-Chafe Stick
Megababe Thigh Rescue Anti-Chafe Stick, $14
WHY I LOVE IT:
It keeps my thighs from rubbing against each other during the hot hell of summer.
MORE DEETS:
Last week, I made the mistake of wearing a faux-leather miniskirt on a 90-degree day. The consequence: intense, unavoidable, raw-and-sticky thigh chafing. Thankfully, this anti-chafe stick had landed on my desk that same week, so I discreetly slipped away to the bathroom and rubbed it up and down my thighs. The silicone-based formula immediately melted over my skin, leaving my thighs to gently swish by each other with zero friction, which saved me from walking bowlegged for the rest of the day.
Though the formula isn't at all sticky, it is the tiniest bit oily (a byproduct of its hydrating grapeseed oil), which could possibly be problematic if you're wearing, say, a very fancy and thin silk dress. But, honestly, I'd risk it just to get that sweet relief of smooth skin. Bonus: It lasts for a good six hours without needing a second application.
2. Shiseido Minimalist WhippedPowder Blush
Shiseido Minimalist WhippedPowder Blush, $29
WHY I LOVE IT:
It leaves my cheeks with a pretty, natural-looking flush that stays on all day.
MORE DEETS:
Most cream blushes are either so pigmented they look blotchy when you try to blend them in, or they're so sheer and creamy they disappear by lunch. This little pot of whipped goodness, however, strikes the perfect in-between balance.
Yes, the formula is crazy pigmented (the tiniest bit goes a long, long way), but because it's also fluffy and creamy, you can easily dot it over your cheeks and spread it out with a BeautyBlender or your ring finger to keep from looking sunburned. And because the cream dries down to a matte, powder-like finish, it sticks to your cheeks all day long, even in the muggiest weather.
3. Glow Recipe Blueberry Bounce Gentle Cleanser
Glow Recipe Blueberry Bounce Gentle Cleanser, $34
WHY I LOVE IT:
It makes my dry, sensitive skin softer and brighter, without irritating the hell out of it.
MORE DEETS:
Anyone who knows me knows that I have the delicate face of a tiny porcelain doll, which means I refuse to use any product harsher than a soft gust of air mixed with water. So imagine my surprise when this acid-spiked face wash was not only incredibly gentle and non-drying, but actually left my skin feeling and looking better than before. No, seriously—I was shooketh.
The cleanser (which has absolutely zero harsh sulfates or irritants) is formulated with a small dose of glycolic acid and lactic acid—two AHAs (alpha hydroxy acids) that dissolve dead skin cells to clear pores, soften rough patches, and brighten skin over time, all without drying out your face. Use it morning and/or night as your usual routine cleanser, or, if you have sensitive, dry, and reactive skin like I do, use it just once, every other day.
4. Ouai Scalp & Body Scrub
Ouai Scalp & Body Scrub, $38
WHY I LOVE IT:
It removes all the scalp gunk and buildup I didn't know I had, leaving my hair incredibly shiny and bouncy.
MORE DEETS:
Listen, I get it—a scalp scrub seems like one of those totally unnecessary products destined to sit in your shower, untouched, until you die. But count me among the converted, because my hair has truly never looked better. The two-in-one formula (for your scalp and your body, which means even if you hate it on your head, you can keep it for your limbs) uses lightweight sugar crystals to gently slough away dry skin, rough patches, and product gunk that naturally builds up from hair products.
Before shampooing and conditioning, massage a handful of the scrub through your wet hair and scalp, gently rubbing in circular motions across your head. Then rinse well (don't worry—it slips out of your hair shockingly easily) and shampoo and condition as usual.
5. Kose Lip Magic Gel in Half Matte
Kose Lip Magic Gel in Half Matte, $20
WHY I LOVE IT:
It makes my lipstick smudge-proof and fade-proof for hours longer than usual.
MORE DEETS:
This little tube was definitely one of the odder things that rolled across my desk in the last week, but also the most delightfully surprising. Inside the little tube is a gel-like formula that's supposed to "seal" your lipstick to keep it from transferring or smudging off.
To use it, shake the tube (the ingredients can separate), squeeze a tiny dab of gel on your finger, then spread it across your lipsticked lips. After 60 seconds, the gel will dry down to a semi-matte finish that feels like absolutely nothing and tastes like absolutely nothing. The only proof you'll have that it's still on your lips is the missing lipstick marks on your coffee cup.
RELATED STORY
Marie Claire email subscribers get intel on fashion and beauty trends, hot-off-the-press celebrity news, and more. Sign up here.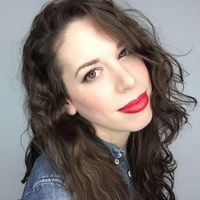 Chloe Metzger is the deputy beauty director at Cosmopolitan, overseeing the editorial content and growth strategy of the hair, makeup, and skin space on digital, while also obsessively writing about the best hair products for every hair type (curly girl here; whattup), and the skincare routines that really, truly work (follow her on Instagram to see behind-the-scenes pics of that magazine life). She brings nearly a decade of writing and editing expertise, and her work has appeared in Allure, Health, Fitness, Marie Claire, StyleCaster, and Parents. She also has an unhealthy adoration for Tom Hanks and would like to please meet him one day, if you could arrange that. Thanks.