People Are Using "Nose Lifters" to Hack Plastic Surgery Without Going Under the Knife
But there is (of course) a major catch.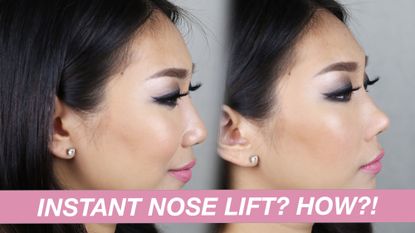 (Image credit: YouTube)
A nose job remains one of the most popular cosmetic procedures in the country, with almost a quarter-million of them performed in 2015 alone. Of course, if you've ever watched a show like Botched or Doctor 90210 and seen how some types of jobs are done—the tap-tap-tap of a tiny hammer and chisel breaking the bone—you'd be understandably terrified of rhinoplasty.
Well, there's a new way to dip your toe into the process of reshaping: nose lifters. For a fraction of the cost, you can bring home an itsy-bitsy splint made of soft PVC plastic and experiment with reshaping your nostrils or your nose's tip.
The plastic pieces work almost like a tension rod, pressing against two sides of your nostril to prop up the tip in a new way. As that's admittedly uncomfortable, they recommend only wearing the device for an hour at a time during the first week.
Does it really work? Check out the before-and-after photos and judge for yourself, or consider shipping in a $25 investment from East Asia.
Hey, it's no more insane than Amy from Little Women wearing a clothespin on her nose to sleep in the hopes of shrinking her bridge! Beauty is pain.
Follow Marie Claire on Facebook for the latest celeb news, beauty tips, fascinating reads, livestream video, and more.