Rosie Huntington-Whiteley's #1 Product for Glowy Skin Is Not What You'd Expect
"My beauty is not effortless, and I don't want it to be."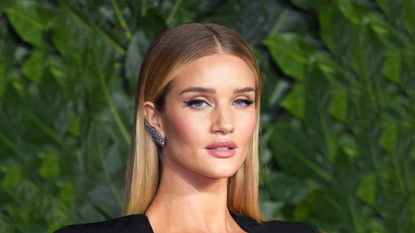 (Image credit: Getty Images)
Rosie Huntington-Whiteley has the kind of beauty that is so striking you just stop and stare in amazement. She's been a supermodel for more than 16 years for a reason. Besides being genetically-blessed, she's supremely smart when it comes to skincare and makeup and has a keen sense of what she likes and doesn't. She also does not take shortcuts when it comes to her beauty routine, which is far from simple. Although the 31-year-old makes it look completely effortless, she works hard to keep her "not perfect" skin and body in the best shape.
The bareMinerals beauty ambassador and owner of Rose Inc.—an editorial beauty and lifestyle platform—got candid about everyone's biggest beauty misconception of her, her skin struggles, and her number-one product for getting that glow. Consider this your sneak peek inside her beauty diary, ahead.
Her Skin Is "Constantly Going Through It"—Here's How She Cares For It
A quick scroll through Huntington-Whiteley's Instagram feed will make you want to comment heart eyes under all her pictures. After doing just that right before complimenting Huntington-Whiteley on her "amazing skin," she got really really real with me. "I would like to thank you for your compliment about having amazing skin—I'm glad it appears that way from the outside," she told me. "I have a skin-first, makeup-second approach because I struggle with my skin. It's not perfect. It's constantly going through it—I have good weeks, bad weeks, good months, bad months, good years, and bad years. It's been that way since I was a teenager. Being a model for the last 16 years, I've realized that it's a part of my job to show up with my skin looking as healthy as possible. So I'm really diligent with my skincare routine. I get regular facials and now that I'm in my 30s there's really no such thing as putting my face in the sun anymore. I try and wear a SPF everyday."

That glow of hers—let's talk about it. You're going to be surprised at the product she swears by for luminous and glowy skin because it gets a bad rap in the beauty world for doing the complete opposite. Powder foundation. Yep, powder—the bareMinerals Original Loose Powder Mineral Foundation Broad Spectrum SPF 15 to be exact. Like everyone else, Huntington-Whiteley was skeptical at first and thought powder foundation would give her dull skin. She stands corrected. "When I first tried it I was like, how is a powder ever going to give me coverage?" she says. "I thought it would make me look cakey and dry—it's completely the opposite. It makes my skin look really luminous and glowy. Plus, the powder is mineral-based, which means it's as clean as it can be." She went on to talk about how it's her travel companion because it's "lazy girl makeup—all you have to do is take a big buffer brush and swirl it around on your face to buff it onto your skin."
Huntington-Whiteley prefers gel-based moisturizers over creams—her skin absorbs them better. Her favorite: bareMinerals Skinlongevity Vital Power Sleeping Gel Cream. "It's full of hyaluronic acid, so it's super hydrating and plumping," the model explains. "I wish I got eight or nine hours of sleep every night, but that doesn't always happen, so this is an amazing product to put on before bed. When I wake up, I look like I've had a full night's sleep. It's also amazing to apply before dreaded red eyes, which suck the life out of my skin."
As for those beautifully shaped brows of hers—which she admitted she never leaves the house without grooming—she relies on an eyebrow gel. "I've been using the Anastasia Beverly Hills Clear Eyebrow Gel for so long. I've tried a lot of eyebrow gels, but this one truly holds my brows down," she notes. Same, though—I've been swearing by this brow gel for years because it's magnificent. And if you're wondering which lipsticks she always reaches for, bareMinerals Barepro Longwear Lipsticks are her favorites for very relatable reasons. "They're weightless, sweat-proof, waterproof, and kid-proof," Whiteley, mom of 2-year-old Jack, shares. "I can apply it at the beginning of my day and forget about having to touch-up. I'm a girl that's on-the-go, and I don't want to be checking myself in the mirror all the time." And let all the hustlers say amen!
Shop the Supermodel's Favorite Beauty Products
Her Beauty Routine Is Equal Parts Zen and Effective
In the morning, Huntington-Whiteley loves spending time getting ready before her obligations start. "I run warm water in my sink, then take a washcloth and soak my face for a good 20 seconds, breathe it in, and wake my face up," she says, which sounds like at an at-home spa treatment I'm trying immediately. "Then, I'll cleanse and moisturize. I'll adjust my skincare routine accordingly depending on what's going on with my skin and where I am in the world." As for her bedtime beauty rituals, she's a nighttime shower-slash-bather (she switches it up based on how she feels). "I like to wash away the day, and I prefer to exfoliate in the evenings," she explains. "I feel like my skin truly gets clean, and I've removed all of the dead skin cells. I also exfoliate my lips, then apply a lip balm. I love Aquaphor because it stays on throughout the whole night. I finish up with whatever products I'm using at the moment, put my hair into a scrunchie, and get into bed."
"I would never associate myself with somebody that is drawn to beauty trends," she shares. "When it comes to beauty, I'm drawn to products that are going to make me feel the best. I want to look radiant, natural, and glowy. Interestingly, now being in my 30s and getting to work with so many incredible makeup artists, I'm slightly more open to experimenting with makeup," adding that she'd be up for a navy blue or red eyeliner, and playing around with bolder lip colors. "I adore makeup, but I think skincare is really key."
She Wants Everyone to Stop Thinking Her Beauty Is "Effortless"
During our discussion, Huntington-Whiteley makes it clear that she does not wake up like this. True beauty requires work and effort to feel beautiful on the inside and out—it's called self-care, ladies and gents, which is something the model is very serious about. "People's biggest misconception of me is that a picture of me is exactly how I look all the time, which is not the case," she says. "I have to be really diligent with my skincare routine. I train really hard to stay in good shape. My beauty is not effortless, and I don't want it to be. I would definitely call myself high-maintenance so that I can look low-maintenance."
Her Trick for Getting a Stunning Selfie Is Actually a Lot of Work
A good photo requires you to try hard, too."If you want the truthful answer, the secret to a good selfie is having about 30 minutes and taking at least 50 photographs, while walking around to find the best light," she unabashedly shares. "Anyone who has a great looking Instagram knows it is far from effortless. For me, Instagram is the front of my business. It's my portfolio of my work and my life. As a professional in the creative world we live in, it's important to make your page represent you and the life you're wishing to pursue."
That said, Huntington-Whiteley acknowledges that sometimes all the Instagram perfection can be bad for you. "You have to remember that Instagram is not always a true representation of one's life," she says. "People only share the good, pretty, and fun bits on Instagram. It's really easy to get sucked down a hole and feel less than good when you come off the app. I do really think that choosing to follow people and sites that make you feel good and inspire you is really important. Unfollow people that don't make you feel good. Avoid the explore page because it's not going to make you feel good. I've been there, done that, you go down a rabbit hole. There are lots of great things about social media, but it's really important for young girls to take it all with a pinch of salt, put the phone down sometimes, and be IRL, as the millennials would say."
For more stories like this, including celebrity news, beauty and fashion advice, savvy political commentary, and fascinating features, sign up for the Marie Claire newsletter.
Celebrity news, beauty, fashion advice, and fascinating features, delivered straight to your inbox!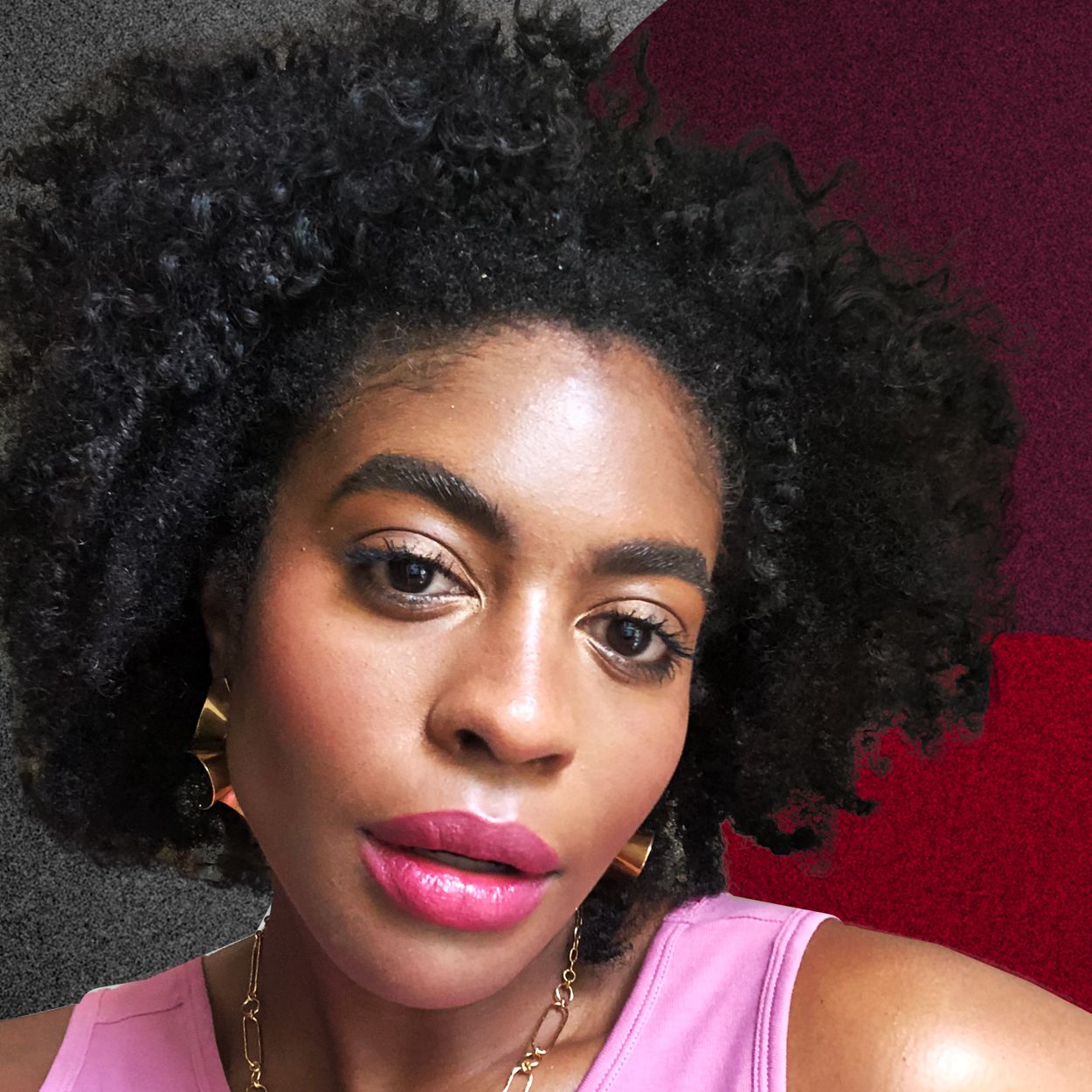 Maya Allen is the former Digital Beauty Editor at MarieClaire.com where she covered makeup, skincare, haircare, wellness, you name it! She has a 15-step skincare routine, owns over 200 red lipsticks, and enjoys testing the latest and greatest in beauty. On most weekends, you can find her at her happy place, which is her makeup vanity. There, she's usually blasting her speakers while singing along to lyrics at the top of her lungs, and making sure her highlighter is on point.