Broken Capillaries on Your Face: The Expert Guide
What to do about those pesky broken blood vessels on your face.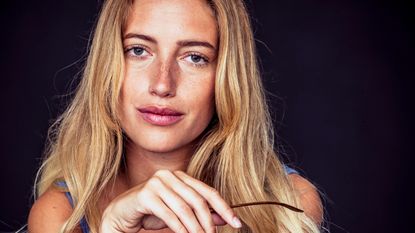 (Image credit: PhotoAlto/Frederic Cirou)
So you've got yourself a spidery-looking red spot on your face that doesn't seem to be going away anytime soon. Congratulations—you're a perfectly normal human being with a totally normal broken capillary. But as annoying and scary-sounding as broken blood vessels are, they're not the end of the world. (Even if it feels like it.) Broken capillaries are most commonly found on the face or legs, and any number of things might be the culprit. Sun exposure, rosacea, alcohol consumption, weather changes, pregnancy, genes, and more can cause them to pop up.
The good news: You can get rid of broken capillaries on your face. With the right tools and measures, you can not only say goodbye to them for good, but also prevent another crop of them from taking hold of your skin in the future. From at-home remedies that reduce redness to laser treatments that zap them forever, read on for everything you need to know about broken capillaries.
What Does a Broken Capillary Look Like?
Not to be a buzzkill, but the internet is not your doctor, and you should definitely make an appointment with a dermatologist for an official diagnosis. But if you're still trying to self-diagnose, we'll make it easier for you: Broken capillaries are enlarged blood vessels just beneath the surface of the skin that look like bright, blood-red marks, usually in a spider- or branch-like pattern (though we've seen them look like tiny, singular pinpricks, too).
What Causes Broken Capillaries?
In general, two things cause broken capillaries. One is skin trauma—like squeezing a pimple with too much force, intense microdermabrasion, or even sneezing. Excessive dilation of the blood vessels is another, from taking hot showers, being in cold, wintery air, eating spicy foods, exercising, or drinking alcohol. "Capillary walls are very elastic, and blood vessels can lose their ability to contract if they're frequently dilated, causing them to remain enlarged," says celebrity esthetician Renée Rouleau.
Genetics also play a significant role in your susceptibility to broken blood vessels. However, they're more common in people with sensitive skin, acne, or rosacea, and especially rampant in the winter, thanks to fluctuating hot-and-cold temperatures.
How to Treat Broken Capillaries
Here's the good news: treating broken capillaries is totally doable. There are a handful of at-home remedies and prescription topicals to help reduce redness, as well as more permanent solutions available via your dermatologist.
Use Anti-Inflammatory Skincare
At-home treatments aren't going to get rid of your broken capillary entirely (you'll have to see a derm for that), but certain skincare ingredients can help calm down redness. "Over-the-counter products containing anti-inflammatory ingredients, such as rosehip oil, can also minimize redness," says dermatologist Arash Akhavan, M.D., founder of Dermatology and Laser Group in New York City. You can also try slathering on a layer of pomegranate oil—another natural anti-inflammatory—every night. However, you should know that there isn't a huge chance they'll make a difference.
Try a Prescription Topical
"You can also ask your doctor about Rhofade, a prescription topical cream that constricts the blood vessels in your face, thus limiting blood flow and redness to the area," Dr. Akhavan says. Fair warning: you'll have to go to your dermatologist for this. "Know that these are all short-term fixes for the redness and need to be reapplied every day for results," he continues.
Invest in Laser Treatments
If you want to get rid of your splotches for good, you'll need to invest in laser treatment. "Lasers for vascular lesions, like broken capillaries, work by suddenly heating the blood inside of the vessels, leading to inflammation and scarring within the blood vessel that eventually causes them to fade away over four to six weeks," says Dr. Akhavan. It sounds painful, but the treatment itself only takes a few minutes and feels like a rubber band lightly snapping your skin a few times.
"A laser called the Vbeam Laser is the gold standard for treating vascular spots on the face," says Dr. Akhavan. "IPL—Intense Pulsed Light—treatments are also very effective." However, he notes that if you have darker skin, neither can be safely used without possibly harming your face, so make sure to call ahead to check if your doctor has an Nd:YAG laser, "which is the best option for darker skin tones."
As for what this will cost you? You can expect to pay anywhere from $150 to $400 out of pocket per session.
How to Prevent Broken Capillaries
If you've successfully treated your existing broken capillaries, you're going to want to make sure new spider marks don't pop up. Here are a few easy changes you can make to your daily routine to help keep your skin calm.
Wear SPF
We know, we know—this is the ultimate skincare advice until the end of time, but it doesn't make it any less critical. "Capillary walls weaken with UV exposure, so wearing a good sunscreen can potentially prevent the development of some broken capillaries," says Dr. Akhavan. So slather one of the best sunscreens every morning, like one of these cult favorites, below.
SkinCeuticals Sheer Physical UV Defense Sunscreen
Use Gentle Exfoliants
Scrubbing is for pots and pans, not your face, and you're usually doing more harm than good by using a gritty exfoliator on your skin. Instead, opt for a chemical exfoliator, which uses gentle acids to dissolve dead skin cells, oils, and gunk from your pores.
Drunk Elephant Framboos Glycolic Night Serum
Use Lukewarm Water
No, you don't need to swear off hot showers for life, but know that you're putting your skin at increased risk the warmer the water is. "Hot water on the face will speed up blood flow and dilate capillaries, which will only increase redness in the skin," says Rouleau. So instead, wash your face with cool or tepid water, and try to keep your face out of the direct blast of the hot shower stream.
Meet the Experts
Arash Akhavan, MD, FAAD is a board certified dermatologist in practice on 57th Street in Midtown Manhattan for the last decade. Dr. Akhavan is also member of the faculty of The Mount Sinai Medical Center, where he is involved in the education of dermatology residents in their cosmetic and medical clinics. Dr. Akhavan's particular areas of interest and expertise are in non-invasive and minimally invasive cosmetic procedures of the face, neck, and body, as well as in the detection and management of skin cancer and skin lesions.
Dr. Akhavan is on the forefront of advanced techniques in cosmetic medicine and was amongst the first to bring newer technologies such as SculpSure for Body Sculpting and Cellfina for Cellulite to the NYC area. Dr. Akhavan heads one of the most advanced cosmetic laser centers in Manhattan, with state-of-the-art devices and years of expert experience combining to provide patients with amazing results and safety.
A life-long skin enthusiast, Renée Rouleau has dedicated over 30 years to the art of skin perfection. She's considered a complexion coach and blemish-busting hero by many thanks to her magical touch and ability to make skin concerns quickly disappear. Renée knows that great skin is rarely achieved with a "one size fits all" viewpoint. Her 30 years of hands-on experience as an esthetician and trusted skin care expert, has created a real-world solution — products that are formulated for nine different types of skin so your face will get exactly what it needs to look and feel its best. The perfect ritual just for you. Read more about her extensive line of products.
Samantha Holender is the Beauty Editor at Marie Claire, where she reports on the best new launches, dives into the science behind skincare, and keeps up with the latest trends in the beauty space. She has previously written for Us Weekly, Popsugar, Makeup.com, Skincare.com, and Philadelphia Wedding. Follow her on Instagram @samholender.