Why Do I Have Red Spots on My Skin?
Your ultimate WTF-is-on-my-skin guide.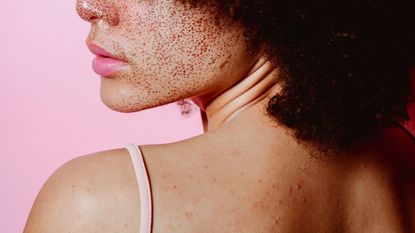 (Image credit: Rochelle Brock / Refinery29 for Getty Images)
If you're a living, breathing human, you've probably experienced the joys of discovering a mysterious red spot or bump on your skin at some point in your life (specifically, one that goes beyond hyperpigmentation). And as anyone who's seen a dermatologist—or anxiously self-diagnosed on the Internet—knows, there's not always one clear-cut answer, or one miracle-working fix.
To prevent you from attacking your skin with the wrong formulas, we chatted with two leading dermatologists to find out the top seven most likely causes for red spots on your skin. Don't worry, these red spots are not your forever. And it's critical that you do two things.
You don't mess with them and cause further damage to the skin.
You don't let them live on without discovering the proper fix.
Ahead, we break down the causes, symptoms, and expert-approved tips for some speedy, no-BS solutions. As always, please consult a professional dermatologist before self-diagnosing. Ahead, a guide to get you started.
---
Acne
What it is:
Arguably the most common cause for red spots on the skin is acne, a condition that affects the skin's oil glands and hair follicles. "While acne has long been thought to affect only teenagers, we're finding that adult women are breaking out more than ever, thanks to hormonal changes," says Joshua Zeichner, M.D., the director of cosmetic and clinical research in dermatology at Mount Sinai Hospital in NYC.
Symptoms:
Since acne is typically associated with blackheads, whiteheads, and pus-filled pimples, people often forget that angry, red bumps around the mouth, jawline, chest, and back—i.e. cystic acne—also fall into acne territory.
What to do:
"Your best treatment is a product that contains benzoyl peroxide, which kills acne-causing bacteria and helps reduce inflammation, like Neutrogena Rapid Clear Stubborn Acne Daily Leave-On Mask," suggests Dr. Zeichner. After cleansing your face in the evening, smooth a super-thin layer of the mask over your breakouts or acne-prone areas before bed. If you've never used benzoyl peroxide before, introduce it to your routine once every three days before using it nightly. "Just be sure you sleep on a white pillowcase, since the formula can bleach your fabrics," he warns.
---
Cherry Angiomas
What it is:
Cherry angiomas, basically a fancy name for red moles, are a collection of small blood vessels that are usually found on your torso, arms, legs, and shoulders if you're 30 or older. They are usually the size of any freckle you might have already on your body, but they can be bigger.
Symptoms:
There's nothing itchy about these guys, but that doesn't mean you can go ahead and mess with them! Bleeding can occur if the angioma is scratched, rubbed, or cut open which is never ideal.
What to do:
When it comes to dealing with these small spots, don't take matters into your own hands. Even though the world of skincare tutorials on YouTube is amazing doesn't mean we should try everything at home. The safest solution is to see your dermatologist where they can be destroyed via laser treatment or electrodesiccation, which is an in-office preventative skin cancer treatment where a professional uses tools to scrape the affected skin's surface.
---
Keratosis Pilaris
What it is:
As many as 40 percent of adults are affected by keratosis pilaris—hard, little red bumps that usually appear on the backs of your upper arms and thighs—which is caused by a buildup of excess keratin in the skin follicle, blocking the pore.
Symptoms:
Other than inflammation and possible slight itching, keratosis pilaris bumps don't really produce symptoms—they just make your skin feel rough and dry, almost like "chicken skin."
What to do:
First things first: Resist the urge to pick, unless you're keen on making the bumps more inflamed. Instead, look for creams containing skin-exfoliating ingredients, like AmLactin 12% Moisturizing Lotion, which contains lactic acid, a sugar-derived alpha hydroxy acid, or AHA, that not only moisturizes skin, but also dissolves keratin bonds for fewer bumps. Just make sure to use it every single day, or your KP (keratosis pilaris) will keep on coming back.
---
Broken Capillaries
What it is:
Broken capillaries are enlarged blood vessels just beneath the surface of your skin that usually look like bright, blood-red marks. In general, they are caused by either skin trauma—like squeezing a pimple with too much force—or by excessive dilation of the blood vessels from taking hot showers to drinking alcohol.
Symptoms:
They usually are in a branch-like pattern or sometimes even just in a singular bright red prick. Luckily, these guys don't cause any pain.
What to do:
As much as I hate to be a Debbie Downer, you're not going to be able to get rid of them yourself unless you go to your dermatologist's office to get them zapped away with a laser. If you're balling on a budget, like me, there are some at-home solutions. "Over-the-counter products containing anti-inflammatory ingredients, such as rosehip oil, can minimize redness," says dermatologist Arash Akhavan, M.D., founder of Dermatology and Laser Group in New York City.
---
Papular Eczema
What it is:
Papular eczema is caused by a damaged skin barrier, which leads to inflammation and dry, red, itchy bumps on the body. It's typically worse during cold and dry weather (read: when your skin is already dry and irritated) and is more common on sensitive skin.
Symptoms:
According to Dr. Zeichner, "Eczema appears in red, scaly bumps and patches almost anywhere on the body, but they're most common inside the elbows."
What to do:
"The itch can cause a huge urge to scratch, but scratching will only make the rash worse," says Rachel Nazarian, M.D., dermatologist with the Schweiger Dermatology Group in New York City. Luckily, some treatments do exist—like prescription topical steroid creams—but until you can get to a dermatologist, make sure to avoid hot showers and only use gentle cleansers, like Dove Sensitive Skin Beauty Bar. "You can also try using a humidifier in your bedroom, which will prevent moisture loss from dry air," she suggests.
---
Heat Rash
What it is:
"After exposure to heat or sweat, the skin can break out into small, red bumps known as heat rash," explains Dr. Nazarian. "Heat rash is usually found in areas with lots of sweat glands, like the back or chest, though it can really occur anywhere."
Symptoms:
If you're suffering from heat rash, you'll see a smattering of itchy spots, blisters, and red bumps that are accompanied with exposure to, well, heat.
What to do:
"As soon as you notice a heat rash, cool off and dry the effected area," says Dr. Nazarian. Once dry, you can apply a thin layer of topical steroid cream, like Vanicream 1% Hydrocortisone Cream, to calm the inflamed skin. "Treatment can take up to one week, during which tight-fitting clothing should be avoided," she adds.
---
Rosacea
What it is:
"Rosacea is a condition that causes the skin to overly-react to triggers that don't normally upset the skin, like spicy food, alcohol, hot beverages, stress, and the surrounding environment," explains Dr. Zeichner.
Symptoms:
People with rosacea will develop redness, red bumps, and sometimes tiny pimples on the face, along with the tendency to flush very easily. Burning and stinging is common, but—and this is a big distinction—rosacea doesn't usually present with itching.
What to do:
"The best way to treat rosacea is to keep the skin barrier in as good of shape as possible," says Dr. Zeichner. You'll want to look for products that reduce irritation, as well as actively protect your skin from the sun. Dr. Zeichner suggests rosacea patients try Aveeno Ultra Calming Daily Moisturizer, which protects skin with SPF 30 and calming antioxidants.
Bianca Rodriguez is the Fashion & Luxury Commerce Manager at Hearst Magazines, covering fashion, beauty, and more for Cosmopolitan, Elle, Esquire, Harper's BAZAAR, and Town & Country. She likes lounging about with a good book and thinks a closet without platform sneakers is a travesty.