Why Do I Have Red Spots on My Skin?
Your ultimate guide to kissing redness goodbye.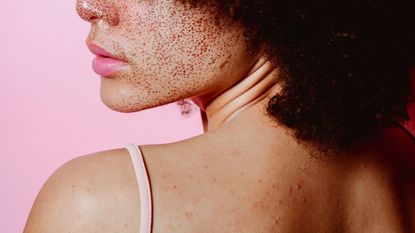 (Image credit: Rochelle Brock / Refinery29 for Getty Images)
If you're a living, breathing human, you've probably experienced the joys of discovering a mysterious red spot or bump on your skin at some point in your life (specifically, one that goes beyond hyperpigmentation). And as anyone who's seen a dermatologist—or anxiously self-diagnosed on the Internet—knows that there isn't always one clear-cut answer or universal fix.
To prevent you from attacking your skin with the wrong formulas, we chatted with leading dermatologists to find out the top seven most likely causes for red spots on your skin. Don't worry, these red spots, too, shall pass.
Cause #1: Acne
The first, and perhaps most obvious, cause of red spots on the skin is acne, which can occur on any part of the body but is most common on the face, chest, back, and buttocks.
"While acne has long been thought to affect only teenagers, we're finding that adult women are breaking out more than ever, thanks to hormonal changes," says Dr. Joshua Zeichner, the director of cosmetic and clinical research in dermatology at Mount Sinai Hospital in NYC. He adds that when redness, it often comes in the form of angry red bumps around the mouth, jawline, chest, and back, including cystic acne and pus-filled whiteheads that have been irritated.
Neutrogena Benzoyl Peroxide Leave-on Acne Face Mask
"Your best treatment is a product that contains benzoyl peroxide, which kills acne-causing bacteria and helps reduce inflammation, like the Neutrogena Rapid Clear Stubborn Acne Daily Leave-On Mask," suggests Dr. Zeichner. After cleansing your face in the evening, apply a thin layer of the mask over your breakouts or acne-prone areas before bed. If you've never used benzoyl peroxide before, introduce it to your routine once every three days before using it nightly. "Just be sure you sleep on a white pillowcase, since the formula can bleach your fabrics," he warns.
Pros: dermatologist-approved; popular among customers; doesn't over-dry skin
Cons: bleaches fabrics
Customer Review: "Great to use as a strong face wash in the shower or as a masque while I'm shaving or doing a conditioning treatment in my hair. It really helps when my face is oily or have any breakouts happening." -Target
SkinCeuticals Blemish + Age Defense
This is my holy grail product for when I'm experiencing a breakout. It banishes pimples in record time and is super lightweight, so I can easily incorporate it into my normal skincare routine. Personally, I like using it on dry, freshly cleansed skin as a spot treatment in my problem areas, after which I apply my normal serum, moisturizer, and sunscreen so that it doesn't dry me out too much (and because sunscreen is essential!). It's perfect for all skin types, but it's drying (in order to dry out the pimples), so refrain from using it on cracked or too-dry skin.
Pros: editor-approved; works quickly; also helps with anti-aging
Cons: can be drying
Customer Review: "I absolutely love this product. Prior to using this I was unsuccessful with finding a product that worked on my skin preventing blemishes. My sensitive skin was also very picky as to what I could even use. This stuff has been a major game changer for me." -Dermstore
Cause #2: Cherry Angiomas
Cherry angiomas, which essentially look like red moles, are collections of small blood vessels that are usually found on your torso, arms, legs, and shoulders, especially if you're 30 or older. They are usually the size of any freckle you might have already on your body, but they can be bigger. They don't cause any itching or irritation, but they can bleed if scratched, rubbed too hard, or cut open.
There's a plethora of online tutorials on how to diminish the appearance of these, but self-diagnosing and self-treating, especially via the internet, is never a good idea. Instead, see your dermatologist, who can treat cherry angiomas via laser treatment or electrodesiccation, which is an in-office preventative skin cancer treatment that involves scraping the skin's surface.
Cause #3: Keratosis Pilaris
As many as 40 percent of adults are affected by keratosis pilaris, which consists on tiny, hard red bumps that usually appear on the backs of one's upper arms and thighs. They are caused by "a buildup of keratin in the hair follicle, forming rough, hard plugs that can look inflamed and red," according to board-certified dermatologist Dr. Melissa Kanchanapoomi Levin.
Picking at keratosis pilaris only worsens and further inflames the condition. Instead, exfoliate the skin with a gentle product that won't further irritate it.
AmLactin Moisturizing Body Lotion
AmLactin 12% AHA Moisturizing Lotion contains lactic acid, a sugar-derived alpha hydroxy acid (also known as AHA). This compound not only moisturizes skin, but it also dissolves keratin bonds for fewer bumps. Just make sure to use it every single day, or your KP (keratosis pilaris) will keep on coming back. Because the body lotion is also free of harsh ingredients like parabens and fragrance, it also won't further irritate inflamed skin (or skin that you've been picking at, in spite of knowing you shouldn't).
Pros: gentle; free of fragrance and parabens; works on the whole body; affordable
Cons: natural scent is medicinal
Customer Review: "This works great for my keratosis pilaris and textured skin. Multiple comments about the scent - the lotion is 12 percent lactic acid, this is the source of the smell. It is not scented otherwise and the scent disappears quickly. Not greasy, but very moisturizing. This plus weekly exfoliation keep my skin smooth and happy!" -Target
This Works Perfect Legs 100% Natural Scrub
I can't even begin to describe how obsessed I am with this product. First of all, it smells divine, to the point that I love using it before donning shorts or a dress because I can't get enough of the scent it leaves. Secondly, per the brand's name, it works. Whether I'm struggling with clogged pores, keratosis pilaris, ingrown hairs, or simply exfoliating, this product keeps my legs smooth and moisturized. It's great for incorporating into your shower routine (but I'd use it only once to twice a week).
Pros: great scent; editor-approved; also helps with ingrown hairs and body acne
Cons: leaves an oily residue you need to scrub off
Cause #4: Broken Capillaries
Broken capillaries are enlarged blood vessels just beneath the surface of your skin that usually look like bright, blood-red marks. In general, they are caused by either skin trauma—like squeezing a pimple with too much force—or by excessive dilation of the blood vessels from taking hot showers to drinking alcohol. They usually are in a branch-like pattern or sometimes even just in a singular bright red prick. Luckily, though, they don't cause any pain.
There are no at-home treatments clinically proven to diminish the appearance of broken capillaries, but your dermatologist can do so with a laser at their office.
Cause #5: Papular Eczema
Papular eczema is caused by a damaged skin barrier, which leads to inflammation and dry, red, itchy bumps on the body. It's typically worse during cold and dry weather (read: when your skin is already dry and irritated) and is more common on sensitive skin.
"Eczema appears in red, scaly bumps and patches almost anywhere on the body, but it's most common inside the elbows," says Dr. Zeichner. It's also common on the hands and face—and it itches.
"The itch can cause a huge urge to scratch, but scratching will only make the rash worse," says Dr. Rachel Nazarian, a board-certified dermatologist with the Schweiger Dermatology Group in New York City. Luckily, some treatments do exist, such as prescription topical steroid creams, but until you can get to a dermatologist, be sure to avoid hot showers and to only use gentle cleansers.
"You can also try using a humidifier in your bedroom, which will prevent moisture loss from dry air," Dr. Nazarian suggests.
Pai Skincare Organic Rosehip BioRegenerate Oil
"Over-the-counter products containing anti-inflammatory ingredients, such as rosehip oil, can minimize redness," says dermatologist Dr. Arash Akhavan, who also founded of Dermatology and Laser Group in New York City. Indeed, rosehip oil contains antibacterial properties (via compounds called phenols) that can help in treating both eczema and acne. It reduces inflammation and can also help reinforce the skin's natural barrier in order to prevent and reduce further flare ups of eczema moving forward.
Pros: natural ingredient; dermatologist-recommended
Cons: small bottle
Skinfix Eczema+ Hand Repair Cream
This product is made specifically for eczema in mind and is perfect for people who, like me, struggle with eczema on their hands in particular. It's vegan and doesn't contain any harsh chemicals or fragrances, so it also won't aggravate eczema or psoriasis upon application. I recommend using it after every time you wash your hands, especially if you're dealing with a flare-up, and continuing to apply as- needed throughout the day.
Pros: vegan; cruelty-free; contains natural ingredients
Cons: expensive for small bottle
Customer Review: "I really enjoyed this product. I have some eczema patches here and there. I used the cream on them and it made them feel a bit relieved. I struggle to find a product that works sometimes so this was a great product to try!" -Skinfix
Cause #6: Heat Rash
"After exposure to heat or sweat, the skin can break out into small, red bumps known as heat rash," explains Dr. Nazarian. "Heat rash is usually found in areas with lots of sweat glands, like the back or chest, though it can really occur anywhere."
Personally, I tend to get heat rash on my thighs in the summertime. Coupled with razor burn, the result is a stinging, sometimes itchy skin. Heat rash often looks like a smattering of itchy spots, blisters, and red bumps.
If you're struggling with heat rash, Dr. Nazarian recommends cooling off and drying the area, then following up with a topical steroid cream.
Vanicream 1% Hydrocortisone Anti-Itch Cream
"As soon as you notice a heat rash, cool off and dry the effected area," says Dr. Nazarian. Once dry, says to apply this clinically tested, no-nonsense cream from Vanicream, which is designed to calm inflamed skin. "Treatment can take up to one week," she adds, "during which tight-fitting clothing should be avoided." It's also important to note that steroid creams should not be used for long periods of time—at most, they should be used once to twice daily for one to two weeks at a maximum. Using these creams for any longer can result in topical steroid withdrawal, which can cause hair loss, skin shedding, depression, and many other severe symptoms. Talk to your dermatologist before using a steroid cream of any kind.
Pros: prescription-strength; fragrance free; dermatologist recommended
Cons: can only be used once to twice a day for one to two weeks maximum
Customer Review: "I am amazed that after applying Vanicream HC to the red, itchy area on my face just twice it was cleared." -Vanicream
Cause #7: Rosacea
"Rosacea is a condition that causes the skin to overly-react to triggers that don't normally upset the skin, like spicy food, alcohol, hot beverages, stress, and the surrounding environment," explains Dr. Zeichner.
People with rosacea will develop redness, red bumps, and sometimes tiny pimples on the face, along with the tendency to flush very easily. Burning and stinging is common, but—and this is a big distinction—rosacea doesn't usually present with itching.
"The best way to treat rosacea is to keep the skin barrier in as good of shape as possible," says Dr. Zeichner. This means opting for products that reduce irritation and actively protect your skin from the sun.
Shiseido Urban Environment Vita-Clear Sunscreen Broad-Spectrum SPF 42 with Vitamin C
This is my all- time favorite sunscreen. First of all, its consistency is thin and easy to spread, and it never feels heavy or pore-clogging on my face. Because it dries matte, it's also an excellent primer for makeup. It's designed for people who, like me, live in urban environments with tons of pollutants that can damage the skin barrier, increase bacterial growth, or bring on visible signs of premature aging. It also contains SPF 42—one of the higher SPFs for facial sunscreens.
Pros: Lightweight; editor-approved; good for all skin types; SPF 42
Cons: small container
Customer Review: "I don't use makeup everyday, but I have to use sunscreen to anti-aging every day. I love how this Shiseido suncreen is so light. Its hydrated and gives me a glossy skin." -Sephora
Katini Skin Clarity Facial Oil
If you struggle with acne, you may not think that a facial oil is for you. However, hydration is often key to getting rid of acne: When our skin is dehydrated, it overcompensates by speeding up production of sebum, an oil that's meant to nourish our skin but that often clogs pores, resulting in acne. This oil from Katini Skin is made with acne-prone skin in mind, and moisturizes skin without making it feel heavy or clogging pores. It's helped clear countless breakouts for me personally, and reviewers say the same thing.
Pros: made from natural ingredients; editor-approved; dries matte; smells good; a little goes a long way
Cons: expensive
Customer Review: "I have been using this oil now for about a year. It is absolutely fabulous for your skin. I suffer from cystic acne and it really helps, along with my medications prescribed to me by my dermatologist." -Thirteen Lune
Meet the Experts
As the Director of Cosmetic and Clinical Research at Mount Sinai Hospital's Department of Dermatology, Dr. Zeichner has a broad interest in medical and cosmetic dermatology as well as clinical research. His specialty is the treatment of acne, as well as the cosmetic rejuvenation of the aging face. Dr. Zeichner treats general skin conditions, including eczema, rosacea, psoriasis, and skin cancer. In addition, he is well-versed in the use of Botox and dermal fillers, as well as lasers and chemical peels.
Dr. Rachel Nazarian joins Schweiger Dermatology after years of practicing various aspects of dermatology, including cosmetic treatments, skin cancer, general dermatology and dermatologic surgery. Dr. Nazarian has written many published articles in medical journals as well as widely respected dermatology textbooks, such as Treatment of Skin Disease. Dr. Nazarian serves as a faculty member at Mount Sinai Medical Center's Department of Dermatology, where she completed her dermatology residency. While completing her medical degree at Tulane University School of Medicine, Dr. Nazarian was awarded a grant from the Women's Dermatology Society. Dr. Nazarian is a board certified dermatologist and Fellow of the American Academy of Dermatology.
Arash Akhavan, MD, FAAD is a board certified dermatologist in practice on 60th Street in Midtown Manhattan for the last decade. Castle Connolly Top Doctor Award Winner 2022, 2021, 2020, 2019, 2018, 2017, 2016, 2015, and 2014. Dr. Akhavan is also member of the faculty of The Mount Sinai Medical Center, where he is involved in the education of dermatology residents in their cosmetic and medical clinics. Dr. Akhavan's particular areas of interest and expertise are in non-invasive and minimally invasive Cosmetic Procedures of the Face, Neck, and Body, as well as in the detection and management of skin cancer and skin lesions.
Marie Claire email subscribers get intel on fashion and beauty trends, hot-off-the-press celebrity news, and more. Sign up here.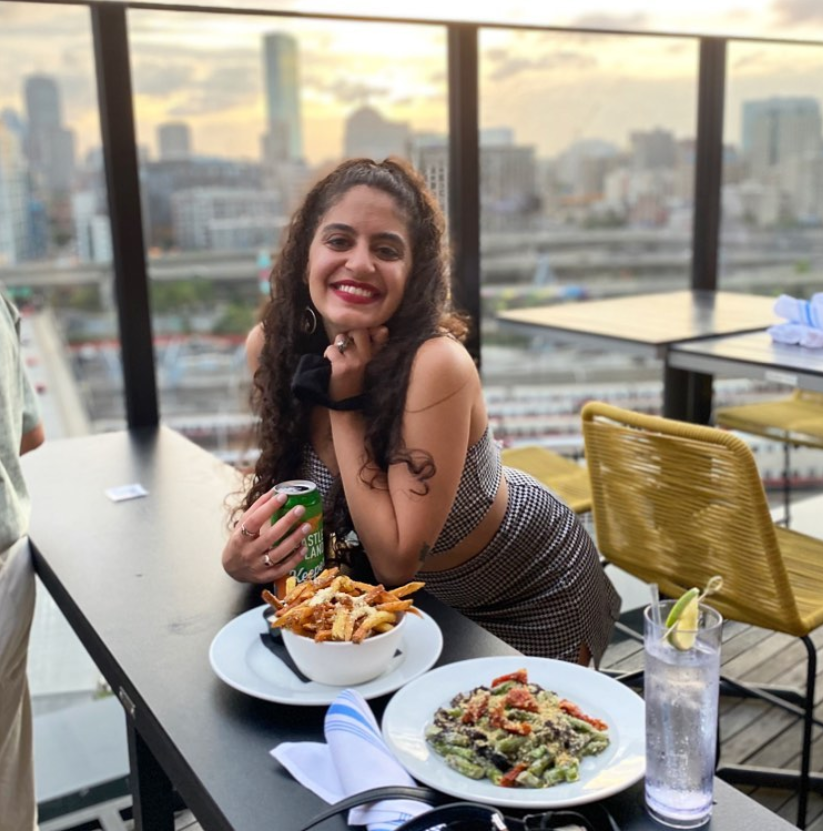 Gabrielle Ulubay is an E-Commerce Writer at Marie Claire and writes about all things beauty, sexual wellness, and fashion. She's also written about sex, gender, and politics for publications like The New York Times, Bustle, and HuffPost Personal since 2018. She has worked extensively in the e-commerce and sales spaces since 2020, including two years at Drizly, where she developed an expertise in finding the best, highest quality goods and experiences money can buy. As a film school graduate, she loves all things media and can be found making art when she's not busy writing.