4 Women Share Their Skincare Spreadsheets
Congratulations! You're now subscribed to all of their skincare secrets.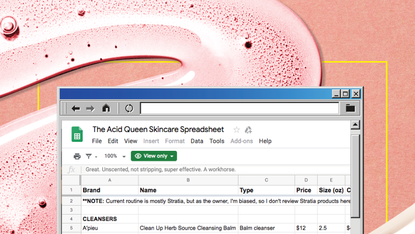 (Image credit: Susanna Hayward)
Alli Reed @stratiaskinJude Chao @fiddysnailsAlyssa Coscarelli @alyssainthecitySophia Roe @sophia_roe
The Quantified Self movement is no longer just for Silicon Valley bros trying to hack their way to a lower BMI: Beauty obsessives are the latest group seeking "self-knowledge through self-tracking"—and they're doing it with skincare spreadsheets, diary-like databases for tracking the complexion products you buy and try.
Some people keep it simple with a basic Google Doc of top products that's easily shared with friends. Others go all in with Microsoft Excel files or Google Sheets listing every serum, moisturizer, peel, or mask they've ever tried along with other info, like the date they used it, side effects, results, and more.
The trend seems to have started back in 2015, around the time the K-beauty phenomenon took off in the United States. And that makes sense, since the Korean beauty movement brought us so many new products to try, including CC creams, sheet masks, and essences.
Blogger Jude Chao, of Fifty Shades of Snail, was an early adopter of the trend, and wowed everyone with her elaborate Korean beauty routine. "The first place I saw a skincare spreadsheet was on my friend Cat Cactus's blog, Snow White and the Asian Pear," says Chao. "In the beginning, I started doing it a lot for Korean sheet masks. I needed a way to keep track of all my products, how often I was using them and what kind of results I saw."
Another longtime spreadsheeter, Alli Reed, a.k.a "The Acid Queen," goes into even more detail, with an über-analytical doc that tracks products down to their price per ounce. "I got really technical for a reason: Calculating the price per ounce on my spreadsheet helped me illuminate the real cost of things," she explains. "Some things may seem very expensive, but you actually get a lot of product—or vice versa."
Today, the best place to find spreadsheets like Chao's and Reed's is on the Internet's favorite resource for data-loving beauty junkies: Reddit. Before social-sharing platforms like YouTube and Instagram transformed the entire beauty landscape, there were endless Reddit threads devoted to skincare to dissect. There, skincare enthusiasts who were curious about ingredients, trying new products, and researching results began logging their skincare findings into spreadsheets and sharing them with users.
If it all sounds like high-tech Internet hoopla to you, we get it. But keeping a skincare spreadsheet can be beneficial. Whether yours is an inventory log meant to make your medicine cabinet less of a mess, a way to keep track of your skin's progress when introducing new products to your regimen, or a way to budget better because you're trying to limit impulsive trips to Sephora, it's a (free!) tool to help you improve the way your skin looks.
To help you get inspired, we asked seasoned spreadsheeters—and two of our favorite skin-obsessed influencers—to share their docs, favorite products, and advice below. Let's be honest, even if you don't plan on doing your own spreadsheet, the info is fascinating: spreadsheets are like public skincare diaries that give inquiring minds access to the skincare secrets of women with seriously gorgeous complexions. You get to step into their skincare wardrobes, so you know longer have to wonder where tf they get that glow from.
"My skincare addiction started on Reddit, and creating this spreadsheet was just something I decided to do on my own time to keep track of the the products I was using and to make sure that I was being as accurate and thorough as I could. In the beauty sphere it feels like there are so many beautiful, elegant, minimalistic people with carefully curated shelfies. But I'm more likely to be hunched over my laptop in Google Sheets. So, I found a way to take skincare and turn it into a thesis. My blog, The Acid Queen, is very much the intersection of skincare and science."
"For me, it's important to be really precise about how I keep track of products to make sure I'm using them consistently. And since skincare results can be subtle, it was vital to be specific, in a quantitative way. Around the time I published my skincare spreadsheet, I started my own company, Stratia Skin. I'm obsessed with the chemistry of products and how formulas interact with the biology of skin. With the help of the spreadsheet, I found the routine that worked well for me and I haven't strayed from that in a few years."
"I find my skincare spreadsheet most useful for inventory tracking and keeping a close eye on what I've added to my skincare routine and how long I've been using it. I have a multi-layered routine, so it's important for me to keep track to figure out what's doing what to my skin. I make a note in my spreadsheet a few times per week and get more detailed once I add a new skincare product in. It's also a way of forcing myself to pay attention to ingredients. When my memory fails me, I have hard evidence in my spreadsheet to look back on. It takes the guesswork out of everything."
"I'm almost 40 and when I was growing up and in my 20s, there weren't communities of regular people talking about skincare or much of a focus on digging deep into ingredients and what they're actually doing to our skin. With Reddit, blogs, YouTube, and Instagram, I became more aware of the science side of skincare and less susceptible to marketing talk. Hardcore skincare enthusiasts like me want data and metrics. The spreadsheets are a way to be in control. Once you start keeping track, it's really empowering. Over time, it's helped me figure out what works and what doesn't, save money, and get real results."
Chances of playing dress up in former fashion editor-turned-influencer Alyssa Coscarelli's closet are slim, but trying every beauty product in her bathroom is fair game. Especially since she shares so many of them in her IG stories. We got her to detail the products she uses, step by step, in this spreadsheet.
"I have combination skin with occasional breakouts. I used to have really bad cystic acne, but I went on Accutane years ago, which helped. Now I get a couple of breakouts here and there, but I travel a lot, which puts stress on my skin. I was once in a space where I was so inundated with products it just got to be too much. I was trying too many things, which backfired on my skin, and I was seeing the opposite of the results I was looking for. For my skin, it's about consistency, finding what works, and sticking with it. That's not to say I won't try a new product, but I am wary of trying too many different things at once. If you look at my bathroom, it's a product explosion. But I'm in recovery mode."
Sophia Roe, a chef, writer, and "food and feelings advocate" has a healthy lifestyle everyone can learn from. Her Instagram videos will make you want to take notes. The wellness multi-hyphenate keeps things simple with her skin, as you can see from the less-is-more routine detailed in her spreadsheet.
"I definitely identify as a skincare minimalist. I want my skincare to be simple, which is also how I approach my diet. I'm big on letting my skin do what it does. I don't like to complicate stuff. Keeping my routine to fewer than five products is the sweet spot for my reactive, sensitive, acne-prone skin. I can't use anything with coconut oil in it—even in my hair—because my skin is so sensitive and I find it clogs my pores. My skin doesn't respond well to essential oils, which are found in a lot of 'clean' beauty products. I also tend to stay away from ingredients like silicones, vitamin c, and retinol because I used to have dermatitis and those are a bit too harsh."
For more stories like this, including celebrity news, beauty and fashion advice, savvy political commentary, and fascinating features, sign up for the Marie Claire newsletter.
RELATED STORIES
Marie Claire email subscribers get intel on fashion and beauty trends, hot-off-the-press celebrity news, and more. Sign up here.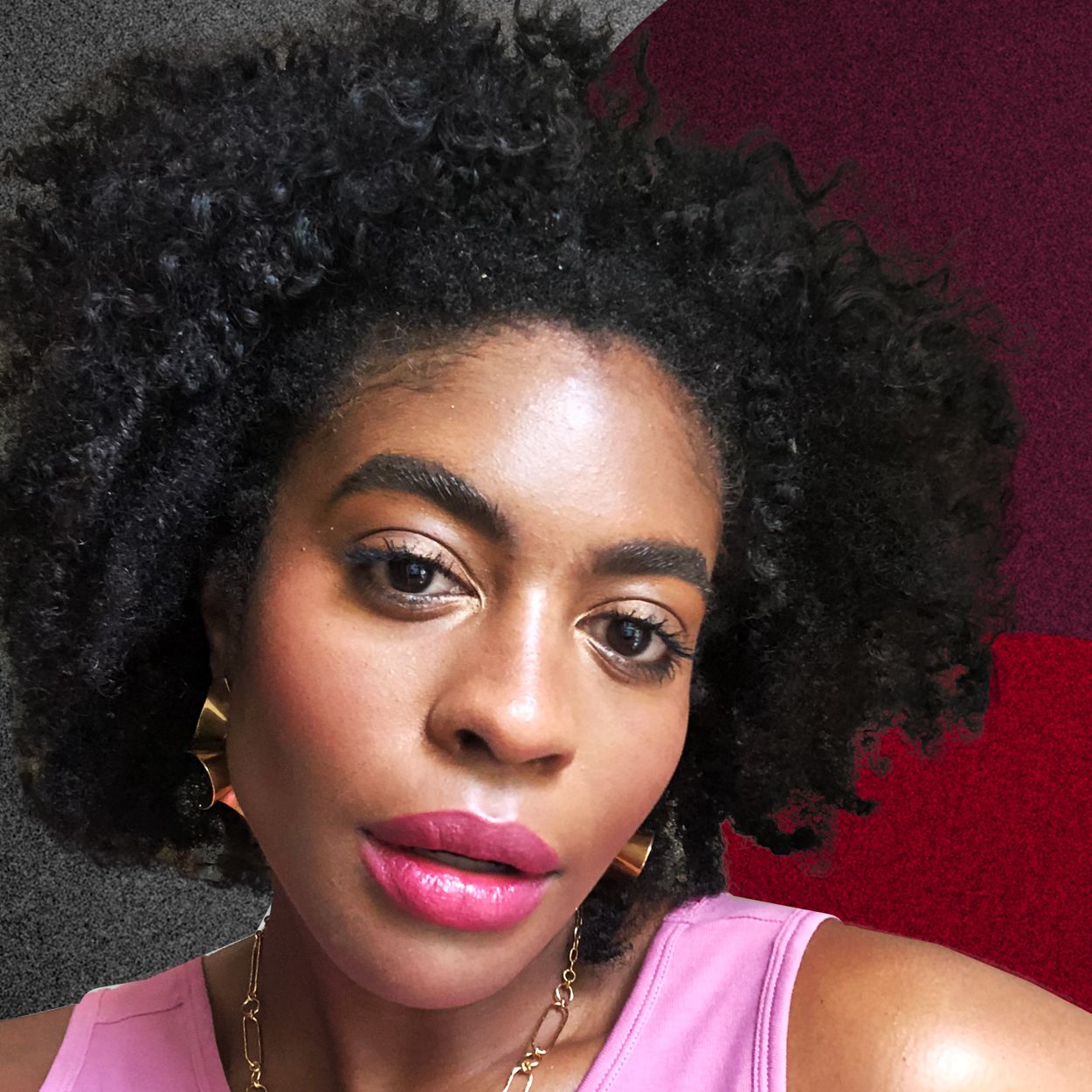 Maya Allen is the former Digital Beauty Editor at MarieClaire.com where she covered makeup, skincare, haircare, wellness, you name it! She has a 15-step skincare routine, owns over 200 red lipsticks, and enjoys testing the latest and greatest in beauty. On most weekends, you can find her at her happy place, which is her makeup vanity. There, she's usually blasting her speakers while singing along to lyrics at the top of her lungs, and making sure her highlighter is on point.