Tape-In Extensions: Your Ultimate Guide
Get ready to be obsessed.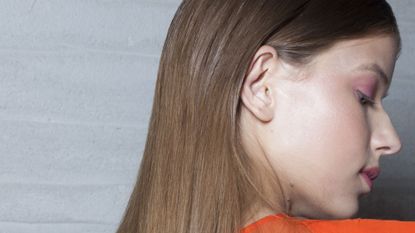 (Image credit: Rosdiana Ciaravolo)
If you don't know me, let me introduce myself: Hi, I'm Tatjana and I'm obsessed with getting long hair. (opens in new tab) Whether it's hair supplements, frequent cuts, infrequent cuts, (opens in new tab) giving myself a buzzcut to start all over again, picking up and then putting down hot tools, (opens in new tab) I've tried it all. It's been a journey, and if I'm being honest, not an entirely pleasant one. I understand that patience is a virtue, but I haven't been feeling all that virtuous these days. I want hair to my waist, and I want it now.
I imagine that the inventor of hair extensions went through a similar emotional process. While I've experimented with clip-ins here and there and I spend a considerable amount of time on Instagram watching extension-installations, a term kept popping up: Tape-in extensions. If you've heard the term but aren't sure exactly what they are, allow me to illuminate yet another avenue of achieving your hair goals that you can start obsessing over. Whether you want more volume, extra length, or just want to switch up your current style, tape-in extensions are calling your name.
What Are Tape-In Extensions?
These babies are named properly! Tape-in extensions are essentially inch-wide sections of hair that are applied with medical-grade glue to your natural hair. When properly applied, they lie flat against the head unlike many other extension options which add a bit of bulkiness at the application site. Tape-ins fall somewhere between clip-ins and sewn-in wefts. "Tape-ins are for longer commitment," says celebrity stylist Ruslan Nureev (opens in new tab). "They stay on for 6 to 8 weeks, which is great because it is less work compared to everyday applications."
For most stylists, you can bring them tape-in extensions that you buy from an extensions company. It's recommended to stick to human hair extensions, preferably remy hair, which is more carefully selected and made into tape-ins. While they will be a bit more expensive, they will also last longer and look more natural.
Can I DIY Tape-In Extensions?
In short, no, absolutely not. While it might seem simple enough to glue on a strand of hair to your own hair, there are so many ways it could go wrong. Because tape-ins last more than 4 weeks, they are considered a form of permanent extensions. "You must absolutely visit a salon for extensions if you decide to get a permanent form of hair extensions," warns Nureev. "Extension methods like tape ins, sew ins, and strand by strand should always be performed by a properly certified and trained professional," says celebrity hairstylist David Lopez (opens in new tab).
In short, they might look bad if you forgo a stylist. And more importantly, if you put them in crooked, without even spacing or in noticeable areas, you could damage your hair, or look like you're, you know, wearing extensions. Then, what's the point?
Hair stylists can also cut and style the extensions to make them look as natural as possible. Perhaps the biggest way that extensions can look fake is if the color of the new hair doesn't match your natural tone. Stylists can dye or help you color match your tape-ins so that you won't get clocked for your new hair color that isn't really yours.
The same goes for the removal of tape-in extensions. Because of the strength of the adhesive, removing tape-ins improperly could mean damaging your hair, which none of us wants. Tape-ins are reusable, so you want to make sure you take good care of them so you can use them again and again. If you don't want to shell out the cash for a stylist, clip-in extensions (opens in new tab) might be the way to go.
Who Can Get Hair Extensions?
"Absolutely everyone!" says Nureev. "Whether you have thick or fine hair, you can use hair extensions for so many purposes." If you're trying to add volume or length, tape-ins can help achieve those goals. Straight hair has been traditionally catered to with tape-ins, but brands are starting to offer tape-ins for curly hair more and more, so curly-haired ladies can also benefit from this type of hair extensions. So while you're being patient and waiting for your hair to finally grow out, pop on some tape-ins and look fabulous while you wait.
Shop These Tape-In Necessities
Tatjana Freund is a Beauty Commerce Writer, covering makeup, skincare, and haircare products and trends. She's a fan of vodka tonics and creepy Wikipedia pages.