68 Stunning Long Hairstyles You Need to Try This Spring
We've got hair inspo for days.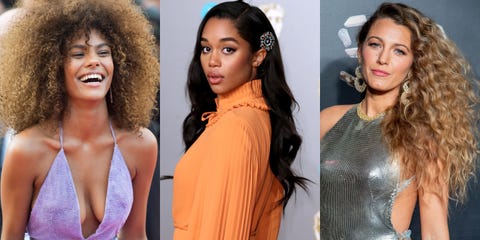 Hair looks good at every length. But longer hair gives you more room to have fun with colors, layers, and styles. If you're more of a lazy girl and would rather bypass fussy styles—we feel you, and we're here for you—we've rounded up a bunch of inspo pics of hairstyles that take minimal mirror time. But if you're extra like us and want to commit to getting a little creative, they are cutting-edge styles in here for you to try as well.
Having long hair allows you to be the artist you've always wanted to be, because your hair becomes your canvas. Whether it's trying out a temporary color before you go full rouge, adding a fun accessory to spice things up, or just want to be in on the latest trend, there's something out there for everyone. So when it comes to the quality time spent between you, your mirror, and a hairbrush, you want to make it count. Thankfully here at MC, we scoured the Internet and drooled over our favorite celebrities for the best long hair looks. Next time you're looking for a change of scenery—sorry, I mean hair—look no further.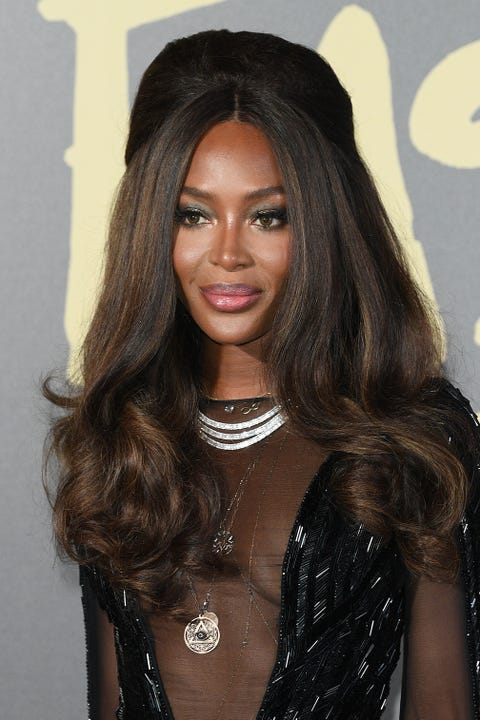 Daniele Venturelli
Getty Images
Naomi Campbell's '70s Updo
Bring on the drama and give yourself all the volume in the world like Campbell's loose updo with a bouffant to match. You know what they say: "The higher the hair, the closer to God!"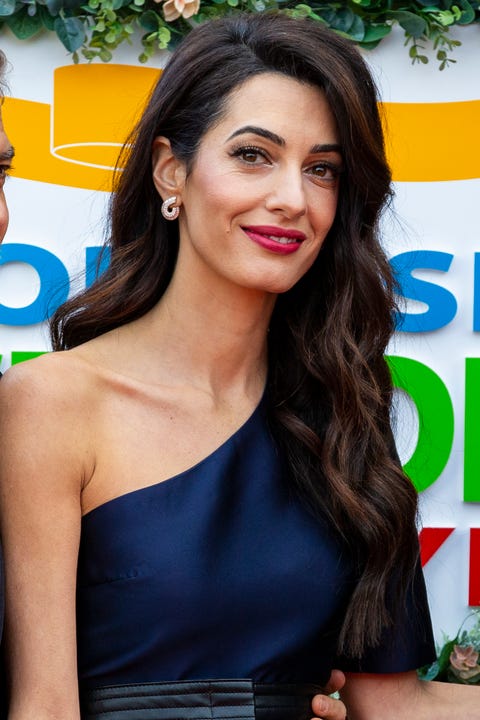 Duncan McGlynn
Getty Images
Amal Clooney's Brushed-Out Curls
Something about a brushed-out curl says effort, but NBD. It's one of those styles that can go beyond one-wear, and by that, we mean — add some dry shampoo and you're good to go for a second round.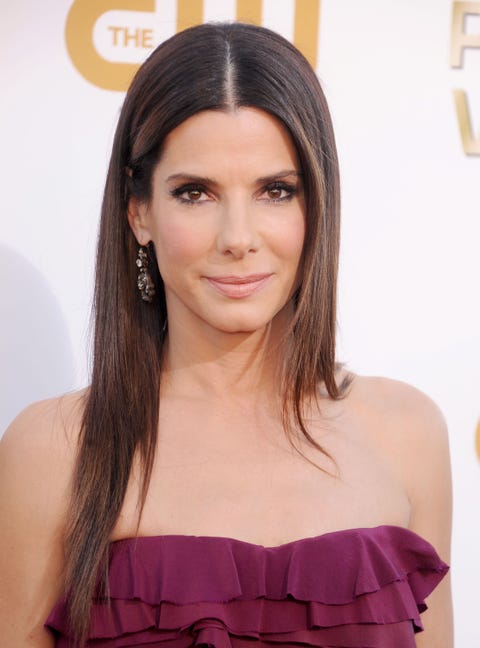 Gregg DeGuire
Getty Images
Sandra Bullock's Sleek Center Part
Do as Bullock does and channel your inner-Kardashian with a super sleek middle part. Wear it out for a quick coffee meet-up or out for date night. This style is super versatile!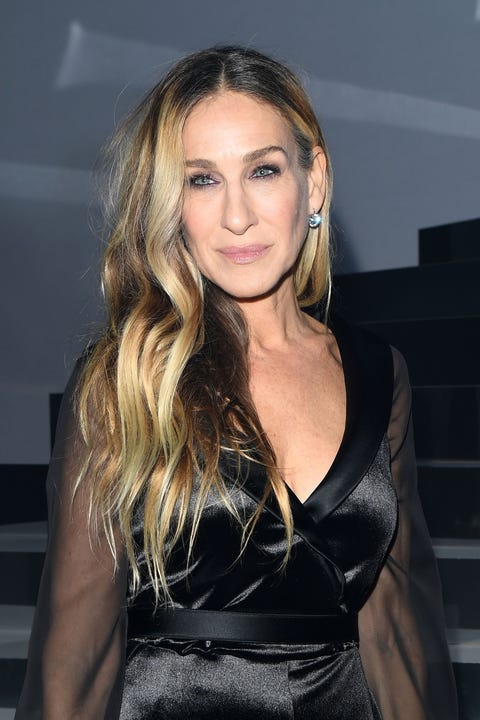 Daniele Venturelli
Getty Images
Sarah Jessica Parker's Dirty Blonde Strands
The easiest way to edge up your long, blonde locks is by embracing several shades. Who said your hair has to be the same tone all over? Take a cue from Parker and embrace the dirty blonde trend.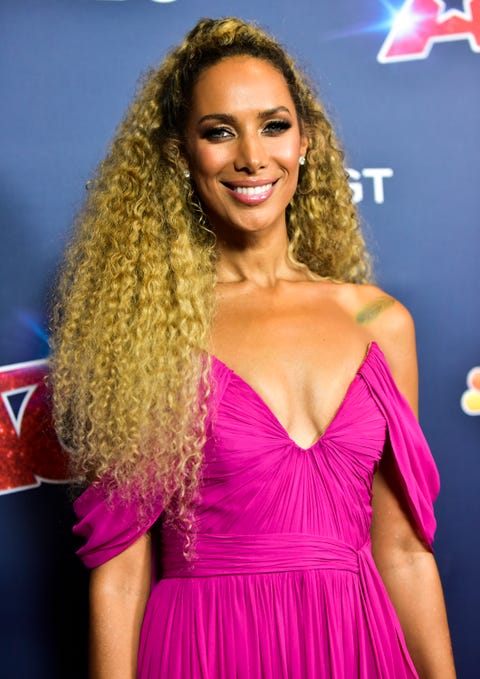 Rodin Eckenroth
Getty Images
Leona Lewis' Voluminous, Flowing Curls
Naturally curly hair types can play up their inherent texture just like Bleeding Love singer does here. Don't forget to add your favorite leave-in conditioner post-shower.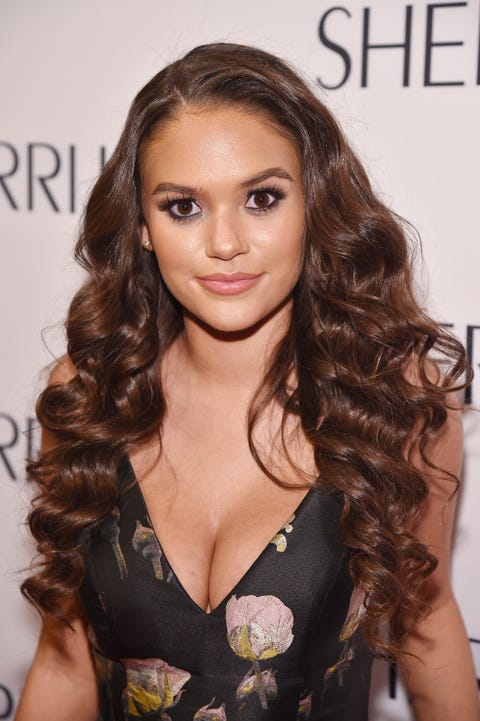 Madison Pettis' Mermaid Hair
Nix the crazy colors but still channel your inner mermaid with super-long, tight ringlets like Pettis. It's a statement unto itself.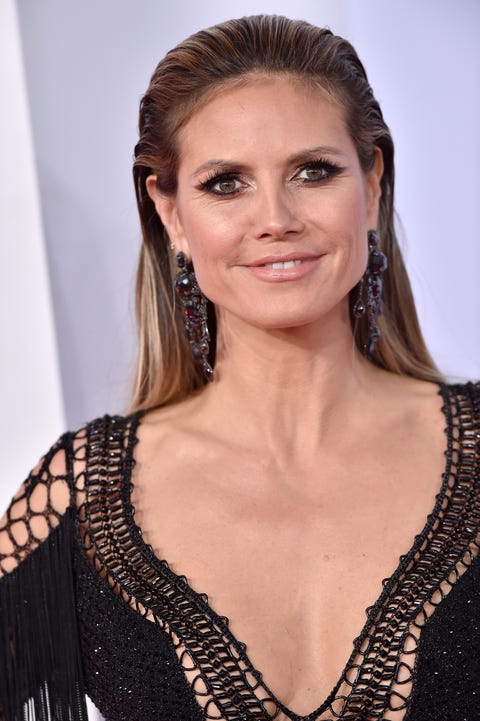 Axelle/Bauer-Griffin
Getty Images
Heidi Klum's Slicked-Back Shine
A foolproof way to avoid flyaways and draw attention to your eyes is a slicked-back style. Spritz some texturizing spray through your hair before any hot tools. Then, use a boar-bristle brush to boost volume by blow-drying your hair back from the crown of your head.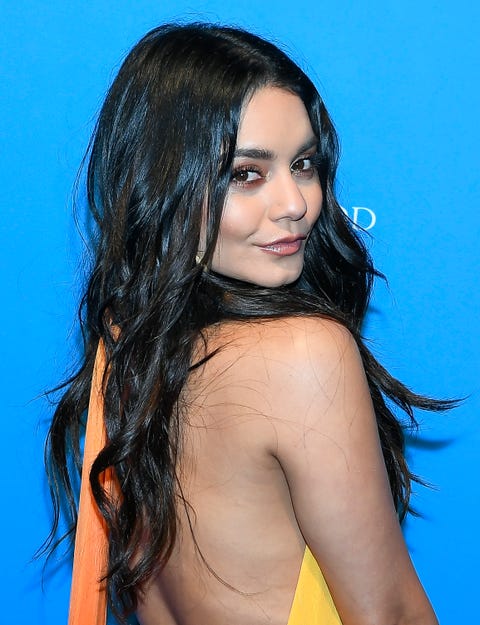 Steve Jennings
Getty Images
Vanessa Hudgens' Next-Day Hair
Ever seem to love your curls even more the day after you've slept on them? Same. Starting at the root, curl your hair but avoid the ends to achieve Hudgens' second-day style without waiting 24 hours.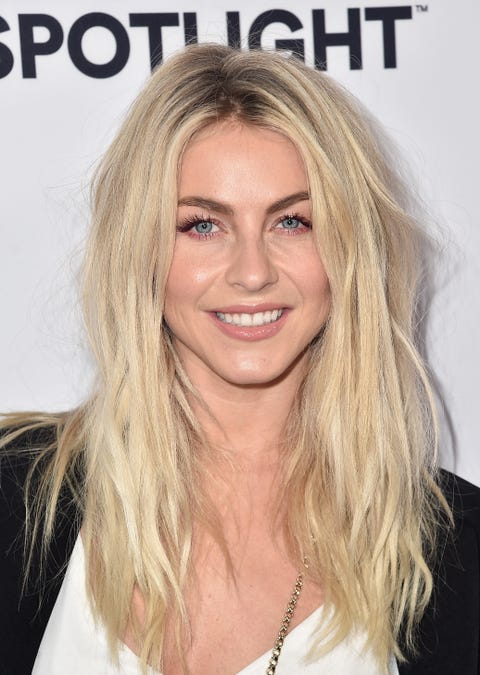 Alberto E. Rodriguez
Getty Images
Julianne Hough's Dark Roots
Long and golden blonde is the best way to capture a free-spirited, Cali girl vibe—and keeping your dark roots means less time in the stylist's chair (and less $$$ at the salon).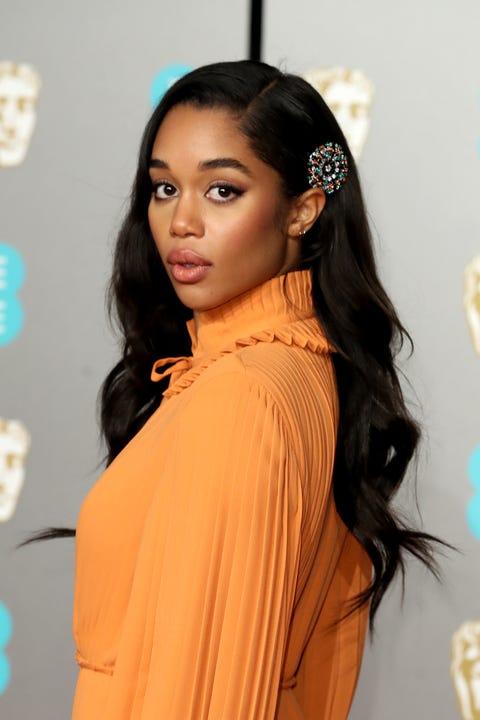 Laura Harrier's Romantic Curls
Sometimes, a soft bend is all you need for peak glamour. Harrier's loose ringlets adorned with a hair clip is the perfect touch to jazz up this simple look.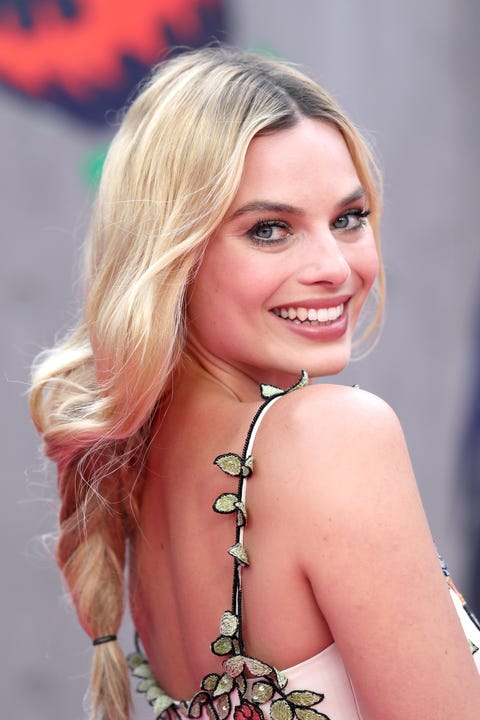 Margot Robbie's Loose Braid
Pull your hair back into an effortless braid for a no-fuss style that works like a charm. Margot Robbie's center parted allows those drop-dead features of hers to shine through.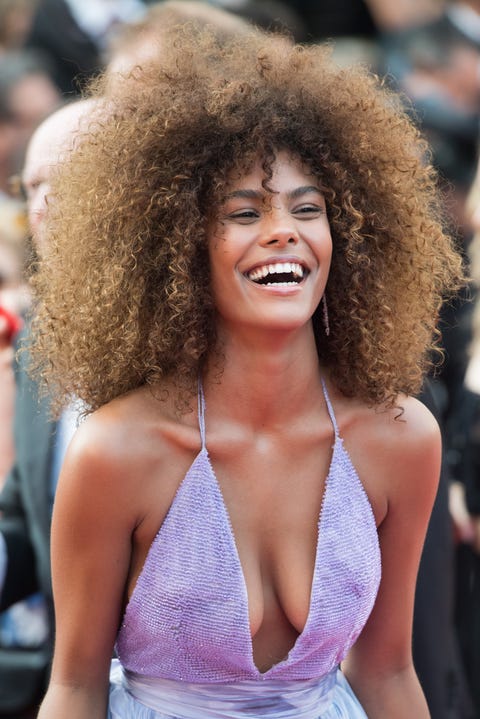 Tina Kunakey's Larger-Than-Life Afro
Supermodel Kunakey looked show-stopping at the Cannes Film Festival with her natural hair on the red carpet. If you're looking for a subtle, yet noticeable difference, ask your colorist to dip the ends of your curls in color. As Kunakey proves, it creates such gorgeous dimension.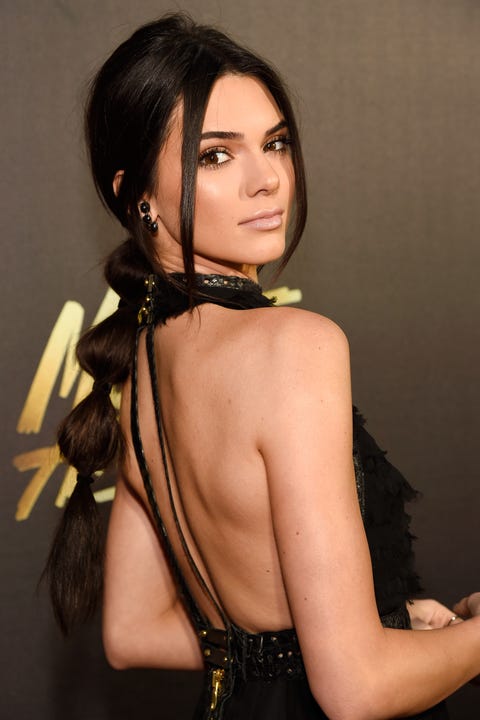 Kendall Jenner's Bubble Ponytail
Got a bunch of hair bands lying around? You need to try a bubble ponytail. It's one of Jenner's most photogenic hairstyles to date, and that says a lot considering the 23-year-old has already worn more hairstyles than the average human will in one lifetime.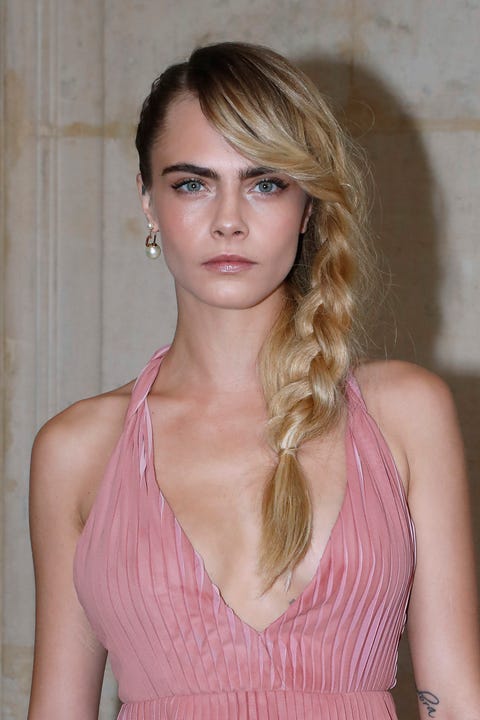 Cara Delevingne's Long Side Plait
Delevingne's romantic side plait she wore during Paris Fashion Week this year is perfect for special occasions. Although it's impossible to choose one style I love the most on Hollywood's resident hair chameleon, this side-swept braid is certainly up there.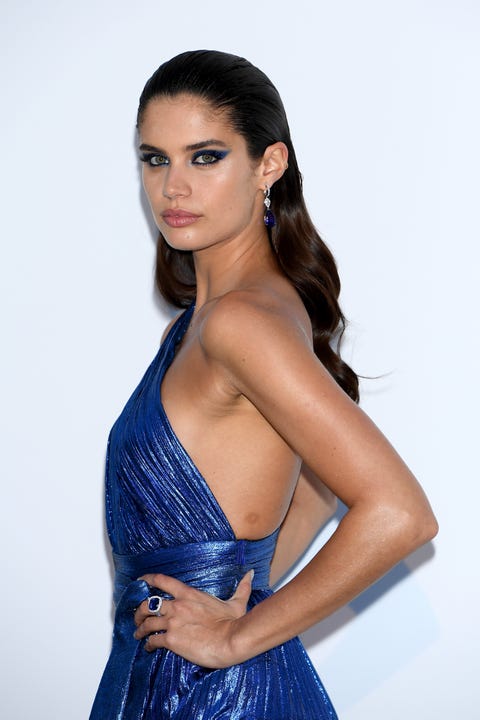 Sara Sampaio
Save yourself the time and stress of curling your entire head of hair, and try Sampaio's brushed-back style instead. This structured slick-back makes things a bit easier because you'll only have the ends of your hair to worry about curling.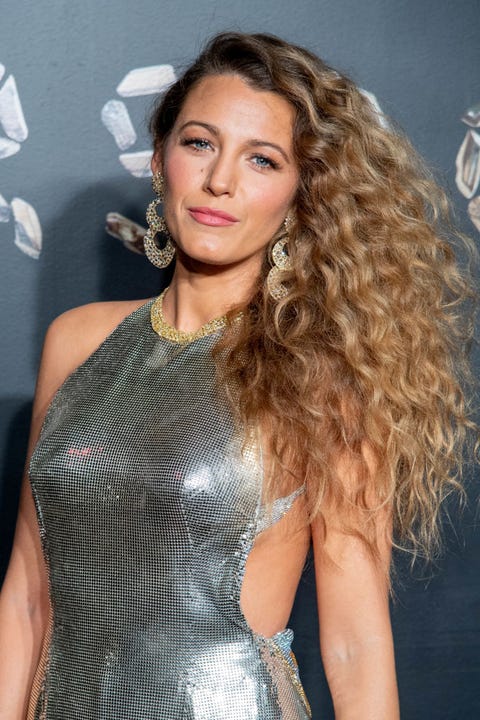 Blake Lively's Voluminous Curls
Long-haired curly girls: if Lively's curls don't encourage you to let your ringlets roam free, I'm not sure what will. Sometimes changing absolutely nothing about your natural texture makes the biggest impact.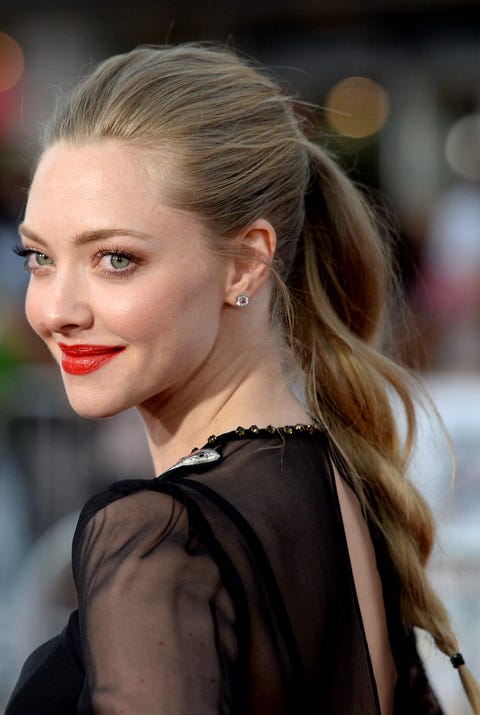 Amanda Seyfried's Twisted Ponytail
Twists may bring up middle school memories, but that doesn't mean they won't look stunning on you as a grown woman. Seyfried, for instance, looks regal with this simple take on a twisted ponytail.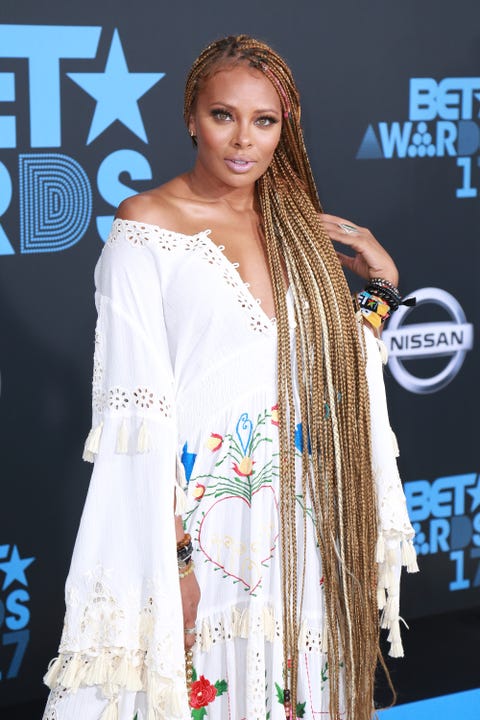 Eva Marcille's Extra Long Box Braids
Box braids, which are three-strand braids woven into your hair, are one of the most popular protective styles amongst women with natural hair. Marcille took her honey-colored braids to the next level with her knee-grazing length. You may have to sit for a long-ass time but these braided beauties make it so worth it.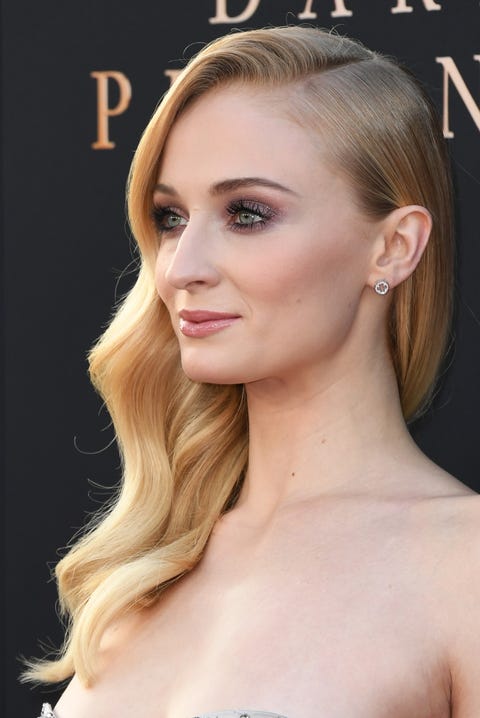 Sophie Turner's Soft Waves
Soft waves, especially when they're reminiscent of Old Hollywood, will instantly dress up your hair with timeless glamour. Turner looks so dreamy with these cascading curls brushed over to one side.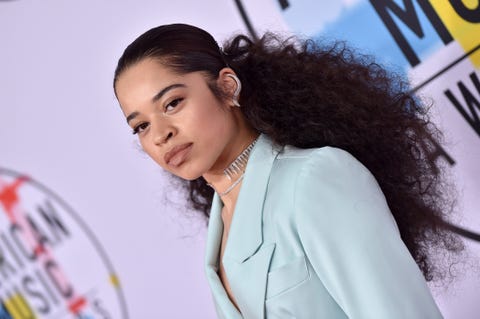 Ella Mai's Textured Ponytail
At the American Music Awards, R&B songstress Ella Mai stunned with her curly ponytail, which are essentially what my big hair dreams are made of. The natural texture of her pony balances-out this slick-back so beautifully.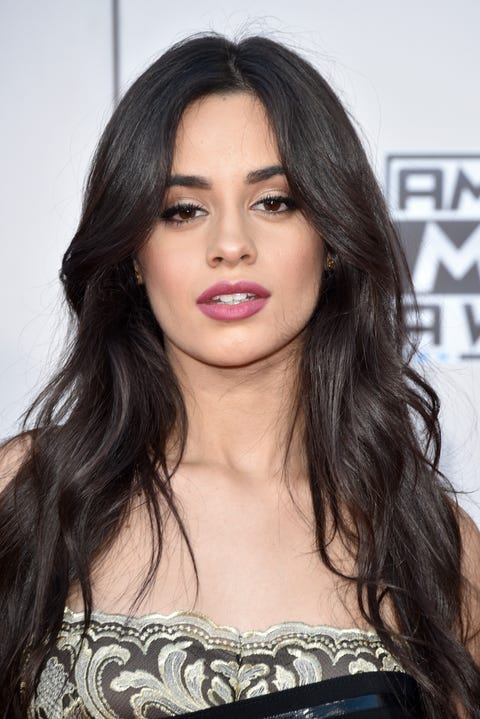 Camila Cabello's Face-Framing Layers
Layers + long hair = a dynamic duo. Just look at how Cabello's feathered, face-framing layers fall in all of the right places. The texture adds such a gorgeous shape to this lengthy style.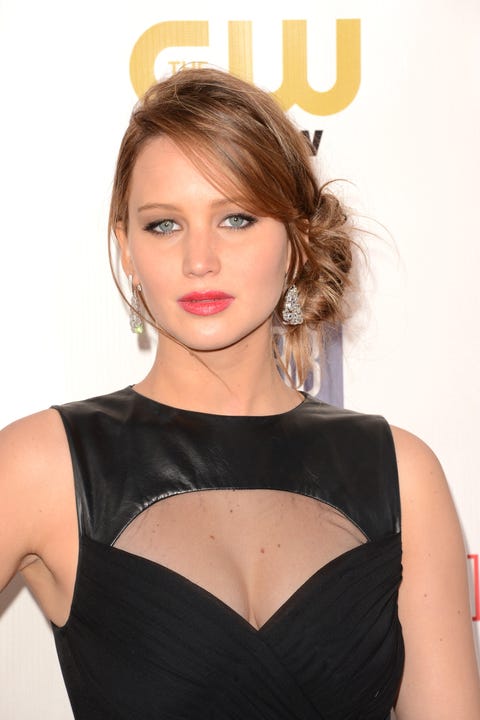 Jennifer Lawrence's Elegant Side Bun
Use the length and volume of your hair to fill-out a bun. Lawrence's side-swept side bun she donned at the 18th Annual Critics Choice Awards looks imperfectly perfect.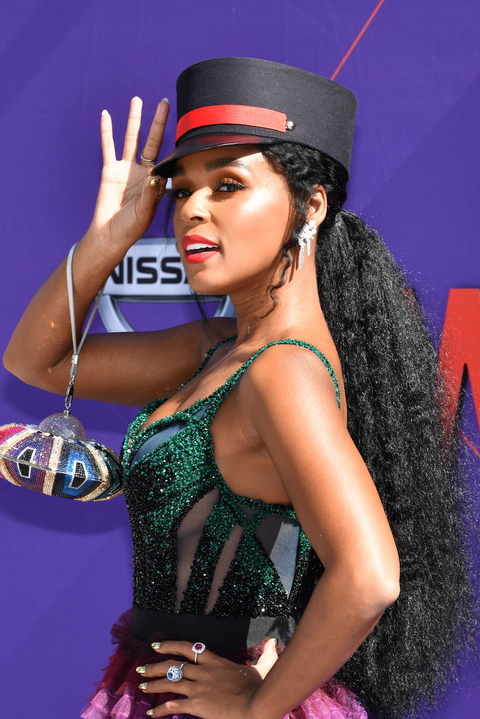 Janelle Monáe's Hat Moment
When you've exhausted every idea for your hair and it just feels like too much to deal with, don't stress, just reach for a hat. At the BET Awards, Monáe demonstrated everything a cool hat can do for your hair. Hers is pulled back into a simple low ponytail paired with tendrils.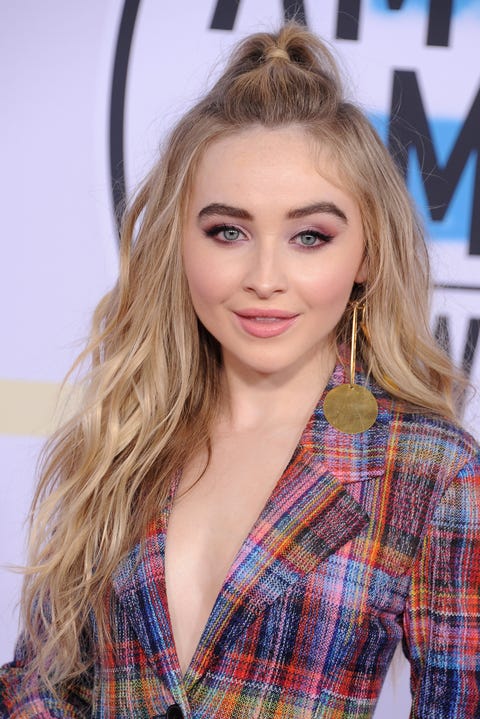 Sabrina Carpenter's High Pony
One of the easiest switch-ups in the book is a half-up, half-down hairstyle. If you have super-thick hair like Carpenter, gathering a small section of your hair into a high pony is more than enough, and shows off her gorgeous curls even more.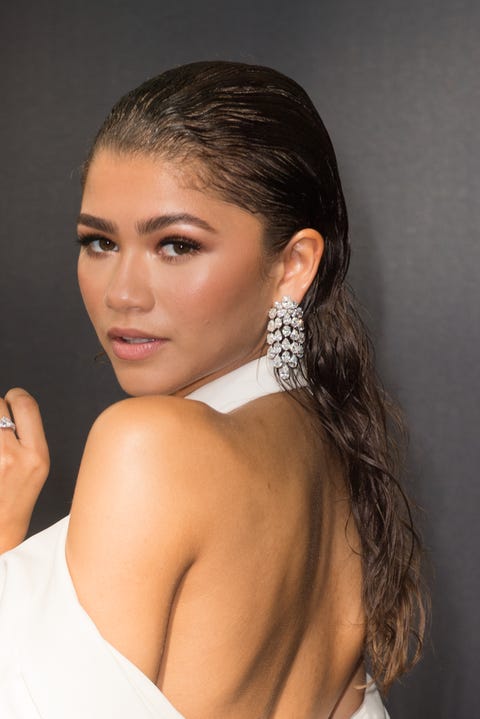 Zendaya's Textured, Slicked-Back Style
Curly girls: Since we're in 2020, let's all let go of the pressure to straighten our hair. That's an old, societal beauty standard that needs to be left in the past. Curly hair can make you feel oh-so-fancy. Look at how elegant this queen Zendaya looks rocking her natural texture. Dress your curls up a bit by reaching for a pomade that guarantees high-shine, then sweeping your hair into a glossy slick-back. Sophisticated.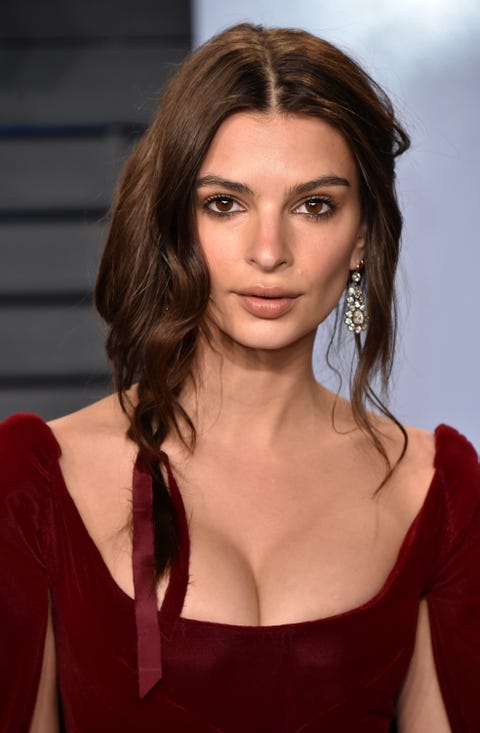 Emily Ratajkowski's Elegant Bow
Hair bows pull together your look in such an elegantly playful way. Especially if you do as supermodel Emily Ratajkowski did, and adorn your loose braid with a ribbon that matches your outfit. Monochromatic and chic.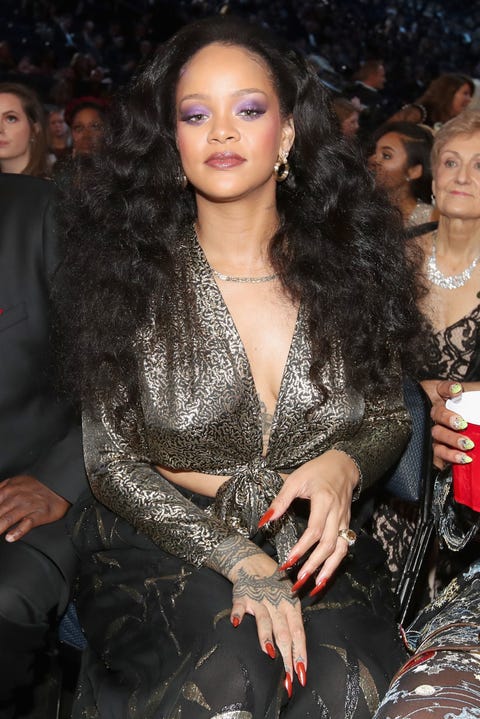 Rihanna's Blown-Out Curls
The bigger the hair...the cooler. Here's a prime example of Rihanna turning a basic blow-out into a lewk—her soft bends looks so full and healthy. An easy way to replicate this style is by twisting your hair up into flexi rods to create curly s-waves.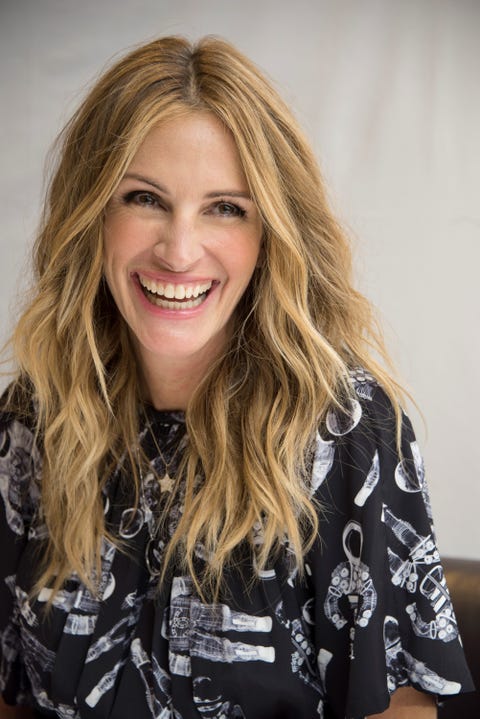 Julia Roberts' Effortless Waves
Julia Roberts should win Best Hair Award year after year—her styles just seem to get better with time. Here, she chose to style her sun-kissed blonde mane with beachy waves, which is the ideal I-woke-up-like-this style if you're not into trying hard with your hair.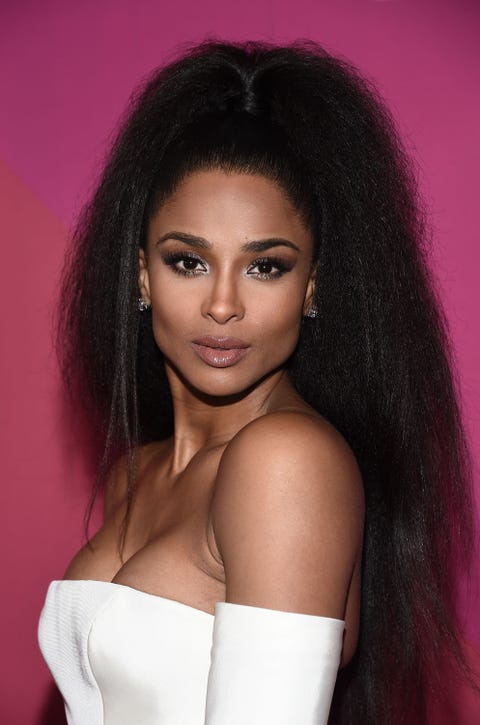 Ciara's Sky-High Ponytail
Only one word comes to mind: F-I-E-R-C-E. Ciara, a hair chameleon, has donned many styles, but this voluminous high ponytail is one of my all-time faves.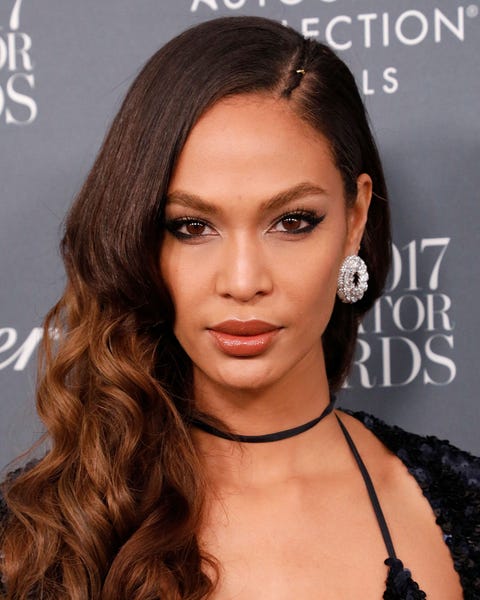 Joan Smalls' Accent Braid
Braids make everything better. Case in point: Joan Smalls' slightly off-centered cornrow, which may be small but makes a big difference. Embellishing your curls with one tiny detail, like so, will give everyday hair such a dope vibe.
This content is created and maintained by a third party, and imported onto this page to help users provide their email addresses. You may be able to find more information about this and similar content at piano.io