Olivia Culpo Shares Her Routine for Radiant Skin
"I feel the most beautiful, hands down, when I'm happy."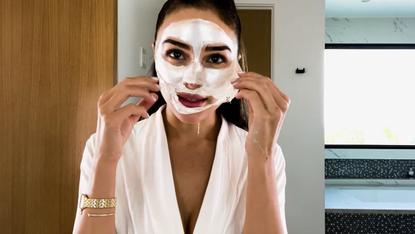 (Image credit: Marie Claire)
Olivia Culpo, model, influencer, face goals, and co-owner of the restaurant Back 40, does not skimp when it comes to her skincare routine. In the latest episode of Masked and Answered, the former Miss USA and Miss Universe winner shared her worst makeup mistakes, her key to glowing all day long, and her holistic views on beating breakouts.
Masking is a ritual that Culpo firmly believes in, and one that quarantine has allowed her to explore more. "Face masks have become a huge part of my daily routine, because we can work looking kind of crazy. One of the upsides of quarantine, for sure." Culpo used the GLAMGLOW GRAVITYMUD Firming Treatment Mask ($86), a silvery peel-off mask. "I feel like the opening scene of American Psycho, where he's pulling off the mask," Culpo says in the video. "This mask creates this iridescence. I am about it."
For her morning routine, Culpo is "straight forward and not too complicated." Culpo loves the iS Clinical Pro-Heal Serum Advance Plus ($155) and the Dr. Barbara Sturm Glow Drops ($145) to achieve her signature radiant look. To lock in moisture, Culpo uses the Tatcha The Water Cream ($68), and protects her skin with the Supergoop! Unseen Sunscreen SPF 40 ($34). To soothe and moisturize her under-eyes, Culpo uses the Dr. Barbara Sturm Eye Cream ($140). She tops off the look with the Tatcha Camellia Gold Spin Lip Balm ($30).
Culpo is no stranger to the occasional frustrating breakout. "Everyone can relate to an annoying breakout. It really does reflect on what I'm eating, how I'm resting, and if I'm drinking water. If I'm eating well and drinking well, my skin is amazing." To help heal and protect her skin, Culpo uses the Dr. Barbara Sturm Calming Serum ($250). But Culpo doesn't let a pimple ruin her good mood. "I feel the most beautiful, hands down, when I'm happy," Culpo says in the video. "Really own and love the things that make you different." We love a woman who loves herself! Watch Culpo's video above and don't forget to subscribe to Marie Claire's YouTube channel to catch up on the latest episodes of Masked and Answered and share your favorite mask in the comments.
Shop Olivia Culpo's Skincare Favorites
Tatjana Freund is a Beauty Commerce Writer, covering makeup, skincare, and haircare products and trends. She's a fan of vodka tonics and creepy Wikipedia pages.