Triple Barrel Curling Irons: Your Ultimate Guide
The secret to mermaid hair.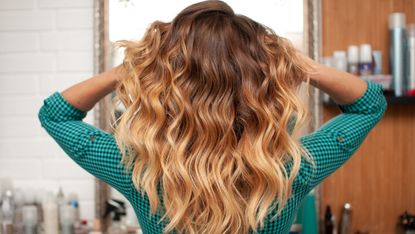 (Image credit: oksy001)
I'm a big fan of hot tools. In this era of healthy hair goals, being obsessed with something that can cause damage to your strands is a bit of a beauty faux pas. But I'll be honest, it excites me to be able to change my hairstyle with a quick twist of my curling iron. This isn't to say that you shouldn't love your natural hair texture or that you should use styling tools every day. And it definitely doesn't mean that you shouldn't heat protectant (the horror!). It just means that when I come across a new type of hot tool, I need to get my hands on it. You've heard of flat irons and curling wands, but allow me to introduce you a new kind of tool: the triple barrel curling iron.
If you've been on Instagram at all recently, chances are you've come across one of these intimidating-looking tools. Picture three curling irons squished together, and you're most of the way to understanding the purpose of triple-barrel curling irons. But even for a hair tool connoisseur like me, when I finally got my hands on one of these babies, I honestly had no idea how I was supposed to use it. So I reached out to Anna Kimble, Drybar's Director of Education and Events, to walk me through how to properly wield this tool.
What Does a Triple-Barrel Curling Iron Do?
In short, triple-barrel curling irons create mermaid-esque waves that can be hard to achieve with a standard curling iron or wand. "[They create] an effortless, beachy look using three barrels," says Kimble. "To create this style with a traditional curling iron it could take longer and may not be as easy to achieve for all hair types." If you're someone who spends upwards of 30 minutes in the mirror frantically maneuvering a curling iron around your head to get consistent waves, this tool can dramatically cut down styling time. Especially for women with longer hair, this tool can work through length quickly and easily.
How Do You Use a Triple-Barrel Curling Iron?
After spritzing your hair with heat protectant and sectioning it into manageable sections, it's time to get down to business. This tool works differently than a curling iron, so it might take a bit of trial and error to get used to it. Kimble broke it down into three easy steps:
Hold the tool horizontally, press to open the clamp and capture the top of the hair section between the barrels and clamp.
Release clamp and hold in place for several seconds until desired definition is achieved.
Open the clamp and move down the section. Repeat until the whole section is waved.
For extra volume, you can spray some volumizing spray at the roots of your hair after styling to get a runway-ready look. When all those steps are completed, you're ready to step out with the most enviable waves ever!
Shop These Triple-Barrel Curling Irons
Marie Claire email subscribers get intel on fashion and beauty trends, hot-off-the-press celebrity news, and more. Sign up here.
Tatjana Freund is a Beauty Commerce Writer, covering makeup, skincare, and haircare products and trends. She's a fan of vodka tonics and creepy Wikipedia pages.